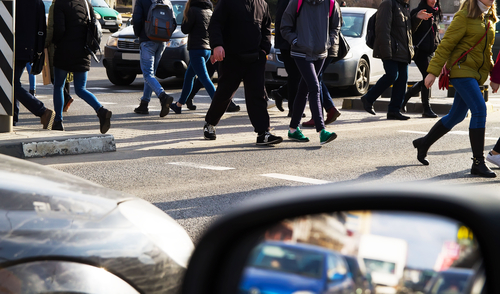 Pedestrian Dies After Being Struck at Owensboro Intersection
The Owensboro Police Department recently released news that the pedestrian who was struck by a Volkswagen passenger car at the intersection of West 2nd Street at Frayser Avenue on Feb. 22 has passed away from her related accident injuries. The 48-year-old victim was from Owensboro and the driver of the vehicle involved in the accident is a 60-year-old man, also from Owensboro. The entire team at Rhoads & Rhoads remains saddened to hear of this tragic accident outcome and our thoughts are with the family of those involved.
The Governors Highway Safety Association (GHSA) recently released preliminary numbers for 2018's U.S. pedestrian fatalities, finding that American drivers killed 5,977 walkers (and cyclists) in 2017. It is belief that once the data is fully reviewed, our nation is on track to report the highest number of pedestrian fatalities in nearly three decades. Kentucky was one of the few states to luckily see a decline in pedestrian fatalities of more than 13 percent. Although according to a Feb. 22 report by the Lexington Herald Leader, more pedestrians were killed in 2018 than any other year since Lexington started tracking the numbers in 1996.
Distracted Drivers and Bigger Vehicles to Blame for Hike in Pedestrian Accidents
Populated communities such as Owensboro and Lexington, as well as known community areas where pedestrian traffic is high such as business districts, green spaces, campuses and hospitals are most common for fatal pedestrian related accidents. For obvious reasons, intersections and walkways in these locations pose the most common serious injury risk, most often due to drivers who are distracted or using their phones to send text messages. The increase in large, bulky SUV-type vehicles found more often on American roads today also makes walking away from a pedestrian accident without serious injury less likely, even if one of these vehicles hits a pedestrian at a slower speed or fails to fully stop.
An increase in cell phone usage over the years and more distracted pedestrians have also created alarming rises in these collisions no matter if at a controlled crosswalk, or while a person is safely moving through an intersection. Pedestrians should avoid being distracted by their phones while walking and keep their attention on their surroundings. If traveling at night, pedestrians can take extra safety precautions by only traveling on well-lit walkways and sidewalks or carrying a flashlight and wearing retro-reflective clothing. GHSA statistics from 2017 showed 75 percent of all pedestrian fatalities occurred during evening hours.
Owensboro and Madisonville Pedestrian Accident Lawyers — No Recovery, No Fee
The driver of a vehicle is almost always liable in a car accident involving a pedestrian. If you have been injured or a loved one killed in a pedestrian vs. motor vehicle accident, the Kentucky personal injury law firm of Rhoads & Rhoads is ready to provide you and your family the legal support needed to ensure a successful recovery and without undue financial stress. We never collect fees unless your case is won or settled, and we provide a completely free initial consultation. Call us today to hear more about how we can help: 888-709-9329.