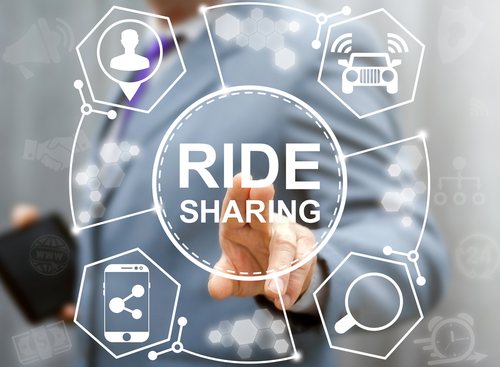 8 Things You Can Do To Make Your Ride-Sharing Travel Safer 
With an estimated 356 ride-sharing cities across the country, including several in Western Kentucky, it is likely you may require the services of company like Lyft of Uber one day. Ride-sharing works much like a taxi service (although some may add a bit more responsibility on the passenger to ensure safety). Nevertheless, ride-sharing can be convenient, reduce traffic, create jobs and cut down on drunk driving related accidents.
This is how ride-sharing works. Fueled by technology, a person needing transportation connects with a ride-share driver though a phone app. The driver, who uses their personal vehicle, transports the person for a prearranged fee to their chosen destination. Unfortunately, there have been many negative stories related to sketchy drivers, passenger safety, and accident risks. Police, local governments and other transportation officials say the good outweighs the bad though if passengers stay responsible. Here are some ways you can make sure your ride-hailing experience is a good one.
Review Driver Ratings
Most ride-sharing drivers are dependent on their ratings, tips, and the rideshare experience given through online reviews. These reviews can be used to determine the quality and safety of your ride. Since you can read other passengers' reviews ahead of the car's arrival, you can cancel your ride and call another if you're uncomfortable with the rating. Contribute to ratings and reviews if you have a good, safe experience or a bad one.
Share Your Travel Plans
Letting someone know where you are headed before you hop in a ride-sharing vehicle is a good idea. Most of the apps, like Uber or Lyft, will allow you to share your status and your driver's name, photo, license plate and location with someone else. Your friend or family member can even track your trip and send help if something goes wrong. Some of the apps also have a "Send ETA" icon, which will push out a text message to family or friends with a link to your current route and location. If your service doesn't offer a way to share your travel route with others, be sure to snap a photo of the vehicle's license plate and driver. Next, put together a brief text message to a friend about where you are, where you are headed and include the photos. Do this before you get into the vehicle.
Check and Double-Check
Even though no ride-sharing trip is anonymous, phony driver incidents still pop up. Before getting in the vehicle, always check your app to make sure it is the right one with the right driver. Take a good look at the picture and review the details that were sent to you for this trip. Both Uber and Lyft offer passengers details such as the driver's name, their photo and car type and license plate. Some ride-sharing vehicles even have bright LED lights (also known as AMPs) that color-change on their dashboards. These LEDs will match the color shown in your app for your specific trip.
Map It Out
Keep your phone near and don't be afraid to use the maps option to follow along with the driver's suggested route. Speak up if you notice any shifts and request to end your trip if you feel uncomfortable. Dial 911 if you believe you are being taken somewhere other than your intended destination or in immediate danger.
Buckle Up and Sit In The Backseat
According to the National Highway Traffic Safety Administration, wearing seat belts can reduce the risk of serious injury and death in a car crash by half. Always wear your seatbelt no matter what vehicle you are traveling in. Kentucky's seat belt usage numbers are still below the national rate.
In addition, passengers who sit in the front seat, next to a ride-sharing driver, have been on the receiving end of assaults and other aggressive, unwanted behavior. Protect yourself, keep your distance and stay in the back.
Invite Others
Most safety experts agree that there's often safety in numbers. If you are able to, ride with a friend or two. If you are traveling alone, consider using the carpool option some ride-hailing services offer such as Uber Pool or Lyft Line.
Don't Distract The Driver
Sure, it can be nice to get to know the driver but not at the expense of distracting them so much that their attention is no longer focused on the road. New technology such as GPS maps or other driving apps are already causing these drivers to become more distracted behind the wheel. Keep your talking minimal or as needed. Avoid playing loud music on your phone or games. If you are traveling with friends, limit your backseat rowdiness.
If You Drink, Don't Drive
Ride-hailing services have been proven to aid in reducing alcohol-related arrests, accidents and ultimately fatalities. For example, in Seattle, DUI arrests decreased by more than 10 percent after Uber started serving riders and drivers in the city.
The car accident attorneys at Rhoads & Rhoads have never been silent about the risks involved with impaired driving. Drinking (and drugged) driving is never worth it. Getting behind the wheel or into the car with someone who is under the influence can have lasting consequences on your life and the lives of others. Do yourself and others a favor, hand over your keys and ask for help arranging for a sober ride.
What To Do If You Need Help
Most ride-sharing companies are enforcing strict safety guidelines to keep both drivers and passengers safe and comfortable. If you find yourself in a serious incident with an unprofessional driver and unsafe behavior like inappropriate physical contact or verbal aggression, or drug and alcohol use while driving, or just risky driving in general, report the issue to the company to ensure future riders' safety. If the behavior warrants it, don't be afraid to contact law enforcement.
You should be able to trust that the ride-share service you pay for is safe. And as these types of transportation options continue to grow, more passengers may become injured or involved in a situation that would harm them. If this happens to you, you should seek the help of an experienced attorney.
Owensboro and Madisonville Lawyers — No Recovery, No Fee 
If you or a loved one have been injured as the result of a traveling in a ride-share vehicle, don't hesitate to call us. All you need to bring with you are the accident facts and your trust — we are here for you and can take care of the rest. Call us at 888-709-9329 or contact us by e-mail to schedule an appointment with one of our Madisonville or Owensboro personal injury attorneys.