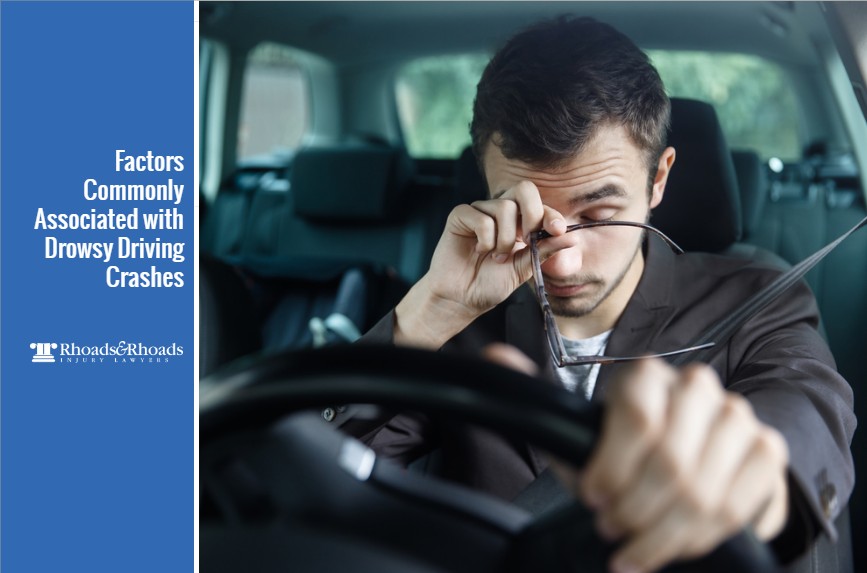 Key Points of This Article
American drivers are getting behind the wheel while feeling tired or fatigued too often.
The NHTSA reports 4,111 fatalities in motor vehicle crashes involving drowsy driving between 2013 and 2017.
Exhausted truck drivers pose an extreme risk to motorists on the road due to their demanding drive schedules and general disregard to follow sleep regulations.
Restful nights, staying sober, and treating sleep apnea can serve as preventative measures against becoming involved in a serious accident or fatal crash caused by drowsy driving.
Factors Commonly Associated with Drowsy Driving Crashes
Kentucky's drivers own the fourth-highest fatality rate in the U.S. of 1.56 deaths per 100 million vehicle miles of travel, significantly higher than the national average of 1.13. Drowsy driving – which is preventable – is becoming a growing risk contributing to those deaths. The National Highway Traffic Safety Administration (NHTSA) reports these three factors most commonly associated with drowsy-driving crashes.
Occur most frequently between midnight and 6 a.m., or in the late afternoon.
Often involve only a single driver (and no passengers) running off the road at a high rate of speed with no evidence of braking; and
Frequently occur on rural roads and highways.
A study conducted by the Harvard School of Medicine – Sleep Medicine Division found that nearly a quarter-million of all drivers admits to falling asleep while driving and over 50 percent say they still drive while drowsy. Determining the exact number of drowsy-driving crashes and related injuries has been difficult for crash investigators to identify or conclude, but the NHTSA estimates that in 2017, 91,000 police-reported accidents involved drowsy drivers that led to an estimated 50,000 people injured and nearly 800 deaths.
Overworked Truck Drivers Are A Leading Cause of Sleep-Related Crashes
From 2016 to 2017, the number of large trucks involved in fatal crashes increased 10 percent, from 4,251 to 4,657, and the number of large trucks involved in injury crashes increased by 5 percent. Commercial truck drivers remain a risky road hazard due to their poor sleep habits with most logging less than five hours of sleep per night and nearly 41 percent of drivers admitting to experiencing fatigue and sleep-deprived inattentiveness while on the road.
Also, as many as 28 percent of commercial truck drivers have sleep apnea, a condition which causes daytime sleepiness, according to the Federal Motor Carrier Safety Administration (FMCSA). Some of the warning signs of potential sleep apnea include:
excessive snoring
daytime sleepiness
disturbed sleep
concentration and memory issues and
choking or gasping while sleeping
Although regulations have been set in place for long haul truckers such as not exceeding driving shifts more than 11 hours and imposing an eight hour or less break since their last off-duty break of at least 30-minutes, many operators still ignore federal mandates due to deadline and delivery pressures.
7 Sleepy Signs It Is Time to Get Off the Road
The drowsy driving effect is similar to driving under the influence of alcohol. A driver's reaction time, general awareness of hazards and their ability to sustain attention and avoid distractions will be impacted if they are tired. Here are a few sleepy signs to let you know it's time to pull over or switch drivers.
Daydreaming; having wandered or disconnected thoughts
Difficulty focusing, frequent blinking, or heavy eyelids
Drifting from your lane, tailgating, or hitting a shoulder rumble strip
Feeling restless and irritable
Trouble keeping your head up
Trouble remembering the last few miles driven; missing exits or traffic signs
Yawning repeatedly or rubbing your eyes
Getting enough rest is a sure way to know you will be operating alert. Be sure to get 7-8 hours of sleep per night and make it a priority to follow these suggested stay-awake tips from the NHTSA.
Before the start of an extended car trip, get a good night's sleep, or you could put your entire family and others at risk.
Advise your teen driver to be well-rested before hitting the road. Many teens do not get enough sleep at a stage in life when their biological need for sleep increases, which makes them vulnerable to the risk of drowsy-driving crashes, especially on longer trips.
Avoid drinking any alcohol before driving. Consumption of alcohol interacts with sleepiness to increase drowsiness and impairment.
Always check your prescription and over-the-counter medication labels to see if drowsiness could result from their use. If you take medications that could cause drowsiness as a side effect, use public transportation when possible.
If you drive, avoid driving during the peak sleepiness periods (midnight – 6 a.m. and late afternoon). If you must drive during the peak sleepiness periods, stay vigilant for signs of drowsiness, such as crossing over roadway lines or hitting a rumble strip, especially if you're driving alone.
Whether you are a trained commercial truck driver, the parent of a young driver or someone who has never felt drowsy behind the wheel, don't take any risks when it comes to roadway safety. Be prepared to make alternative plans if you are too tired to drive and remember that drowsy driving can be just as dangerous as drunk driving.
Hold Drivers Accountable for Your Car Accident Injury
Rhoads & Rhoads is Kentucky's leading and experienced personal injury firm with offices in Owensboro and Madisonville, representing car accident victims throughout Western Kentucky. If you have been involved in a drowsy driver accident or injured in a crash with a semi-truck, we can help. We offer free initial consultations, and all cases are taken on a contingency fee basis. We get paid only if we win or settle your case, so there is NO RISK involved.
Call us at 888-709-9329 or contact us by e-mail to schedule an appointment with one of our Madisonville or Owensboro personal injury attorneys.
Source: National Center for Statistics and Analysis. (2017, October). Drowsy Driving 2015 (Crash Stats Brief Statistical Summary. Report No. DOT HS 812 446). Washington, DC: National Highway Traffic Safety Administration.