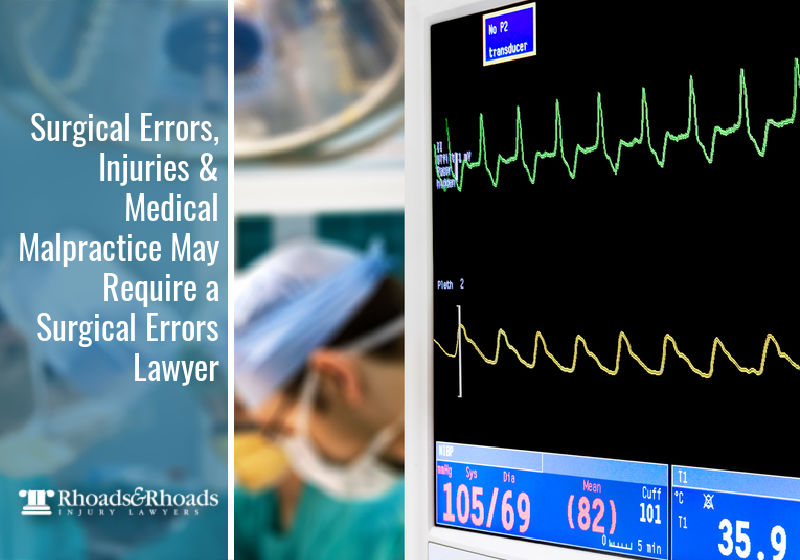 Key Points of This Article:
More than 4,000 surgical errors occur every year.

You have a right to safe medical treatment, including surgery.

You have a right to compensation if surgical negligence caused your injury.
Surgery is often a necessary course of action to treat illnesses, injuries, and other medical conditions. One of the worst possible outcomes of a surgical procedure is a surgical error that leads to pain, suffering, disability, or anything else that negatively impacts your life. 
As a patient, you have a right to safe medical treatment, and that includes safe surgeries. 
If you have experienced a surgical error that has affected your life and wellbeing, talking to a surgical errors lawyer like the experts at Rhoads & Rhoads is one of the most important things you can do. Contact us at 888-709-9329 for a free consultation and read on for more information about surgical injuries and malpractice.
Common Surgical Errors
Doctors can perform inpatient and outpatient surgeries on every part of the human body. With so many people undergoing procedures everyday, there are many opportunities for error in and out of the operating room. And with current hospital staff shortages, the risk is greater due to exhaustion and possible hurried behavior of doctors, nurses, and support staff.
Surgery is complicated regardless of the type. There are many different types of surgical error and at least 4,000 surgical errors occur in the United States every years. Below are some common ones that we see at Rhoads & Rhoads that could potentially be cases for malpractice.
Common Surgical and Malpractice Errors
Misdiagnosis
When a medical condition is misdiagnosed, it can lead to unnecessary or incorrect surgery for your actual condition. If the surgery itself was a mistake based on a misdiagnosis, that may be grounds for a surgical errors claim.
Failure to Prevent Injury
Not all medical malpractice lawsuits are related to surgical errors. For example, a hospital that does not follow appropriate fall prevention tactics may be held responsible for failure to prevent injury when a patient falls during their hospital stay. 
Medication Errors
Medication errors can include mistakes in dosage, unsafe combinations of prescribed medications, and other errors related to any prescribed drug. 
Failure to Recognize or Treat Infection in a Timely Manner
Delays in appropriate care can lead to a medical error claim. Patients who have an infection of any kind need immediate and appropriate treatment. If a healthcare provider fails to recognize the signs and symptoms of an infection or fails to begin treatment promptly, the patient may suffer serious consequences that deserve compensation. 
Technical Errors & Injury During Surgery
Examples of technical errors during surgery include damaging a nerve, administering the wrong amount of anesthetic medication, leaving surgical implements inside of a patient's body, operating on the wrong body part, or making an incision at the wrong place. 
Determining Negligence
To prove negligence in a medical malpractice or surgical errors case, your attorney will need to prove four things: 
The provider had an established duty to the patient in the form of a professional-patient relationship. 

The medical professional breached their established duty to the patient. 

This breach of duty caused the patient to experience one or more direct injuries. 

The injury (or injuries) have had a significant impact on the patient's quality of life.
The experienced team at Rhoads & Rhoads knows what evidence to obtain to prove negligence in your surgical error case. Our experience in and out of the courtroom will ensure the best outcome possible for you.
Compensation For a Surgical Error Lawsuit
If you or a loved one were injured due to the negligence of a surgeon or other medical staff, you have the right to pursue compensation. A successful medical malpractice claim could provide you payment for the following:
Lost earning capacity

Current and future medical bills

Pain and suffering

Mental anguish

Loss of consortium

Loss of enjoyment of life

Wrongful death damages

And more
Working with a Kentucky Surgical Errors Lawyer
A medical malpractice attorney will provide you with legal guidance to help you understand your rights under Kentucky law. In addition, your attorney will help you find out what went wrong and why the error took place.
A surgical errors lawyer is the person who can hold the surgeon or hospital who harmed you responsible for what you have gone through. 
Additionally, a Kentucky medical malpractice attorney will fight for you to receive financial compensation for damages related to your medical experience. 
Statute of Limitations for Kentucky Medical Malpractice
The statute of limitations for medical malpractice is one year. This means that it is absolutely vital to contact an experienced medical malpractice attorney right away. 
Rhoads & Rhoads Is Here For You
Rhoads & Rhoads has offices in both Owensboro and Madisonville, and we represent medical malpractice victims throughout Western Kentucky. 
Our consultations are completely free and we require no payment up front when you choose our law office to represent you in your medical malpractice claim. We are paid on contingency, which means we only get paid if we win or settle your case. There is absolutely no risk involved in working with a surgical errors lawyer from Rhoads & Rhoads. 
To set up an appointment for a free consultation, contact us online or call 888-709-9329.