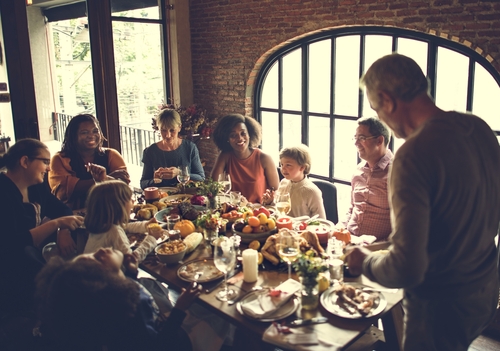 Motor Vehicle Accident Rates Skyrocket Over Thanksgiving Holiday
Hundreds of families are getting ready to make their holiday trek across the Bluegrass for their annual Turkey Day celebrations. Across the U.S., 43,400,000 travelers will plan to venture 50 miles or more on average with a majority, 90 percent, of travelers will get to their Thanksgiving destination via car says AAA.
38,900,000 travel by car
27 percent of drivers leave on the Wednesday before Thanksgiving – the busiest travel day
64 percent plan to travel during off-peak hours to avoid heavy traffic
And according to the Kentucky Transportation Cabinet's accident fatality reports, the state and national death rates for motorists will also climb during this time. Kentucky's roads and highways already have a fatality rate of 1.56 fatalities per 100 million vehicle miles of travel on normal days, the fourth highest in the U.S. and significantly higher than the national average of 1.13. Drunk and impaired driving remains the No. 1 cause behind most of holiday motor vehicle accident tragedies with a natural increase in travelers and those drinking at holiday celebrations making the poor choice to drive.
Don't Ever Find an Excuse to Drive Impaired
In Kentucky, about one in three traffic deaths involve a drunk or impaired driver. Encouraged by alcohol or drugs, impaired drivers may feel invincible, and make rash, dangerous decisions to speed, ignore the rules of the road or traffic signals, become easily distracted or drowsy, or remain overly confident in their ability to drive despite their handicapped state. The night before Thanksgiving is an especially dangerous time to be on the road as it is often referred to as "Black Wednesday," and has easily become the busiest night of the year for bars and restaurants serving large amounts of alcohol.
The motor vehicle accident attorneys at Rhoads & Rhoads would like to mimic National Highway Traffic Safety Administration (NHTSA) warnings and review the steps everyone can take to keep impaired drivers off the road this holiday.
Choose to drive sober. Remember that NO amount of alcohol or drug is safe for you if behind the wheel. Instead, use a ride-share service like Uber or ask the bartender to call a taxi, a sober friend or family member, or use public transportation to get home safely.
Be a responsible host. The current-day reality is that more than 40 percent of designated drivers have consumed alcohol prior to driving others home. If you're hosting a Thanksgiving of popular "Friendsgiving" party, make sure everyone leaves with a sober driver.
Buckle up. Kentucky seatbelt usage continues to be among the lowest of the 50 states. Make sure all passengers are wearing a seat belt. According to NHTSA, at least 40 percent of passengers killed over Thanksgiving were involved in crashes with drunk drivers, and about 60 percent of passengers weren't wearing their safety belts.
Kentucky state law does not differentiate between alcohol and other drugs (illicit drugs or prescription pills) when it comes to driving under the influence. If you know people who are about to drive while impaired, take their keys and help make other arrangements to get them to their destination. If you see a suspicious driver, contact law enforcement by dialing 911 with your location.
Additional Holiday Accident Prevention Measures
Drunk drivers aren't the only contributing factor to an increase in motor vehicle accidents this holiday. Weather, changing road conditions, increased traffic patterns and more people on the road leads to congestion and can create riskier Thanksgiving driver situations in itself. While you can't always protect yourself and your family from these extra challenges, you can do your best to make sure you have had the chance to review (and share) these safe driver tips.
Never drive distracted. More and more crashes are occurring because a driver is distracted making the No. 1 distraction related to fatal crashes texting while driving. Put your phone in a spot you cannot access it or use a 'DO NOT DISTURB' while driving app to stop you from the temptation.
Prepare for weather related crashes. Slippery driving conditions can happen any time the road turns wet and the temperatures drop, typical for late November in Kentucky. Drive with caution and at the speed limit and watch for patches of black ice.
Don't tailgate. Maintain a safe following distance. Rear-end collisions are the most common type of congested traffic crash.
Slow down. Drivers who speed, even just a little bit over the designated limits, are dangerous to everyone traveling. It is in everyone's best interest to operate motor vehicles at the correct posted speed limit to reduce reaction time to hazardous situations and provide a safer control run over the vehicle.
Watch for wild animals. Keep headlights on bright (high-beam) after dark if other vehicles are not present and conditions allow. Be especially alert and drive with caution when you are moving through a known deer crossing zone.
Never drive when drowsy. It's proven science that eating turkey can create a bit of sleepiness. When you add the extra calorie intake of pumpkin pie and sweet potatoes, drivers may find themselves more easily tired. If that is you, pull over and take a quick rest, or ask another passenger to drive.
Happy Thanksgiving to all of our blog readers, clients, and friends of Rhoads & Rhoads. We are grateful each day to have earned your friendship and trust through our legal support. If you do find yourself involved in a motor vehicle accident this Thanksgiving, please know our team is here to help.
Hold Drivers Accountable for Your Motor Vehicle Accident Injury
Rhoads & Rhoads is Kentucky's leading and experienced personal injury firm with offices in Owensboro and Madisonville, representing car accident victims throughout Western Kentucky. If you have been involved in a holiday-related travel accident or any type of personal injury event, we can help. We offer free initial consultations, and all cases are taken on a contingency fee basis. We get paid only if we win or settle your case, so there is NO RISK involved.
Call us at 888-709-9329 or contact us by e-mail to schedule an appointment with one of our Madisonville or Owensboro personal injury attorneys.