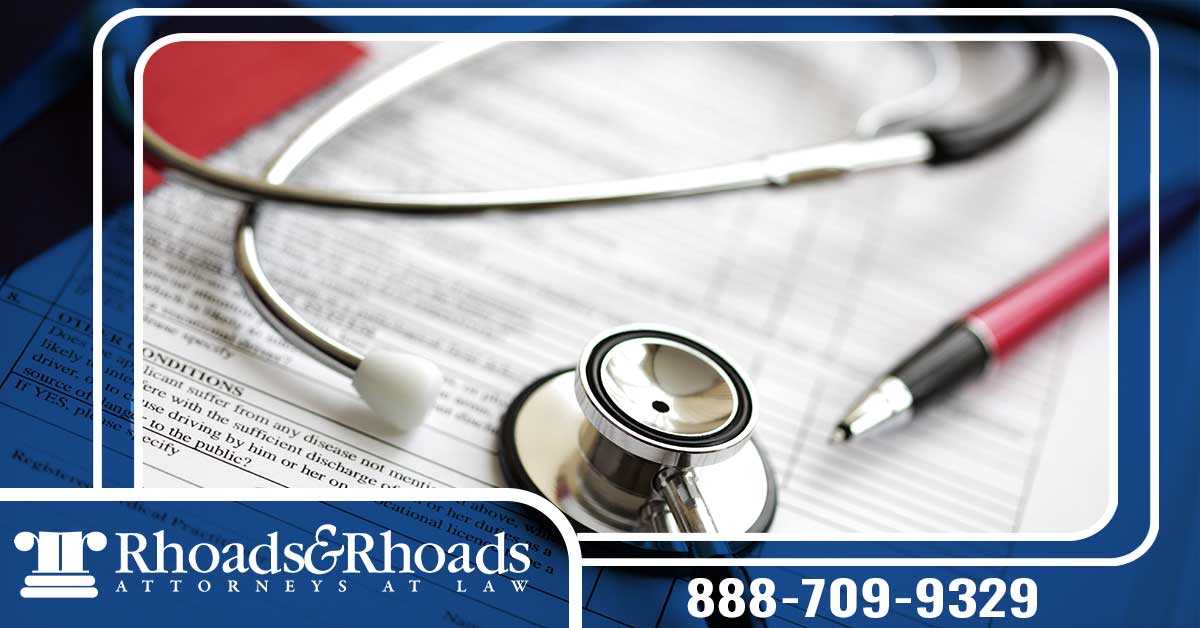 Key Points of This Article:
Save your healthcare paperwork if you plan to make a medical injury claim.

Personal injury medical records often form the basis of a strong case for accident compensation.

With an experienced lawyer's help, you can pursue the full and fair compensation you deserve for your injuries and losses. 
Are you saving all of your medical paperwork from your car accident? Personal injury medical records play an important role in building your accident compensation case.
In this article, we explain how to use your medical records and bills to create a strong medical injury claim. An experienced car accident attorney can help you use these documents to seek the injury compensation you need to move forward from your accident.
Do Injured People Need Medical Records for Lawsuits?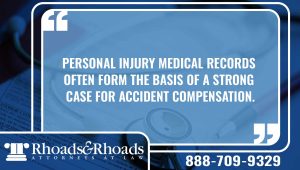 At first, it might seem strange to hear that your attorney is requesting access to your medical records. Rest assured that this is a normal part of building the foundation of a personal injury claim. Medical records form the basis of most personal injury cases. 
Your medical records indicate when your injuries occurred, how severe they were, and what type of treatment regimen has been required. Reviewing your medical records helps establish causality, meaning your injuries are directly tied to the car accident. If there were pre-existing injuries, you may be able to show that the car accident aggravated them.
Through your records, your attorney can help you show a judge, jury, or insurance company the nature and severity of your injuries from a medical professional's point of view. This kind of evidence is often difficult to deny. Medical paperwork also puts a dollar value on the cost of your treatment and recovery.
Keep in mind that your case might not involve a lawsuit where you appear in court. There's a high likelihood that your case will end in a settlement rather than a court battle. Approximately 95% of all personal injury cases result in out-of-court settlements where insurance companies and liable parties compensate injured people.
What Types of Documents are Medical Records?
In terms of building an accident claim, your medical records are much more than just your doctor's notes or medical transcripts. Give your attorney any medical documentation that might be relevant to your case, including bills, statements, and receipts.
Common types of medical records in accident claims include:
Bills from hospitals, doctors' offices, and insurance companies

Costs of at-home nursing and ongoing care

Illness and congenital condition treatment records

Insurance forms and paperwork

Diagnostic test results

Medical histories and charts

Medication lists

Receipts for equipment like crutches and braces

Receipts for over-the-counter pharmaceutical and topical treatments

Records of previous procedures, surgeries, and therapy
Should I Be Concerned About My Medical Privacy?
Just like medical professionals, legal professionals must abide by the Health Insurance Portability and Accountability Act (HIPAA) to protect your medical information. Your attorney and the other side's attorney, as well as insurance company representatives, are all prohibited from disclosing protected information without your consent.
You'll have an opportunity to provide your consent by signature. If desired, you may be able to redact certain irrelevant information, like the names of friends or family members who don't wish to be named in your case. 
Some medical information involves state disclosure laws for communicable diseases. Under Kentucky law, some diseases must be disclosed to Health and Family Services, so you can't necessarily stop this information from being disclosed to the proper authorities, but pursuing a personal injury claim does not make any of this information more likely to be disclosed. 
Broadly speaking, refusing to provide consent to the release of your medical records could harm your case and may make it impossible to build a successful compensation claim. A medical expert might need consent to review your records and comment on the level of pain and suffering you've been experiencing, for example. Pain and suffering damages could add significant value to your case, so your lack of consent could erode the value of your claim.
Will I Be Able to See My Personal Injury Medical Records?
Under HIPAA patients' rights, you have a right to view your medical records with some exceptions.   There are extremely limited exceptions where you can be denied access to certain information that might be harmful to your health or might put others' privacy or safety at risk.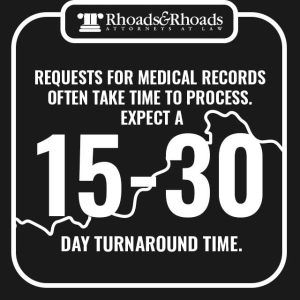 HIPAA allows withholding medical information from patients when:
The records involve psychotherapy notes.

Access to the information could endanger the patient or others.

The information is part of a lawsuit's discovery process and calls for a court order before release.
Requests for medical records often take time to process. Expect a 15 to 30-day turnaround time and there could be additional delays due to a need to obtain proper consent or a court order.
Although you have a right to access most of your own records, you don't automatically have a right to access other people's records unless you are their parent, legal guardian, or represent their estate. Speak to your attorney about which medical records you may be able to view. 
Personal Injury Medical Claim? Contact Kentucky Car Accident Attorneys Rhoads & Rhoads
Securing accident compensation takes more than just stacking up a pile of medical records. You'll need an experienced Kentucky personal injury attorney with the talent and boldness to make a strong car accident claim and defend it against challenges from the other side.
As someone injured in a car accident, you have the right to select the personal injury lawyer of your choice. You need someone who will help you make a strong case for securing full and fair accident compensation.
Never release your medical records to anyone, including the insurance company, without speaking to your attorney first. Turn to Rhoads & Rhoads in Central Kentucky for our decades of experience and dedication to helping you get the outcome you deserve.
We offer free initial consultations and all cases are taken on a contingency fee basis. No up-front payment is required. We take payment only if we win or settle your case, so there is NO RISK to you. Connect with us at 888-709-9329 to schedule an appointment about your Kentucky car accident now.