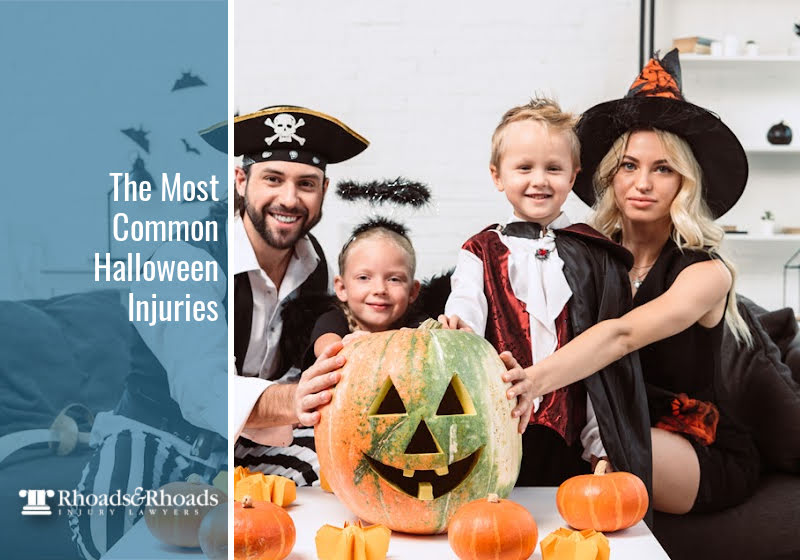 Key Points of This Article:
Risk of injury increases on Halloween. 

Slip and fall accidents, pedestrian accidents, and car accidents all happen more often on Halloween.

A Kentucky personal injury attorney could help you recover compensation for a Halloween injury due to someone else's negligence. 
Halloween is almost upon us! While you might be focused on decorating your house, carving pumpkins, and getting costumes ready, it's also important to remember that Halloween can be just as dangerous as it is fun. 
With increased pedestrian traffic and drivers heading to parties, hazardous decorations, and costumes that make it hard to see and walk, many things can go wrong. 
So to ensure you have a safe and happy Halloween this year, we're here to remind you of the potential dangers and injuries certain festivities can cause. We'll also offer some tips for how to stay safe. 
And if you or a loved one gets injured on Halloween in a Kentucky car accident, a pedestrian accident, or a Kentucky premises liability accident, the team at Rhoads & Rhoads is here to help. 
Common Halloween Injuries
1. Slips, Trips, and Falls
Slip and fall accidents and trip and fall accidents are prevalent on Halloween. With everyone running about wearing costumes and rushing up to houses that are decorated with potentially hazardous decorations, the chances of slipping or tripping and falling increase. 
Slips or trips and falls can happen as a result of:
Costumes that don't fit properly, such as being too long or draping that restricts movement 

Halloween masks that make it hard to see

Uneven or broken sidewalks and pavement

Tripping over Halloween decorations

Houses with poor lighting 

Lack of handrails or unsturdy handrails on porch steps

Falling while putting up or taking down Halloween decorations
2. Burns
Candles are quite popular on Halloween for use indoors and outdoors, as well as for lighting up pumpkins and walkways. Unfortunately, many Halloween costumes and even decorations are notorious for being cheaply made and not flame-resistant. So just brushing past a candle could result in a costume or piece of decor catching fire, which can result in thermal burns. 
3. Lacerations 
Carving pumpkins might be fun, but it can also be dangerous, depending on the carving tools you use. It's not uncommon for people to end up at urgent care or ERs this time of year as a result of severe lacerations from pumpkin carving. Cuts, scrapes, and bruises can also occur when people are putting up and taking down Halloween decorations. 
4. Eye Injuries
Lots of costumes come with fake weapons, like swords or knives. But just because these objects are artificial doesn't mean they can't still do damage. A rubber sword to the chest might not do much, but jabbing someone in the face with a fake weapon can easily injure the eyes if the impact is hard enough. 
5. Pedestrian Accident Injuries
With more foot traffic on Halloween, pedestrian traffic accidents also tend to increase. Kids may pay less attention when they are excited and running around from house to house on Halloween, which means they are more likely to dart out in front of cars on the road or vehicles pulling in and out of driveways. It's also dark outside, and with kids potentially wearing dark-colored clothing, it is harder for drivers to see them. 
6. Car Accident Injuries
Kids aren't the only ones out having fun on Halloween. Teenagers and adults also often attend parties and events on Halloween, which means more cars on the road. And not only that, but it also means drivers are likely more distracted or even driving while intoxicated after drinking at parties. This means car accidents and car accident injuries tend to happen more often on Halloween.
How to Stay Safe on Halloween
The tips below can help keep you or your loved ones safe this Halloween and reduce the chances of an injury or accident occurring:
Make sure costumes and shoes fit properly and are safe for walking.

Avoid masks that make it hard to see and consider make-up instead.

Opt for bright-colored costumes and clothing when trick-or-treating.

Choose flame-resistant costumes and clothing.

Avoid sharp costume weapons and accessories, and instruct children how to use them safely.

Supervise children when carving pumpkins and use the proper pumpkin carving tools.

Use LED candles, lights, or glow sticks instead of real candles for pumpkins and decor.

If using real candles, make sure they are out of the way and will not get touched by trick-or-treaters.

Do not use decorations that are tripping hazards.

Make sure your property is well-lit and free of hazards if you are passing out candy.

Remind kids to pay attention to cars when trick-or-treating and to only cross roads at designated crosswalks or to only cross if it is safe to do so.

Cross streets in groups and well-lit areas. 

Don't assume cars see you; wait to cross or walk in their path until you are sure they have stopped.

Do not drink and drive on Halloween. Use a designated driver, public transportation, or call a cab or rideshare service.

Drive slower and pay close attention to pedestrians out trick-or-treating.
Kentucky Personal Injury Lawyers – Rhoads & Rhoads
If you, your child, or another loved one are injured on Halloween, the team at Rhoads & Rhoads can help.
If you or your child were injured due to your own carelessness, you likely would not have a case. However, if the accident and injuries resulted from someone else's negligence, such as reckless drivers hitting pedestrians or homeowners and business owners with a hazard on their property, they could be held liable.
If you aren't sure if you have a case for your Halloween injury, call us at  888-709-9329, and we can review your case and offer you guidance.
We offer free initial consultations, and all cases are taken on a contingency fee basis, so no initial payment is required. We get paid only if we win or settle your case, and there is NO RISK involved.