Key Points of This Article:
Though advanced car safety features are not perfect, studies have shown that they do help make cars safer.

From 1960 to 2012, it's estimated 600,000 lives were saved thanks to car safety features.

Drivers should never fully rely on safety features and must remain alert and vigilant when driving.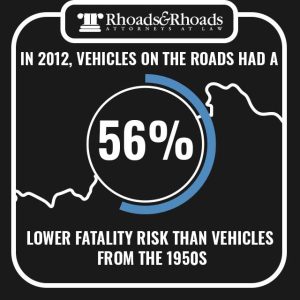 Of the millions of car accidents that occur each year, a significant number of them result in serious injuries and fatalities. Early estimates for 2022 show that 42,795 people died in car accidents that year. However, despite the fact that thousands of people still die each year in car accidents, newer cars with advanced vehicle safety features are helping to make the roads safer. 
Though it's now 2023, the NHTSA reported that even in 2012, vehicles on the roads had a 56% lower fatality risk than vehicles from the 1950s thanks to safety developments. From 1960 to 2012, this equated to an estimated 600,000 lives being saved. 
As technology has further advanced in the last decade, it is likely that these numbers have increased, with cars today being even safer than they were in 2012. Still, it's important for drivers to remain vigilant when on the roads. Technology is not foolproof, and one of the best ways to avoid an accident is to pay attention and be a good driver.  
To offer a little more insight into the safety of vehicles on the road today, our team of Kentucky car accident attorneys at Rhoads & Rhoads has put together this guide. 
Do Car Safety Features Actually Make Vehicles Safer?
Despite the fact that some are still wary of relying too heavily on technology, studies show that car safety features do make cars safer. For example, the Insurance Institute for Highway Safety did a study on the effectiveness of blind spot monitoring systems, which showed that crash rates in lane-change accidents with injuries were 23% lower than in vehicles without the same feature.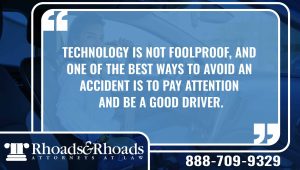 According to the National Safety Council, based on current data, car safety feature technologies have the potential to prevent 20,841 deaths each year. This equates to around 62% of total traffic accident deaths. Additionally, the same report shows that safety features in vehicles could potentially prevent or mitigate around 1.69 million injuries caused by car accidents. 
However, it's important to understand that advanced car systems with these safety features are not perfect and neither are humans. Misuse of these systems could still result in accidents. And it's advised that drivers do not rely solely on their smart cars to take care of everything for them. 
In other words, drivers still need to pay attention and be mindful of their driving habits to avoid causing accidents. Instead of relying on these safety features to do all the work, drivers should use them to help them be better drivers. 
What Are the Best Safety Features in Cars Today? 
All vehicles sold today are equipped with some sort of advanced driver-assistance system (ADAS). Even if you own a basic, low-level model, most advanced safety features come standard today. 
Some of the top car safety features today include:
Automated Emergency Braking:

AEB uses cameras and radar to detect when the vehicle is too close to the rear of another. The system will then take over and apply the brakes. 

Lane-Assist:

There are two kinds of lane-assist technology available today. Lane-Keep Assist makes small adjustments to ensure the vehicle is staying in its lane. Lane-Departure Warning is an alert system that doesn't make adjustments but sounds an alarm to alert the driver when the vehicle is steering out of the lane. 

Blind Spot Monitoring: This system uses sensors equipped in the rear of a car to monitor the lanes on either side for other vehicles that might be in the driver's blind spot. When vehicles are detected, the system will alert the driver, using a warning light, so they know that another car is in their blind spot in case they plan to change lanes. 
Pedestrian Detection:

Vehicles with Pedestrian Detection systems work in one of two ways: either the system will alert the driver when a pedestrian is walking in front of or behind the vehicle, or the system will take over and automatically apply the brakes to prevent an accident. 
These are some of the best features that are readily available in cars today, but there are a number of other features that will likely be available in the near future. This includes Active Driver Monitoring, which helps to prevent distracted or fatigued driving accidents. For example, if a driver is daydreaming or potentially falling asleep, the system will sound an alarm when it detects that the driver's attention has lapsed. 
Kentucky Personal Injury Lawyers – Rhoads & Rhoads
As efficient and beneficial as car safety features may be, accidents can still happen. If you are injured in a car accident and need help filing a claim and recovering compensation, our team at Rhoads & Rhoads can help. 
Call us at 888-709-9329 to schedule an appointment with one of our Madisonville or Owensboro personal injury attorneys. We offer free initial consultations, and all cases are taken on a contingency fee basis, so there is no initial payment required. We get paid only if we win or settle your case, and there is NO RISK involved.