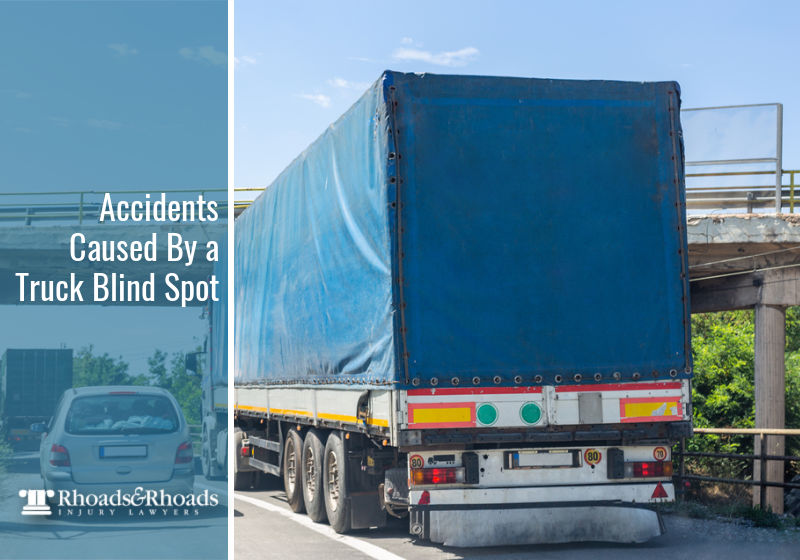 Key Points of This Article:
Semi-trucks and tractor-trailers have large blind spots.
The FMCSA offers guidance and tips to help passenger vehicle drivers and truck drivers prevent and avoid blind spot accidents.
Proving negligence in a truck accident case is not easy; you will need the help of an attorney to obtain evidence to support your claim.
Freight transportation is an essential part of our economy. These large semi-trucks and tractor-trailers transport goods all across the country. However, there is one big problem when it comes to large trucks, and that's blind spots.
Almost all vehicles have blind spots, but a truck blind spot is much larger due to the configuration of the trailer and the cab, where the truck driver sits. It's much harder for truck drivers to see who is driving on either side and behind them.
This makes truck accidents so much more dangerous. Not only do cars completely disappear in these blind spots, but when an accident does occur, it usually results in significant damage and injuries due to the size and weight of semi-trucks.
If you or a loved one are the victim of a Kentucky semi-truck accident and need help with your personal injury case, our honest and caring team at Rhoads & Rhoads Attorneys at Law can help.
Semi-Trucks Blind Spots
Thousands of blind spot accidents happen every year, with a significant number of them resulting from large truck blind spots. For this reason, the Federal Motor Carrier Safety Administration (FMCSA) offers plenty of blind spot educational information to help everyone share the road safely.
Truck drivers have large blind spots called "No Zones" and should be avoided as much as possible, especially if you are driving in a much smaller vehicle than these large trucks.
There are four "No Zones," as shown by the FMCSA illustrations provided in the link above:
The first 30 feet behind a truck.
The first 20 feet in front of a truck.
Directly next to the truck in the lane to its left.
Directly next to the truck, two lanes to the right.
A good rule of thumb is that if you can't see your vehicle reflected in the truck's side mirrors, the truck driver can't see you either. There is also a large blind spot directly to the right of trucks when they are making a right-hand turn. If you suspect the truck is about to turn, it's best not to ride alongside them.
How to Avoid Kentucky Semi-Truck Blind Spot Accidents
Because truck blind spots are such a huge problem, the FMCSA offers guidance for truck drivers and passenger vehicle drivers to help prevent and avoid a blind spot accident.
For truck drivers, tips for avoiding blind spot accidents include:
Check blind spots every 8-10 seconds.
Checking ahead for potential traffic issues every 15 seconds.
Make wide turns carefully.
Drive at a safe speed.
Stay focused and avoid distractions.
Use your signal, giving other drivers plenty of time to notice your intent before turning or making lane changes.
Tips for other drivers to help them drive safely around large trucks include:
Pay attention and stay out of "No Zones."
Be careful when merging next to a large truck, as you will likely be in a blind spot.
When passing on the left, use your signal and make sure you can see the driver in the mirror, then accelerate past the truck safely and promptly.
Avoid cutting off large trucks as they have longer stopping distances and might not be able to see you up to 20 feet in front of them.
Never tailgate a large truck; the area directly behind a truck is a 30 ft blind spot.
Anticipate when a truck is going to make a wide turn and give them space to do so.
Be patient with truck drivers; they often have to drive slower and more carefully to comply with federal trucking regulations.
Holding Truck Drivers and Trucking Companies Liable
If you are involved in an accident with a semi-truck in Kentucky, it's advised that you consult an attorney about your case. Truck accidents are much more complex than other accident cases, as it can be challenging to hold the truck driver or the trucking company that hired them accountable.
Trucking companies often have their own fancy insurance companies and legal teams protecting them. Still, they have regulations to abide by and must follow the rules of the road the same as anyone else.
To prove truck driver or trucking company negligence, you will need to gather a significant amount of evidence so there is no way they can deny fault. It can be challenging to determine who is at fault in a blind spot accident, and it may be difficult to obtain sufficient evidence without the help of an attorney.
Such evidence that can be used to prove negligence in a truck accident includes:
Police reports
Eyewitness statements
Photos and video surveillance from the accident scene
The truck driver's driving record
The truck driver's training records or proof of their experience
Info from the Event Data Recorder (EDR) or black box on the truck
Data from the truck's crash-avoidance sensors
Footage from cameras on board the truck
Kentucky Personal Injury Lawyers – Rhoads & Rhoads
Our team at Rhoads & Rhoads has experience handling complex trucking accident claims and lawsuits. We are dedicated to helping injured victims receive the guidance and help they need to win their cases.
Call us at 888-709-9329 to schedule an appointment with one of our Madisonville or Owensboro personal injury attorneys. We offer free initial consultations, and all cases are taken on a contingency fee basis, so no initial payment is required.
We get paid only if we win or settle your case, and there is NO RISK involved.