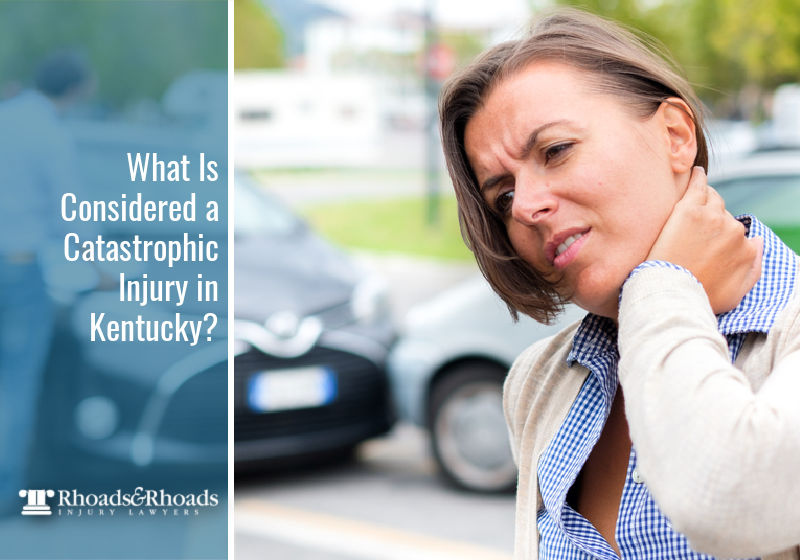 Key Points of This Article:
Catastrophic injuries are devastating and leave the victim permanently impaired.

Traumatic brain injuries are common types of catastrophic injuries.

In Kentucky, you can file a lawsuit if an injury is catastrophic. 
Catastrophic injuries are often devastating and can permanently alter a person's life, such as loss of hearing or eyesight, amputations, and catastrophic brain injury. And not only are these types of injuries physically tragic, but they can also severely impact a person's mental well-being and personal relationships. 
Because of the financial, physical, and emotional impact of a catastrophic injury, victims deserve to be more thoroughly compensated than they would for the average personal injury. However, to ensure you get the settlement you deserve, you will need to work with an experienced Kentucky car accident attorney.  
With an experienced catastrophic injury lawyer on your side, you will be more likely to successfully win your case and get the compensation you need to help you move on with your life as best as possible. You can even file a lawsuit against the guilty party for additional compensation if the amount provided by insurance is not enough. 
How Is a Catastrophic Injury Defined?
A catastrophic injury requires defining because it differs from injuries that victims suffer from in the average personal injury case. A catastrophic injury is more devastating and life-altering; thus, the victim deserves more money to compensate them for their extreme suffering. 
So, what is considered a catastrophic injury? A catastrophic injury is defined as an injury that permanently impairs an individual, alters their quality of life, impacts their ability to make a living, and potentially requires long-term care and/or special accommodations. 
Because so much of a person's life is affected by a catastrophic injury, they are viewed as being eligible for more money than is typically awarded on average in accident cases. Catastrophic injuries can require more expensive surgeries, a lifetime of treatment and care, and special aids and medical devices. 
These injuries can also severely affect a person's mental state, causing them to become depressed or develop other extreme behaviors, which can affect them and others around them, such as family and loved ones. And of course, whatever impairment they suffer from will also reduce their quality of life, their ability to perform daily activities, and limit their ability to work and earn an income.  
What Causes Catastrophic Injuries?
Motor vehicle accidents tend to be the leading cause of catastrophic injuries. This is because drivers, passengers, and even pedestrians or bicyclists, are more at risk of sustaining severe and even life-threatening injuries when a severe car accident occurs. 
However, various other incidents can cause someone to suffer from a catastrophic injury. These include:
Automobile accidents

Slip and fall accidents

Sporting accidents

Boating accidents

Workplace accidents

Physical assaults
Types of Catastrophic Injuries That Can Result from a Car Accident
There are also countless kinds of catastrophic injuries that can occur in a car accident. Each situation will vary depending on the individual involved and how exactly they were injured, but some of the most common catastrophic injuries that result from car accidents include:
Traumatic brain injuries: While some brain and head injuries can be mild, catastrophic brain injuries cause severe and permanent neurological damage, which can affect a person's cognitive state, bodily functions, behaviors, speech, and more.  
Spinal injuries:

Any damage to the spinal cord can be dangerous, but a catastrophic spinal cord injury can be even more devastating. In many cases, severe damage to the spinal cord will result in some form of paralysis or paraplegia. 
Loss of limbs:

When a limb is crushed or severely damaged in any other way, it could result in loss of function or mobility. And in some cases, it can even require amputation. While prosthetic limbs have come a long way and can help a person gain back mobility in some cases, loss of a limb is still considered a catastrophic, life-altering injury. 
Catastrophic Injury Claims and Lawsuits
In Kentucky, because it is a no-fault state, you would normally file a personal injury claim with your own insurance company to recover damages. These include economic damages such as medical expenses, loss of income, and property damage, as well as non-economic damages such as pain & suffering, loss of enjoyment of life, mental anguish, and loss of consortium. 
However, with a catastrophic injury, the damages a person suffers are often significantly worse and more substantial. As such, the compensation that is awarded by insurers for a personal injury claim might not be enough. Luckily, even though Kentucky is a no-fault state, if the injury is determined to be catastrophic, you can file a lawsuit for additional compensation from the negligent, at-fault party.  
This is why it is crucial to work with a catastrophic injury law firm. You will need to provide sufficient evidence to prove that you are suffering from a catastrophic injury to be able to file a lawsuit and get the full settlement you deserve. An attorney can protect your rights, help advocate for your cause, and make sure that all evidence is accounted for. 
Kentucky Personal Injury Lawyers – Rhoads & Rhoads
If you need help filing a car accident claim or lawsuit to recover compensation for your catastrophic injury, our experienced team of personal injury attorneys can help. We have years of experience handling challenging catastrophic injury cases and know what it takes to help our clients win the settlement they need and deserve so they can recover and move on as comfortably as possible. 
Call us at 888-709-9329 or contact us by email to schedule an appointment with one of our attorneys today. We offer free initial consultations, and all cases are taken on a contingency fee basis, so no initial payment is required. We get paid only if we win or settle your case, and there is NO RISK involved.