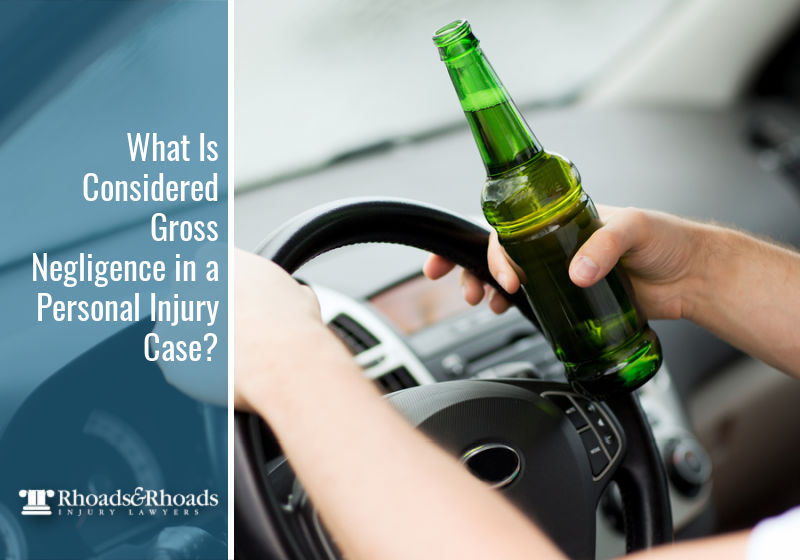 Key points of this article:
Gross negligence refers to a liable person or party maliciously or willfully engaging in an act that puts others in danger. 

A few examples of gross negligence may include drinking and driving, driving recklessly through an area with many pedestrians, and knowingly operating a vehicle that isn't safe on the road. 

Although you can recover more compensation by providing evidence that the defendant engaged in gross negligence, it can be challenging to prove that their actions qualify as gross negligence.  
Gross negligence is an important part of personal injury cases. Although it's far rarer for a plaintiff to recover compensation for gross negligence than standard negligence, you should be aware of what qualifies as gross negligence in case it applies to your claim or lawsuit. 
Here's what you need to know about seeking gross negligence damages in Kentucky. 
Defining "gross negligence" in Kentucky personal injury cases
Personal injury cases involve a legal term called "negligence," which means that someone failed to uphold reasonable care, and this lapse of reasonable care caused someone else to sustain injuries. For example, if a driver operates their vehicle past the legal speed limit, they fail to operate their car with reasonable care because their speeding endangers others on the road. If they cause a serious accident as a result, their breach of reasonable care injured others. The reckless driver was negligent and liable for the victim's personal injuries. 
Standard negligence often involves simple mistakes, such as accidentally running a stop sign or failing to check your blind spot. 
Gross negligence is similar to standard negligence, but the actions of the liable party are more extreme and more blatantly disregard the safety of others. As an example, if a driver goes ten miles over the speed limit on the interstate, they engage in standard negligence. A driver operating their vehicle at a recklessly high speed in a school zone more overtly disregards the safety of others, and as a result, an injured party would have a higher likelihood of proving gross negligence. 
What qualifies as gross negligence differs from state to state. Kentucky's Supreme Court once officially stated that for an act to qualify as gross negligence, "There must be an element either of malice or willfulness or such an utter and wanton disregard of the rights of others as from which it may be assumed the act was malicious or willful." 
Examples of gross negligence in Kentucky personal injury cases
Whether or not your case involves gross negligence will depend on the unique circumstances of your accident. Additionally, courts may have differing views on what exactly qualifies as malice or willful disregard for others' safety. Some examples of actions that could be considered gross negligence include:
Driving at a dangerously high speed in an area with many pedestrians

A doctor ignoring medical records and prescribing a patient a drug that they're allergic to 

Nursing home staff failing to supply residents with food and water 

A driver operating an unsafe vehicle on a public road even though they know it could harm others 
Proving gross negligence in Kentucky
It's far more challenging to prove that a defendant engaged in gross negligence than standard negligence because the burden of proof is on the plaintiff to supply sufficient evidence that the defendant willfully or maliciously risked the safety of others. 
The process of proving someone is negligent includes the following steps:
The defendant owed the plaintiff a duty of care:

The plaintiff needs to prove that the defendant owed them a duty of care. For example, drivers owe a duty of care to operate their vehicles safely on the road. 

The defendant breached this duty:

The plaintiff needs to supply evidence that the defendant breached their duty. In the case of car wrecks, that would mean proving that the driver broke a traffic law or drove in an unsafe way. 

The plaintiff suffered from an injury due to the breach:

The plaintiff must prove that the defendant's breach directly caused their injuries, such as a car accident causing a broken leg. 

The injury resulted in damages:

Finally, the plaintiff must prove that they suffered damages as a direct result of the defendant's actions, such as needing to pay medical bills or missing work because of the car accident.
Proving gross negligence works in the same way, but you need to provide sufficient evidence that the defendant was aware that their actions could harm or kill another person. For example, proving that a driver operated their vehicle at a blood alcohol level of .20 — while the legal limit is .08 — may illustrate that the driver was aware of the dangers they posed to others on the road because they were obviously drunk. They blatantly disregarded the safety of others, which a court may rule as gross negligence. 
Can gross negligence result in punitive damages?
Punitive damages differ from standard personal injury damages because they're designed to punish the defendant and dissuade others from engaging in similar behaviors. If a defendant blatantly or intentionally disregards others' safety causing a personal injury as a result, the court may rule in favor of punitive damages.
Although this is possible, it's important to know that punitive damages are far rarer than standard damages. If you have questions regarding whether your case could result in punitive damages, we recommend you contact a personal injury attorney.
Get the compensation you deserve for gross negligence
If you suffer from a car wreck or another accident that causes you to sustain injuries, you need to hold the responsible party accountable, especially if they obviously disregarded your safety. 
When filing a personal injury claim, you may be able to recover various forms of damages depending on your case, such as compensation for medical bills, lost wages, loss of enjoyment of life, loss of future earnings, emotional trauma, pain and suffering, and more. 
In the event that you suffer from injuries caused by a negligent driver in Kentucky, contact the personal injury lawyers at Rhoads & Rhoads Attorneys at Law. We also assist Kentucky residents with other types of personal injuries, including product liability, premises liability, medical malpractice, and more. 
Schedule a FREE case evaluation by calling 888-709-9329, or you can schedule an appointment online here.