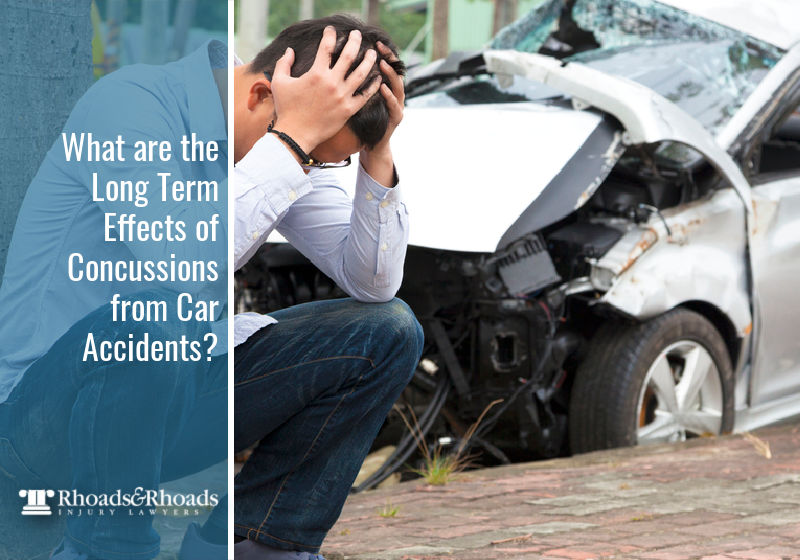 Most people are familiar with concussions; they may have known a friend who suffered a sports-related concussion while in school, or they may have seen concussions referenced on various medical shows on television. But there are many facts about concussions, particularly the long term effects of concussions from car accidents, that most people don't know. 
For example, a concussion is a type of traumatic brain injury. Traumatic brain injuries (TBIs) can be severe, moderate, or mild. Concussions are considered to be mild traumatic brain injuries (mTBIs).

Concussions occur as a result of a forceful blow or a penetrative injury to the head. But they can also occur when there is no actual contact. When the head is jolted rapidly back and forth or sideways, the brain's cortex collides with the skull, causing injury to the brain.

Some people believe that concussions only occur when someone loses consciousness, and although that can happen, it isn't true in most cases.

The word "mild" is misleading. Even a mild traumatic brain injury can have serious effects that last for a year or longer. 
Concussion symptoms:
If you have suffered a car accident concussion, you probably experienced some of the symptoms below:
Difficulty focusing or concentrating

Difficulty remembering things and retaining new memories

Headache

Nausea

Problems with balance

Dizziness/vertigo

Altered sense of taste and smell

Vision problems (like blurred vision)

Increased sensitivity to noise or light

Lack of energy

Fatigue

Sadness

Irritability

Anxiety

Sleep disturbances (insomnia, sleeping less or more than usual)
These are all unpleasant to deal with, but extremely worrying if they don't improve. Most concussions heal within a week or two, but not everyone heals at the same rate. Long term effects of concussions are most common in:

People who have experienced previous concussions

Older people

People who take blood thinners

Anyone suffering from a chronic health condition

Those who don't allow themselves to rest after their injury and who push themselves

People with anxiety and depression

Women

Younger people
The severity of the concussion is the most significant factor affecting recovery time.
If concussion symptoms last beyond 2-3 weeks, you should return to the doctor. Because concussions aren't defined by structural damage, they don't necessarily show up on tests. Symptoms appear when the neurons cannot signal for the required amount of blood to perform an action, but this isn't visible on a scan or imaging. 
However, your doctor will probably order a test such as an MRI or CT scan to rule out a secondary injury or brain bleed. 
Treatment for long-term effects of concussions:
At first, you may just be advised to rest, avoid electronics, avoid stress, and avoid alcohol. However, if you are still experiencing at least three concussion symptoms 3 months after your accident, the doctor will assume that you have post-concussion syndrome. Treatments may include:
Antidepressants or anti-anxiety medications

Pain medications (for persistent headaches)

Counseling or psychotherapy (for mood disorders)

ENT referral (ear, nose, and throat specialist) for vertigo

Continued rest
Needless to say, suffering from the long term effects of concussions can completely disrupt your life. It simply isn't possible to return to full-time employment if you are dealing with headaches, cognition and memory difficulties, or balance issues. This means that the emotional and practical implications are compounded by the financial ramifications of your accident. 
In addition, personality changes or poor impulse control, both long term effects of concussions, may affect your relationships with loved ones.
Settlement for a concussion in a car accident
If that isn't difficult enough, you may also be struggling to be compensated fairly for your mTBI. Insurance companies are aware that at least 15% of those with concussions experience long-term effects, but their task is to settle your case as quickly and as cheaply as possible. As we wrote above, it is difficult to prove the long-term effects of a concussion. Unlike with a fractured bone, you can't point to an X-ray or a scan as proof; you have to simply describe your symptoms.
The Kentucky brain injury attorneys at Rhoads & Rhoads have over 45 years of experience fighting for our clients' rights in Western Kentucky. We know that concussions can disrupt lives, and we will work to eliminate your stress and to see you fairly compensated. 
Don't let the long term effects of concussions after an accident disrupt your life without speaking to a qualified attorney.  Call the Kentucky car accident attorneys at Rhoads & Rhoads at 888-709-9329 to schedule your FREE legal consultation today.