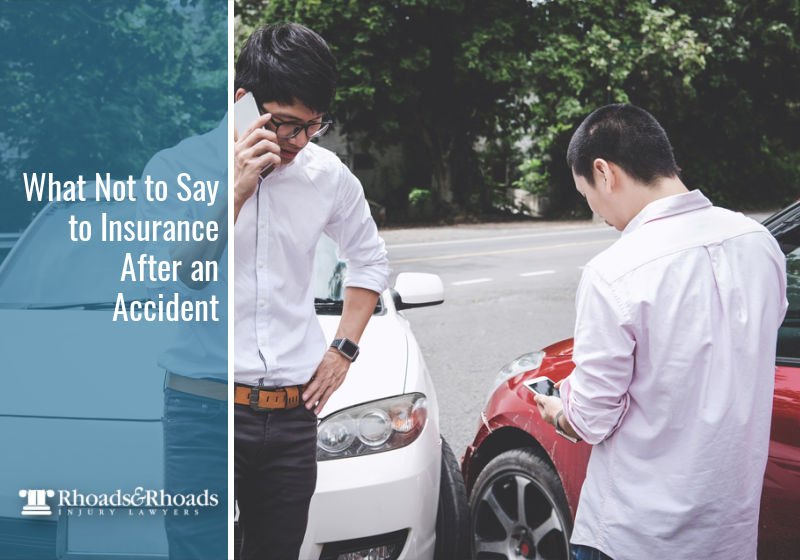 Key points of this article: 
After a Kentucky car accident, what you say – and what you

don't

say to your car insurance company can make a world of difference in how your claim proceeds and how fairly you are compensated. 

The

car accident attorneys

at Rhoads & Rhoads can help you navigate the entire process. 
Even accidents that don't involve catastrophic injuries can be traumatic. Although you may not be in shock in the medical sense, you will certainly be shocked. The resulting adrenaline surge may prompt an understandable desire for you to talk through every little detail of the accident, including what you were thinking at each second, how you felt, and what you feared. This article is to warn you to resist that inclination at all costs, especially when you are talking to a representative from your insurance company. 
You may be under the impression that your insurance company is on your side; after all, they are your insurance company. You have probably been paying premiums to them for many years. In addition, whoever you speak to is bound to be warm and friendly on the phone. Don't be lulled into a false sense of security. Your insurance representatives may be perfectly lovely people, and they will no doubt follow the law exactly, but their actual goal is to settle your case as quickly and as inexpensively as possible. It's important to know exactly what not to say to insurance after an accident.
What to say to insurance after an accident
Let's start with what you should say to your insurance after an accident. Definitely inform them that you have been in an accident. Most insurance companies require that you notify them within 24 hours. You should let them know as soon as possible, but don't go into detail at this point. You will need to supply the following information that you (hopefully) gathered at the scene of the accident:
Begin with your name and policy number.

Give the other driver's name and address.

Give the other driver's phone number and insurance details.

Supply the registration number of any cars that were involved.

Tell them the time and place where the accident took place.

Provide the police report number.
What not to say to insurance after an accident
Do not say that the accident was your fault or that you are sorry. This advice is useful to keep in mind at the scene of the accident as well. Obviously, it is human nature to want to say sorry when someone else is in pain, even if it isn't your fault. Unfortunately, this empathetic impulse can be twisted and used as an admission of guilt. It is better to stick to the facts of what happened.

Don't answer questions that aren't asked. It is always better to say too little than too much.

Don't say that you don't have a lawyer. Insurance companies are quick to offer a low settlement if they know you don't have legal representation. One

survey

showed that 91% of people with a lawyer received a payout after a motor vehicle accident, as compared to 51% of people without a lawyer. It is in your best interest to retain a car accident attorney as soon as possible. 

Don't agree to be recorded or to give an official statement. Although you will only tell the truth, it is easy for insurance representatives to jump on any innocent inconsistencies in your story and exploit them. Consult with your attorney before you agree to anything like this; you are not legally obligated to record a statement.

Don't say that you are fine. You may not be fine, and you will need time to consult with your doctor and get thoroughly checked out. Many injuries (like whiplash, internal injuries, back injuries, or PTSD) are not immediately apparent, so never make a sweeping proclamation that you are fine. For the same reason, never sign off on a medical release form unless your attorney advises you to do so. 

Don't express any eagerness to wrap up the entire claim procedure as soon as possible. That is showing a weakness that can be exploited. If the insurance company knows that you are fed up and anxious to settle, you will be offered a low amount. Also, don't agree to an initial settlement offer – consult your attorney before agreeing to anything. 

Don't use the words, "I think," "I believe," or "In my opinion…" Avoid speculation altogether and provide only objective information.

Don't tell the insurance representative that you talked to any friends or family members immediately after the accident. In some cases, insurance companies have been known to contact people who were confided in to compare what you said at the time with what you are saying now. There are always ways to manipulate throwaway comments or exploit loopholes. Don't give them that ammunition. There is no reason to give your insurance company the names or contact information of anyone who wasn't involved in the accident.
This is a lot of advice to internalize, and it will be difficult to remember it all if you are dealing with the aftereffects of an accident where you may have been injured. You should be able to focus on your recovery without having to agonize over every conversation with your insurance company. 
It is the goal of Rhoads & Rhoads to make sure that you receive fair compensation. We can handle most of the interactions with your insurance company and advise you before you make any statements. Our team of experienced personal injury attorneys can help you through every step of your claim process, including answering all of your car insurance questions. Our attorneys know exactly what not to say to insurance after an accident.
Call the Kentucky car accident attorneys at Rhoads & Rhoads at 888-709-9329 to schedule your FREE legal consultation today.