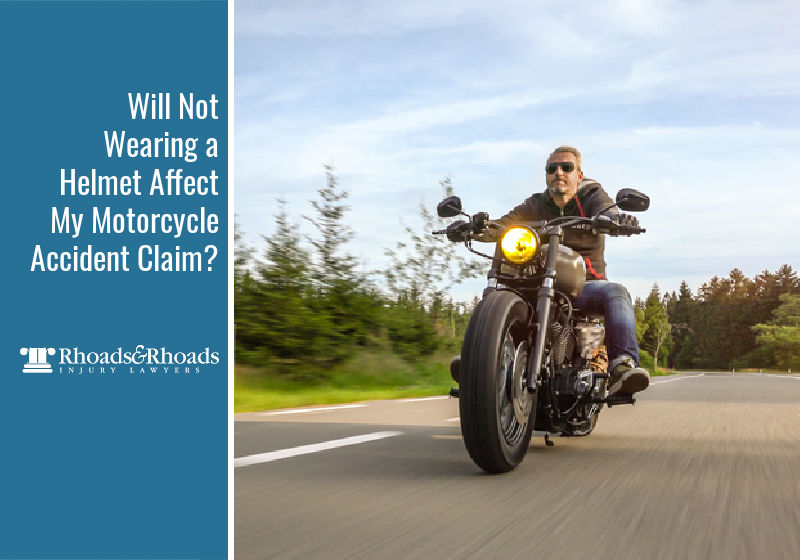 Key Points of This Article:
In 2019, over 5,000 motorcyclists died in crashes.

Due to Kentucky's lack of universal helmet laws, it is considered one of the most dangerous states for riding a motorcycle.

Not wearing a helmet can negatively impact your motorcycle accident claim.
While any accident can result in significant damage and injuries, motorcycle accidents can be especially severe. This is because motorcyclists do not have as much protection against impacts and collisions as passenger vehicle occupants. As a result, when in an accident, motorcyclists will often be thrown from their bikes, and if they aren't wearing a helmet, the resulting injuries can be life-threatening. 
According to the National Highway Traffic Safety Administration, over 5,000 motorcyclists died in 2019. Based on these numbers, they further report that compared to passenger vehicle occupants, motorcyclists are 29 times more likely to die in an accident and four times more likely to be injured. 
Kentucky is considered one the most dangerous states for motorcyclists due to the repeal of their universal helmet law in 1998. In 2018, Kentucky State Police reported nearly 1,500 motorcycle collisions, and 86 of them were fatal. 
Helmets are vital to saving your life as a motorcyclist. However, whether you were wearing a helmet or not, you have a right to receive compensation if you were injured in an accident that was not your fault. Due to the severity of the injuries that often result from these types of accidents, compensation is often needed to help cover the expensive cost of medical care. Working with an experienced Kentucky personal injury attorney can ensure you receive the full amount of benefits you need to recover. 
Kentucky Motorcycle Helmet Laws
In 1968, Kentucky enacted a law that required all riders to wear a helmet. However, in 1998, that law was repealed. While Kentucky does not have any universal helmet laws in place, there are still some situations in which a helmet is required:
Motorcycle operators and passengers must wear a helmet if they are under the age of 21.
A helmet must be worn if the motorcycle operator has a motorcycle instruction permit.
New motorcycle operators who have held their license for less than a year must wear a helmet.
What Happens If I Violate Motorcycle Helmet Laws?
Though not everyone is required to wear a helmet in the state of Kentucky, if any of the above rules are violated, fines can range from $20 to $100. These may not seem like harsh consequences, but the likelihood of dying after getting into an accident without a helmet should be enough to convince you to wear a helmet. Helmets go a long way towards reducing motorcyclists' chances of dying or suffering from life-altering brain injuries. 
Kentucky Comparative Negligence Laws and How They Affect Your Motorcycle Accident Claim
While not wearing a helmet won't necessarily bar you from receiving benefits after an accident, it can still negatively impact your claim. To recover damages, you must prove that the other driver was at fault by acting negligently. If you were wearing a helmet and are determined to be partially responsible and negligent, however, you may still be able to receive benefits due to Kentucky's comparative negligence laws. 
In some states, if you are found to have been even the slightest bit at fault, you are not allowed to recover any benefits. In comparative negligence states like Kentucky, however, you can still receive compensation—but it will be reduced by the percentage of your fault in causing the accident or your injuries. For example, if you are not wearing a helmet, your injuries may be more severe, and thus the extent of your injuries may be seen as partially your fault because of your decision not to wear a helmet. 
If you or a loved one sustained injuries in a motorcycle accident, working with an experienced attorney can help ensure you receive the full amount of compensation that you deserve. Benefits awarded not only help cover the cost of medical care but can cover additional damages, such as pain and suffering, mental anguish, and loss of wages due to an inability to work while recovering. In addition, you may even be eligible for compensation to help cover future medical care or future loss of income if your injuries are so severe that they leave you disabled or require further treatments down the road. 
Kentucky Personal Injury Lawyers – Rhoads & Rhoads
If you are the victim of a motorcycle accident, the team at Rhoads & Rhoads can help. We are dedicated to guiding injured victims through the challenging process of personal injury claims and lawsuits—and can help them receive the full amount of benefits they need to recover. 
Call us at 888-709-9329 to schedule an appointment with one of our Madisonville or Owensboro personal injury attorneys. We offer free initial consultations, and all cases are taken on a contingency fee basis, so there is no initial payment required. We get paid only if we win or settle your case, and there is NO RISK involved.