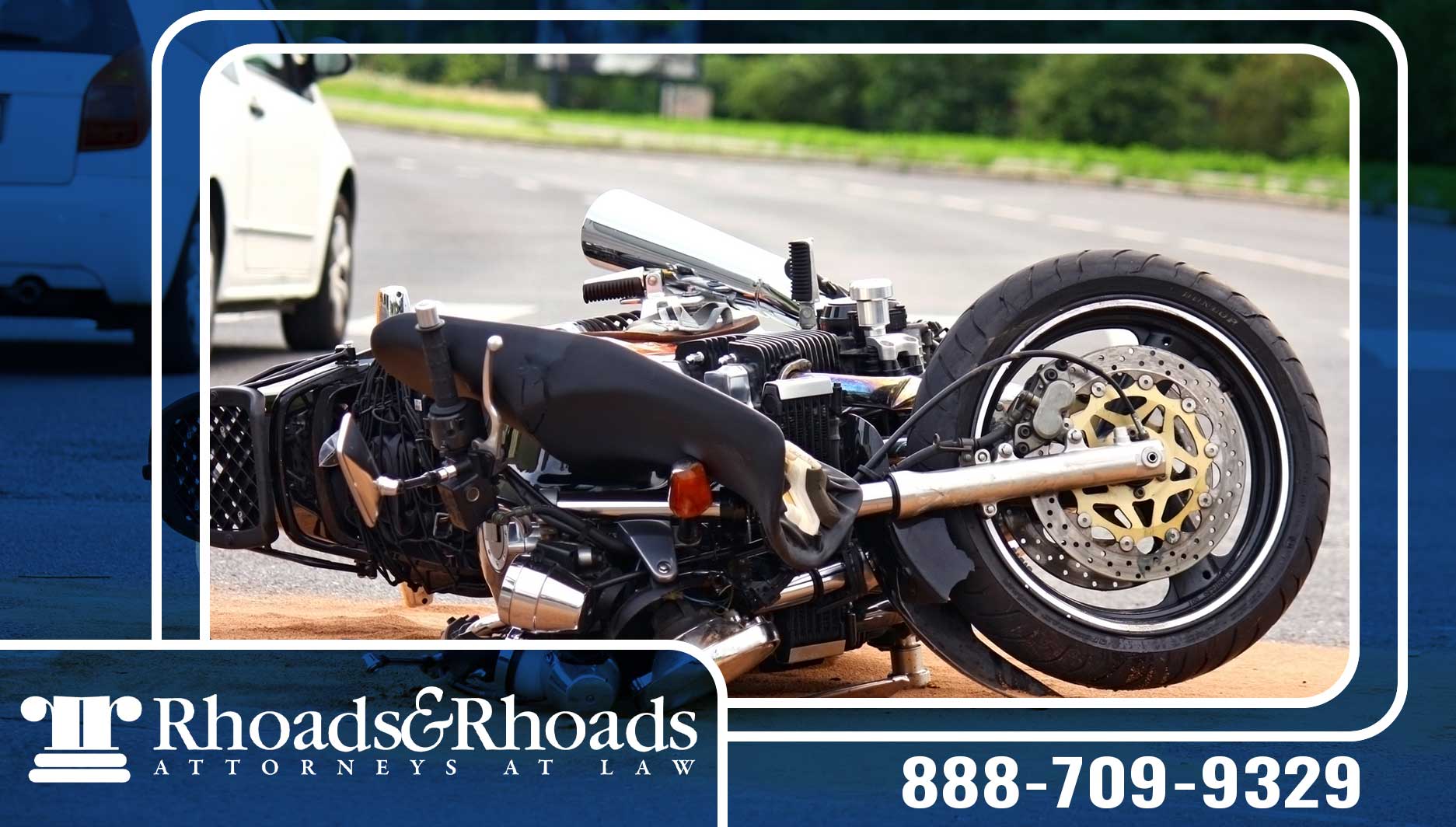 Key Points of This Article:
Head injuries are some of the most common injuries sustained in motorcycle accidents.

Not wearing a helmet could negatively affect your motorcycle accident head injury claim.

There are four steps you should take after being injured in a motorcycle accident.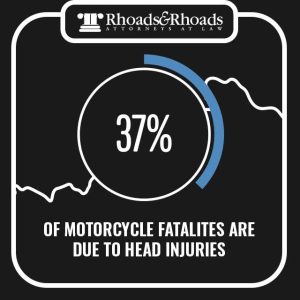 Motorcycle accidents are some of the most dangerous and even deadly accidents a person can be involved in. Because motorcyclists do not have the protection that vehicle passengers do, they are at higher risk of sustaining severe, life-threatening injuries.
Head injuries are especially common among motorcyclists, especially in states without strict helmet laws, like Kentucky. Motorcycle accident head injury statistics show that over 4,500 fatalities occur every year as a result of motorcycle accidents, and roughly 37% of those fatalities are due to head injuries. 
Even if a head injury is not fatal, it can lead to long-term complications that require costly medical treatments and care. Some head injury victims could become paralyzed or suffer permanent brain damage that leaves them impaired. 
If you or a loved one are the victim of a motorcycle accident in Kentucky, our attorneys can help. Our Rhoads & Rhoads injury attorneys have been practicing for over 45 years. We know what it takes to help motorcycle accident victims win their cases and get the compensation they deserve. 
Common Motorcycle Accident Head Injuries
Traumatic brain injuries are the most commonly diagnosed head injuries in motorcycle accident cases. While brain injuries can be mild, most often, they are moderate to severe, especially with motorcyclists who weren't wearing a helmet. 
These injuries often require emergency medical treatment that could involve costly surgeries and post-op care. Some victims may even require long-term care and rehabilitative services during recovery after a motorcycle accident head injury.
Some of the most common types of motorcycle accident head injuries include: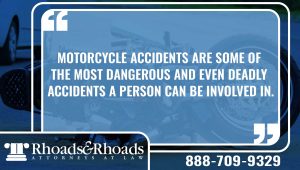 Skull fractures

Contusions

Coup-Contrecoup injuries

Diffuse axonal injuries

Penetration injuries

Hematomas
If you suffer a severe head injury after a motorcycle accident, a brain injury attorney can help you file your claim and ensure you are awarded the compensation you need to pay for your medical expenses. 
How Kentucky's Helmet Law Could Affect Your Motorcycle Accident Head Injury Claim
The Kentucky motorcycle helmet law states that only motorcyclists under the age of 21 must wear a helmet. This means anyone 21 and over can ride without a helmet, which is a danger to them as it can increase their risk of sustaining a life-threatening head injury. 
Furthermore, though a helmet is not required over the age of 20, not wearing one could also negatively affect your injury claim. Filing a personal injury claim can help you recover compensation for the damages you have suffered, such as your medical expenses. But some insurance companies could try to use the fact that you weren't wearing a helmet against you.
For example, they could claim that your injuries were worse because you chose not to wear a helmet. If they make a valid argument for this claim, you could be offered a reduced settlement that is less than you deserve or need to pay for your medical bills. However, the law does not require a helmet to be worn in Kentucky, and a motorcyclist is not violating the law by choosing not to wear a helmet.  
Steps to Take When You Sustain a Head Injury After a Motorcycle
While wearing (or not wearing) a helmet could potentially affect your case, the steps you take after your motorcycle accident can play a role in your injury claim. As such, it's important to take the following steps to ensure the best possible outcome:
Call the police:

Proof that the accident happened is crucial when you file a claim. And a police report is one of the most important pieces of evidence that can prove this and show what happened. So it's vital that you call the police and ensure an official report is filed. 
Seek medical attention:

If you are severely injured, paramedics will check you out at the scene of the accident, and they may even take you to a hospital right away if necessary. However, if you are not taken to a hospital, you should still set up an appointment to get checked out by your doctor after the accident. Proof that you sustained injuries will also play an important role in your case. So make sure you keep copies of all medical documents, bills, and visit summaries to prove that you were injured in the accident. 
Gather evidence:

If you are able, there is other evidence that you should gather at the scene of the accident that can help support your case. This includes photos of the damage and your injuries, video footage of what happened, and even witness contact information. Witnesses can be called upon later if needed to help prove what happened and who was at fault. 
Contact a motorcycle accident attorney:

After the accident, you mustn't speak to the insurance company before you have consulted with an attorney. Insurance companies may try to trick you into admitting fault or may use other information against you to deny your claim or offer a reduced settlement. Speak to an attorney first. Your lawyer will be able to guide you and ensure you don't say anything that could be used against you. 
Kentucky Personal Injury Lawyers – Rhoads & Rhoads
If you sustain a motorcycle accident head injury, the team at Rhoads & Rhoads can help. We are dedicated to guiding injured victims through the challenging process of personal injury claims and lawsuits—and can help them receive the full amount of benefits they need to recover. 
Call us at 888-709-9329 or contact us online to schedule an appointment with one of our Madisonville or Owensboro personal injury attorneys. We offer free initial consultations, and all cases are taken on a contingency fee basis, so there is no initial payment required. We get paid only if we win or settle your case, and there is NO RISK involved.