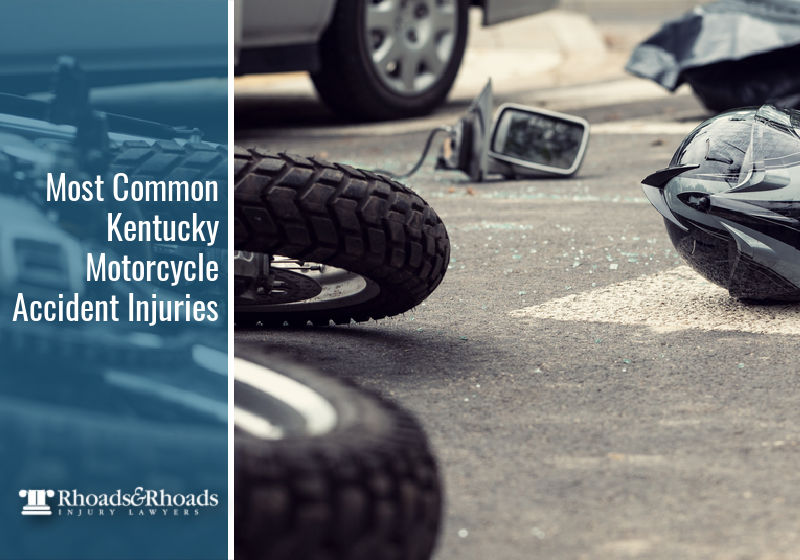 Key Points of This Article:
Certain types of injuries are common in Kentucky motorcycle accidents.

You may have life-changing injuries from your motorcycle accident, plus medical bills and other losses that bring a heavy burden.

It's your right in Kentucky to make a legal claim against the person who hurt you. 

A Kentucky motorcycle accident lawyer can help you understand your legal rights and best options for compensation.
Injuries and Damages From Kentucky Motorcycle Accidents
Do you have injuries from a Kentucky motorcycle accident? Motorcycle accident injuries tend to be severe because the rider's body is so exposed to the forces of the crash. 
You could walk away with minor bruises or suffer extremely severe injuries like an amputation or brain damage. Below is a list of potential motorcycle accident injuries:
Crushed and broken bones

Skin and organ puncture wounds

Skin abrasions and lacerations, including road rash

Muscle damage

Head injuries, including concussions and

traumatic brain injuries

(TBIs)

Shoulder and rotator cuff injuries

Hand and arm injuries

Leg, foot, and ankle injuries

Abdominal and thoracic injuries

Back and spinal cord injuries, including slipped or ruptured discs

Temporary or permanent paralysis

Leg, foot, hand, or arm amputation

Paraplegia or quadriplegia

Cognitive damage, including memory loss
Motorcycle crashes can also cause severe emotional damage that requires extensive psychological treatment. You may be unable to cope with daily life or experience ongoing mental challenges that impact your life and relationships. 
Anxiety

Depression

Anger and emotion regulation issues

Nightmares and sleep disorders

Flashbacks

Post-traumatic stress disorder (PTSD)
Not all motorcycle accident injuries from an accident arise immediately or are instantly apparent. If you have a concussion or back injury, it may take time to realize what's wrong and seek the proper medical professional's insight.
See a doctor immediately after your motorcycle crash and continue following your doctors' orders for treatment as you heal. Your medical records and bills are valuable evidence for a motorcycle accident compensation claim that helps you recoup your losses.
Who's At Fault for My Motorcycle Accident Injuries?
Motorcyclists often face biases and stereotypes after road accidents. Other drivers may automatically blame a motorcyclist for an accident, no matter who is actually at fault. The truth is that liability depends on the circumstances.
Kentucky is a pure comparative negligence state. Fault for traffic accidents is distributed among the involved parties by percentages. This means you may share the blame 50/50 with another driver, one of you is 100% at fault, or anywhere in-between. A third party, like a pedestrian or a city government, could also be involved.
You're not barred from seeking compensation simply because you might hold a small share of the blame. Not wearing a helmet is also not a factor that eliminates your chances of receiving valuable compensation. Talk to an experienced Kentucky motorcycle accident lawyer who can shed light on your options.
Take Action After a Motorcycle Accident in Kentucky
Here at Rhoads & Rhoads, we have compassion for Kentucky's injured motorcyclists. Our goal is to help you recover the compensation you need to move forward from your motorcycle accident as smoothly as possible.
You could be eligible for valuable motorcycle accident compensation that covers your medical bills, motorcycle damage, lost days of work, pain and suffering, and other types of losses. To find out, take advantage of our free initial consultation to discuss your case with us. 
There is no upfront payment required and there is NO RISK involved. Call the Kentucky motorcycle accident attorneys at Rhoads & Rhoads at 888-709-9329 to schedule your FREE legal consultation today.