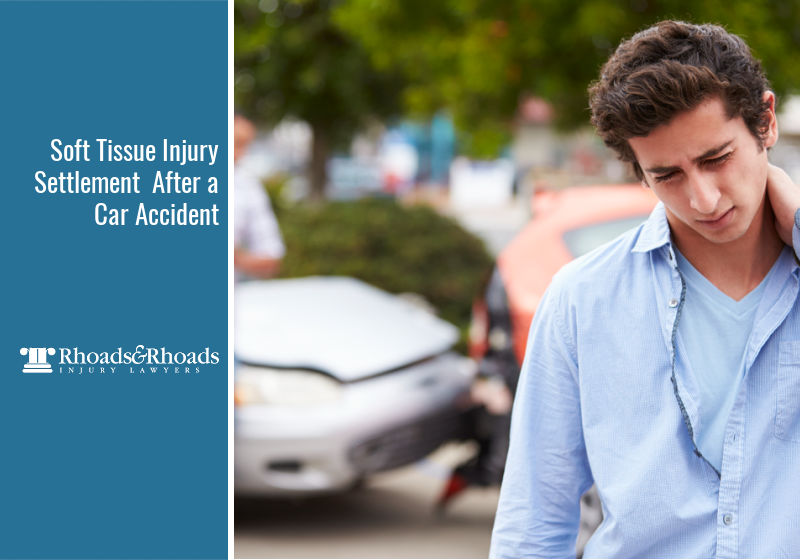 Key points of this article:
Car accidents can result in serious soft tissue injuries that may cause chronic pain or disability for some victims
Insurance companies often don't want to pay out for these kinds of claims
You may be entitled to a number of damages in a claim involving a soft tissue injury
What Is a Soft Tissue Injury?
Soft tissue connects and supports bones, organs, and other types of tissue in the body. Muscles, ligaments, tendons, and fascia are all types of soft tissue. Types of soft tissue injuries from a car accident can include whiplash, back strain, contusions (bruising), strains, and sprains. Soft tissue injuries are tricky because they might not present symptoms until well after the time of the initial accident. Some symptoms of a soft tissue injury could include: pain, bruising, swelling, inflammation, or reduced mobility at the site of the injury.
Soft Tissue Injuries That Result From Car Accidents
Soft tissue injuries can have permanent and damaging effects on victims. Some people experience chronic nerve pain, tingling, numbness, stiffness, limited mobility, and muscle weakness due to soft tissue injuries. Whiplash, a common injury sustained in rear-end accidents, has been shown to negatively affect victims' quality of life for up to five years after the original accident, according to a 2015 study by BMC Public Health. You may also notice behavioral or personality changes, memory loss, or lack of concentration after an accident, particularly if you suffer from whiplash. You may also experience anxiety or depression as a result of the accident.
Factors That Affect Soft Tissue Injury Settlements
Hesitancy From Insurance Companies
Insurance companies will often claim that soft tissue injuries do not need to be covered since they don't require immediate treatment or surgery like a broken bone or other life-threatening injuries. Chiropractic care, which is often sought after by people requiring treatment for soft tissue injuries or issues, is difficult to get coverage for in many cases. It's important to see a doctor right away after an accident to get properly diagnosed and to get proper documentation should you need it for your claim.
No-Fault Insurance
In the state of Kentucky, your car insurance provider is required to provide you with PIP, or personal injury protection. Regardless of who is at fault, this coverage will kick in and can bridge any gaps between the at-fault driver's coverage and your damages. If your medical costs equal or exceed $1,000, your injury is permanent and/or disfiguring, or if you break a bone, or your injuries prove fatal, you are entitled to make a claim or file suit against the at-fault motorist for just compensation.
Liability
Kentucky operates under pure comparative negligence laws, meaning that even if you are partially at fault for an accident, you are entitled to make a claim or file suit against the other driver for the portion of damages for which they are responsible. For example, if you're ruled to be 20% at fault for the incident, you can collect damages for the other 80% of the verdict, judgment or settlement. When it comes down to a "he said/she said" situation and there are no witnesses to verify the conflicting claims of two parties, insurance companies often try to deny liability or split the liability 50/50.
Types of Damages You Are Entitled To
There are many ways that a soft tissue injury can incur unwanted expenses, both medical and otherwise. There are two types of damages: economic and non-economic. Economic damages involve losses of a specific monetary value such as medical bills or lost income. Non-economic damages are intangible but important nonetheless and include physical, mental or emotional damage from the trauma of your accident.
Items for which you pay claim damages for include:
Imaging exams, doctor's appointments, and ER visits
Continuing medical care such as rehab, surgery, chiropractic care, and physical therapy
Medical devices, such as wheelchairs, crutches, splints, and braces
Prescription medications
Lost wages
Emotional and physical pain and suffering
Reduced earning potential due to disability that resulted from the injury
Permanent damage that led to a disability
Actions You Can Take If You Sustained a Soft Tissue Injury
According to the statute of limitations regarding personal injury in the state of Kentucky,  Rev. Stat. Ann. § 304.39-230(6) dictates that you have two years from the date of the accident or when the last personal injury protection (PIP) payments were made to file a claim. Sometimes there are exceptions to this rule–a lawyer from our firm can help you determine if they apply to your case.
If the insurance carrier ultimately denies the claim you've made, your final recourse could be to file a civil suit against the at fault party. Civil suits must be filed within the applicable statute of limitation in question. When determining how to pursue justice. The lawyers at Rhoads and Rhoads can help you claim the damages you are entitled to so you can start on your road to recovery.
Kentucky Personal Injury Lawyers – Rhoads & Rhoads
If you are involved in an accident and have questions, the experts at Rhoads & Rhoads can offer you guidance. We have experience handling accidents resulting in soft tissue injuries and are happy to review your case and offer our support.
Call us at 888-709-9329 to schedule an appointment with one of our Madisonville or Owensboro personal injury attorneys. We offer free initial consultations, and all cases are taken on a contingency fee basis, so no initial payment is required. We get paid only if we win or settle your case, and there is NO RISK involved.