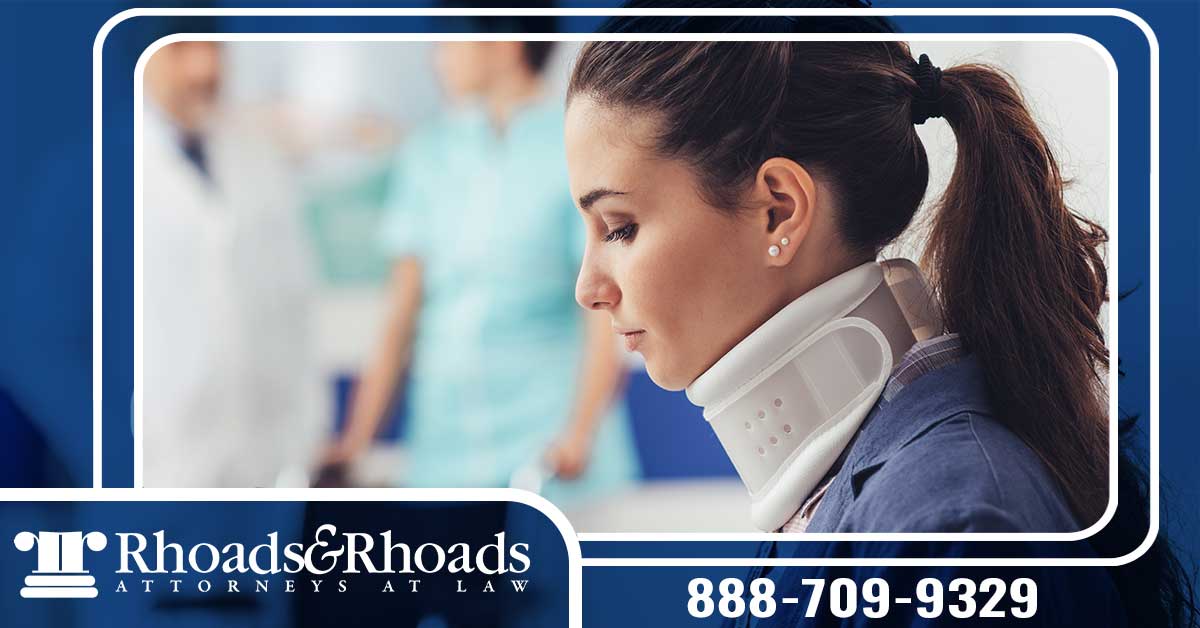 Key Points of This Article:
Millions of people sustain car accident injuries every year.

Whiplash is one of the most common car accident injuries.

A personal injury lawyer can help you file a claim and recover compensation to help you pay for your medical treatments. 
In 2021, 5.4 million medically-consulted injuries resulted from car accidents. Of course, not all those injuries were severe, and some might not have even required treatment aside from rest and over-the-counter pain meds. Still, 5.4 million is a significant statistic.
For those who do suffer severe auto accident injuries, the losses can be difficult to manage. Car accident injuries can require costly medical treatments, time off of work—which means lost wages—and difficulty recovering and performing daily tasks. Some even suffer emotionally after an accident, which can also affect their quality of life. 
In this article, we'll review what injuries you can get from a car accident to help you understand the importance of safe driving. If you do happen to get into an accident and suffer injuries, however, our team of Kentucky personal injury lawyers at Rhoads & Rhoads can help you file a claim and ensure you are fairly compensated. 
Common Causes of Car Accidents
First, let's consider the common causes or behaviors that often lead to car accidents. In most cases, human error and negligence are what cause car accidents. This can include behaviors such as:
Speeding

Distracted driving (cell phone use, eating in the car, adjusting the radio, etc.)

Driving while under the influence of drugs or alcohol

Failing to yield the right of way

Running red lights and stop signs
Of course, it is also possible for accidents to be caused by other factors such as bad weather, mechanical issues, road debris, missing signage, and poor intersection design. Still, driving safely and avoiding the negligent behaviors listed above is important, as they can lead to serious accidents and devastating injuries. 
What Injuries Can You Get From a Car Accident?
Technically, a wide range of injuries can result from car accidents. It depends on how the accident happened, how severe the damage and impact were, who was injured, and what condition they were in before the accident. You could sustain anything from a minor bruise to a fatal head or spinal cord injury. 
However, there are a few injuries that do tend to occur most often in car accidents, which we'll review below. 
What Are the Most Common Injuries From Car Accidents?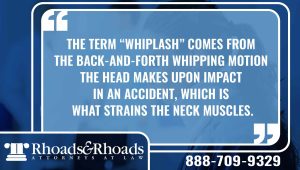 Whiplash: Perhaps one of the most common injuries you can get from a car accident is whiplash. This occurs when the muscles and tendons in the neck are stretched beyond their limits. The term "whiplash" comes from the back-and-forth whipping motion the head makes upon impact in an accident, which is what strains the neck muscles. 
Traumatic Brain Injuries (TBIs): Head injuries are also common in car accident victims. Specifically, accident victims often suffer traumatic brain injuries when they hit their head against something or even when their head shakes violently back and forth. This can lead to concussions, damaged brain tissue and cells, bleeding in the brain, and more. 
Chest Injuries:

These kinds of injuries can happen to anyone in the vehicle, but they most often occur to the driver when they hit their chest against the steering wheel or even when the airbag deploys. These kinds of impacts can cause severe bruising, broken ribs, and even lung damage. 
Soft Tissue Injuries:

The body is made up of hundreds of soft tissues. These are your muscles, tendons, and ligaments. It's very common in car accidents for the soft tissues on any part of the body to be strained or sprained, such as in the neck, arms, shoulders, back, and legs. 
Internal Injuries:

Not all injuries are apparent on the outside of the body. It's not uncommon for car accident victims to sustain blunt force trauma that results in internal damage, such as internal bleeding or organ damage. 
Fractures, Lacerations, and Bruises:

Of course, cuts, scrapes, bruises, and broken bones are also common occurrences in car accidents. These can be minor and heal on their own, or they can be quite severe and require surgery to set the bones and stop the bleeding. 
Kentucky Personal Injury Lawyers – Rhoads & Rhoads
If you are injured in an accident, filing a personal injury claim can help you recover compensation for the damages you have suffered such as your medical bills, lost wages, and even emotional suffering. At Rhoads & Rhoads, we have over 45 years of experience helping car accident victims win their cases and get the full and fair settlement they deserve.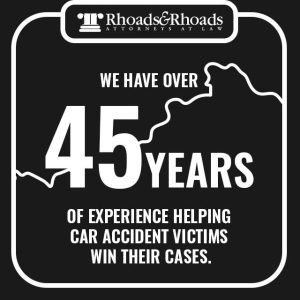 Call us at 888-709-9329 to schedule an appointment with one of our Madisonville or Owensboro car accident attorneys. We offer free initial consultations, and all cases are taken on a contingency fee basis, so there is no initial payment required. We get paid only if we win or settle your case, and there is NO RISK involved.