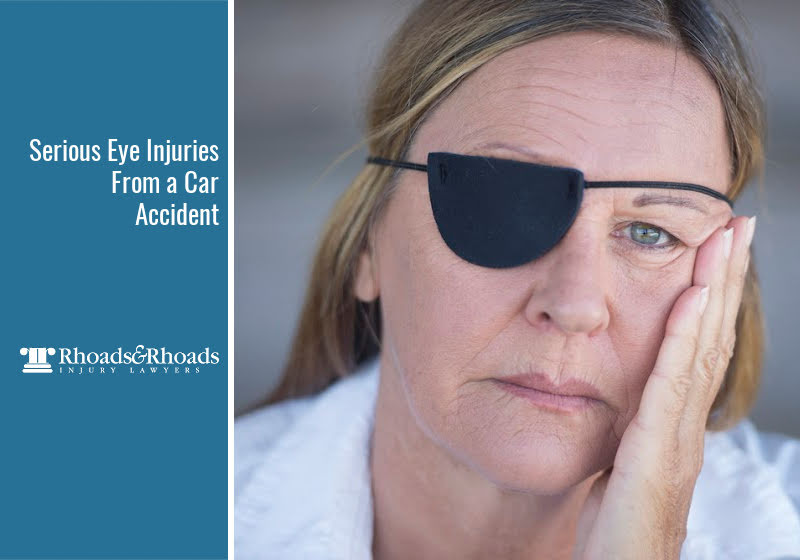 Our eyes are among the most important parts of our bodies, but they are also among the most delicate. Auto accidents can cause a plethora of different bodily injuries, all of which should not be ignored. In this blog, we discuss some of the most common eye injuries from a car accident. Money can't replace the lost function of the eye, but it can aid with the weight of medical bills and any lifestyle changes brought on by the injury.
Common Eye Injuries from a Car Accident
Many things can happen in a car accident and leave you with injuries to your eyes. It's important to be familiar with the most common eye injuries so you can communicate your case with a personal injury lawyer and receive fair compensation.
1.  Airbag Injuries
Airbags are a vital component of a car's safety. While you'll surely appreciate your car's airbags in the event of an accident, these safety features are not comfortable, soft pillows. Airbags deploy with explosive force and can cause serious eye trauma from a victim's face being struck by the deployed bag. These injuries can further lead to complications like traumatic cataracts or retinal detachment.
2.  TBIs
While traumatic brain injuries (TBIs) are always taken seriously, one area that often gets overlooked with TBIs is how they may affect a victim's vision. In fact, according to experts, even mild head trauma can cause issues with eyesight.
Issues with eyesight resulting from a TBI include:
Double vision
Blurred vision
Vertigo
Subconjunctival hemorrhage
Corneal abrasions and lacerations
Field loss
Loss of visual acuity
Binocular dysfunction
Spatial perceptual deficits
3.  Foreign Bodies
We all know how delicate the human eye is. Even getting a speck of dust or dirt in your eye can temporarily blind you and cause pain and discomfort. Wreckage from an accident may fly around the vehicle and enter the eye, causing serious injury. Glass, metal, or any other small objects that are knocked loose from the accident can pose a serious risk to your eyes by getting lodged in your eyelid or cornea.
A foreign body in the eye may cause:
Puncture wounds
Irritation of the eye
Scarring of the cornea
   4. Globe Rupture
If there is enough pressure and trauma, the eye itself can actually rupture. Unfortunately, an eye sustaining this injury likely cannot be remedied with medical intervention. Victims who suffer from a globe rupture and lose an eye will usually be fitted with a prosthetic.
   5. Orbital Fracture
The eye socket itself is surrounded by the orbital bone and with enough blunt force trauma can fracture and cause serious harm. This extremely painful injury can send shards of fractured bone into the eye or even the brain.
  6. Eyelid and Cosmetic Injuries
Though they are often overlooked, eyelids give our eyes valuable protection from many things and keep them moist. Eyelids are exceptionally delicate, so even a small injury may require an optometrist or plastic surgeon's attention to fix.
Functionality is not the only thing our eyes provide us with, however. Studies show that the eyes are the very first thing people look at when meeting someone, so do not underestimate the effect cosmetic eye injuries can have on your life. From job interviews to romantic dates, cosmetic eye injuries can cause significant harm to a person's self-esteem.
Contact a Western Kentucky Car Accident Attorney Today
Time is of the essence when it comes to your health and wellbeing, so don't delay in speaking with a car accident attorney. Rhoads & Rhoads has over 150 years of combined experience and will help walk you through the legal process while getting you the compensation you deserve.
You can schedule a free initial consultation by calling our office at 888-709-9329, or you can schedule a consultation online here.