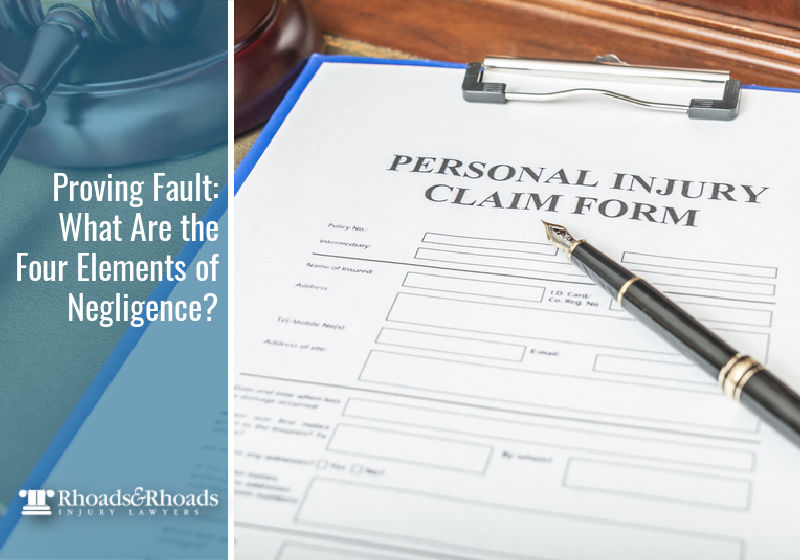 If you suffer from a personal injury caused by another person's negligence, you need to file a claim to recover compensation. Otherwise, you may have to cover the cost of pricey medical bills and property damage. Most personal injuries occur as a result of negligence, so you need to know what qualifies as negligence and the four elements of proving negligence. 
What is Negligence?
The legal definition of "negligence" is a person or party failing to exercise reasonable care which then results in damages or injuries to others. Reasonable care means behaving as a reasonable person would in a given situation. For example, if someone operates a vehicle while under the influence of alcohol, they failed to exercise reasonable care because a reasonable person wouldn't drive while intoxicated. 
In a medical malpractice case, a doctor may fail to provide reasonable care for a patient if they make an obvious mistake. For example, if they prescribed a drug to a patient who has a medical history of being allergic to one of its ingredients, the doctor didn't exercise reasonable care. In this case, if the patient suffers from a serious reaction requiring medical attention, they may be able to recover compensation for the doctor's negligence. 
What are the Four Steps in Proving Negligence? 
In order to recover compensation after a personal injury, you need to prove that the defendant — the party you're filing against — is liable for your injuries. You need to provide evidence that they were negligent. There are four elements of negligence in personal injury cases:
Duty of Care 
Duty of care refers to when a person or party owes a duty to others. They have a legal obligation to others to be reasonable given a particular situation. For example, a driver has a duty of care to others on the road to drive responsibly. Otherwise, they may injure or kill another driver or a pedestrian.
In medical malpractice cases, medical professionals have a duty of care to their patients. They do not owe other people medical assistance, but they have a duty to provide reasonable care for their patients.
Breach of Duty 
Breach of duty means that the defendant failed to uphold their duty of care to others. If a driver operates their vehicle while texting, they failed to uphold their duty of care to others. Texting while driving is dangerous and can result in a serious or fatal accident, so the texting driver broke their duty to keep others safe on the road. 
If a person slips and falls in a grocery store, the store owner and manager failed their duty of care to their patrons. They have a duty to keep customers safe from hazards, such as wet floors, so they need to either address the hazard or make others aware of the potential danger. 
Proving Causation in Negligence
To prove a party is liable, you need to provide evidence that their breach of duty caused the injuries. You need to prove that you wouldn't have suffered injuries if it weren't for the defendant's breach of duty. For example, if a patient suffers a heart attack under a doctor's care, that doesn't necessarily mean the doctor engaged in medical malpractice. The patient would likely have suffered a heart attack regardless of whether or not they were in the doctor's care. On the other hand, if the doctor made an unreasonable mistake that directly caused the patient to suffer injuries, that could be grounds for medical malpractice.
When proving negligence in a Kentucky car accident case, you need to provide evidence that the other driver's breach of duty caused your injuries. It takes more than just proving a driver broke their duty of care. You need to prove that the driver's breach of duty directly caused the accident and your injuries. If there's no link between your injuries and the defendant's actions, you won't be able to prove that they were negligent. 
Damages 
Finally, you need to provide evidence that the injuries you suffered due to another's breach of duty resulted in damages. You can provide evidence that you suffered damages through expert medical testimonies, medical bills, doctor's notes, and more. Some of the damages you may have suffered include:
Medical bills, including surgeries, prescriptions, physical therapy, in-home care, and other expenses related to your injuries

Lost wages and benefits

Loss of future earnings

Physical, mental, and

emotional pain and suffering

Loss of enjoyment of life
Contact a Kentucky Personal Injury Lawyer
Proving negligence is a fundamental part of your personal injury case, and you need to provide sufficient evidence demonstrating the defendant had a duty of care, they breached their duty, their breach caused your injuries, and your injuries resulted in damages. In order to gather sufficient evidence to prove your claim, you should consider hiring a legal expert to assist you with your case. A Kentucky personal injury attorney will help you obtain and present all available evidence for proving your claim, and they'll work to maximize the amount you'll receive in damages. For personal injury and car accident attorneys in Kentucky, contact Rhoads & Rhoads Attorneys at Law at 888-709-9329, or you can contact us online here.