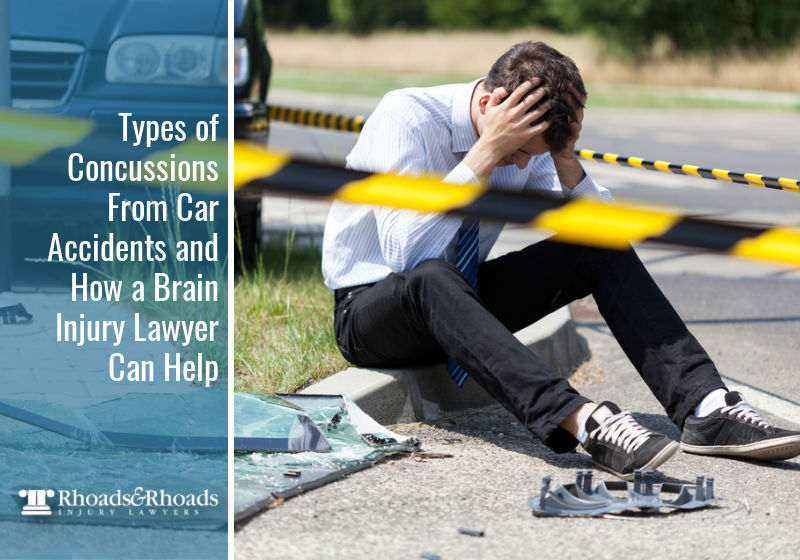 Key Points of this Article
Concussions are a type of traumatic brain injury.
There are three different types of concussions that can occur in a car accident.
A brain injury lawyer can help you get a higher settlement award for your concussion injury.
Concussions are a type of traumatic brain injury that can occur in any number of situations, such as sports accidents, slips and falls, and car accidents. However, some of the most common causes of concussions are car accidents.
Hitting your head against the dashboard, steering wheel, headrest, or any other part of the car when a collision occurs causes the brain to violently shake back and forth, which results in damage to the blood vessels in the brain. And in some cases, a concussion can occur just from the head whipping back and forth without blunt force impact.
While some concussions are mild, there are technically multiple types of concussions, and some are more severe than others. However, it's not uncommon for insurance companies to simply assume that all concussions are mild, which means they often award reduced settlement amounts for these injuries when you file a claim after an accident.
This is why working with a lawyer is beneficial when you sustain a concussion after a car accident. An experienced brain injury lawyer knows that concussions can be severe and debilitating. As such, they know how to handle negotiations with the insurance company to ensure they pay the full and fair compensation their client deserves.
What Are 3 Types of Concussions From Car Accidents?
Again, concussions are a type of brain injury that occurs when there is a blow to the head or a violent shaking of the head, which often happens in car accidents. This violent motion and blow to the head then causes the brain to shake around, which leads to bruising and tears that damage the nerves and the blood vessels inside the brain.
While people often talk of concussions in a general sense as if there is just one kind, there are technically three different types of concussions, also known as different grades or levels of concussion:
Grade 1: A grade 1 concussion is used to categorize a mild concussion. At this level, there is usually no loss of consciousness, and the concussion will heal relatively quickly on its own with minor symptoms.
Grade 2: With a grade 2 concussion, temporary loss of consciousness can occur, and the symptoms are enhanced and slightly more severe. This level is considered a moderate concussion.
Grade 3: This type of concussion is severe and can result in longer periods of unconsciousness. The symptoms will also last much longer and could even be permanent or long-term.
It's important to note that no matter how mild a concussion might seem, these injuries are always considered an emergency, and you should seek medical attention right away. If not treated properly, the concussion, even a mild one, could get worse or result in another concussion that is more severe.
Proof that you sought immediate medical attention for your concussion can also help support your personal injury claim if you file one after a car accident. Your brain injury lawyer can use your medical documents and proof of injury to help prove the severity of the situation to ensure you are awarded the settlement you need and deserve.
Signs and Symptoms of a Concussion After a Car Accident
The symptoms of a concussion can vary slightly depending on what type of concussion you have suffered. Still, no matter what signs or symptoms you recognize, you should always seek emergency medical care as soon as possible.
The various symptoms of a concussion can include the following:
Headache
Dizziness
Nausea
Vomiting
Memory loss
Loss of consciousness
Ringing in the ears
Irritability
Difficulty speaking and forming thoughts
Confusion
Seeing stars in your vision
The duration of symptoms can also vary depending on the type of concussion sustained. So, how long do symptoms of a concussion last?
Grade 1 concussion symptoms typically last less than 15 minutes.
Grade 2 concussion symptoms last more than 15 minutes and up to hours or even days.
Grade 3 concussion symptoms generally last for 24 hours or more and can even be long-term or permanent.
How a Brain Injury Lawyer Can Help With a Concussion Car Accident Settlement
When you sustain a concussion in a car accident due to someone else's negligence, you are entitled to compensation that can help you pay for your medical expenses, loss of income, emotional distress, pain & suffering, and other things that are known as "damages."
However, when you file a claim, the insurance company of the party you are filing against will often do whatever they can to downplay your injury so they can reduce the amount of money they have to pay out. This is why working with an attorney can be beneficial.
A brain injury lawyer can help you gather sufficient evidence to support your claim and prove the extent of your injury and how it is affecting your life and your finances. This evidence can then be used to prove to the insurance company that you deserve a higher settlement award for your concussion injury.
If the insurance company still does not pay you what you deserve, your lawyer can even help you file the lawsuit and take the case to court if necessary.
You can certainly choose to handle your case without an attorney, but it's not uncommon in those situations for the insurance companies to take advantage and try to get away with offering reduced settlements. And without an attorney protecting your rights, it can be challenging to prove to the insurance company that you deserve more money.
Kentucky Personal Injury Lawyers – Rhoads & Rhoads
At Rhoads & Rhoads, our Kentucky brain injury attorneys have years of experience handling a wide range of cases, including those involving different types of concussion injuries. We understand how debilitating a concussion injury can be after an accident and are dedicated to helping our clients get the compensation they deserve to help pay for their medical expenses and other losses.
Call us at 888-709-9329 to schedule an appointment with one of our Madisonville or Owensboro brain injury attorneys. We offer free initial consultations, and all cases are taken on a contingency fee basis, so no initial payment is required.
We get paid only if we win or settle your case, and there is NO RISK involved.