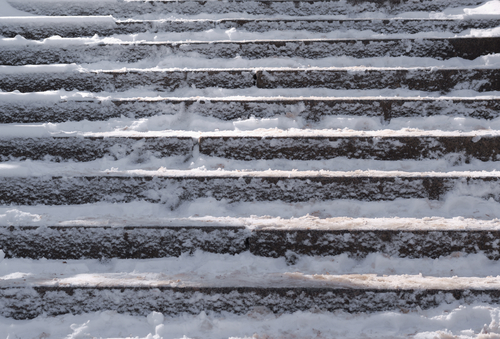 Property Owners Play Role in Preventing Winter Slip and Fall Injuries
According to the National Safety Council, slips and falls are the single largest cause of emergency room visits each cold weather season. Most Kentucky city ordinances require businesses, residential and commercial property owners to keep sidewalks clear of ice and snow but even so, there will still be a fair share of slips, trips, and falls triggered by winter weather. And those slick entranceways, stairs, sidewalks, or driveways will become a real battle for those who did not take responsibility for creating safe grounds. It is ultimately the job of property owners to prevent falls that could cause serious injuries to others or they may be found liable for related personal injury accidents.
Steps to Take After Your Winter Slip and Fall Accident
Falls that occur on ice can lead to serious back injuries, traumatic brain injuries, paralysis, lifelong facial scarring, and even death for some unfortunate individuals. Falling on the snow and on ice can be extremely dangerous, particularly to young children, pregnant women, and those people who may have mobility struggles, such as the disabled or the elderly. If you or someone you know slips and is injured on a slick walkway or because of unkept snow, it is important to remember these steps:
Visit with a doctor as soon as possible after a fall, especially if you have endured a broken bone or suspect a head trauma. Call 911 if a child was involved or it is a serious injury. If the fall was the result of someone else's negligence and you want to pursue a claim, you will need a professional diagnosis of any injuries and should keep a log of all injury signs and symptoms, and treatments.
If able, look around and collect evidence for the potential cause of your slip or fall such as snow buildup, ice, a snow shovel left in a walkway, and uneven concrete. If you carry a phone, take several pictures and videos of the scene immediately. If you aren't able to grab images, call someone to help and have them take photographs of the area as soon as possible.
There may be others who saw you fall but also those who came to help after your incident. Gather the contact information from any witnesses so they can help serve as a witness on your behalf.
While you should not make an effort to resolve the issue at the place of business, make sure the property owner is aware of your accident immediately and file an official slip and fall accident report. If a report is not available, take personal notes of how the accident occurred, who you reported it to and their contact information. Be clear in noting exactly what was said.
Seek the help of an experienced personal injury attorney if you feel your injury could have been prevented with the proper maintenance of a slick path or step.
If you do encounter an area that is not safe for passing due to it being unkept, be sure to report the spot to property managers or business owners to prevent others from becoming injured.
Owensboro and Madisonville Personal Injury Lawyers — No Recovery, No Fee
If you or a loved one have been injured as the result of a slick or snow-filled walkway, don't hesitate to call us. All you need to bring with you are the accident facts and your trust — we are here for you and can take care of the rest. Call us at 888-709-9329 or contact us by e-mail to schedule an appointment with one of our Madisonville or Owensboro personal injury attorneys.