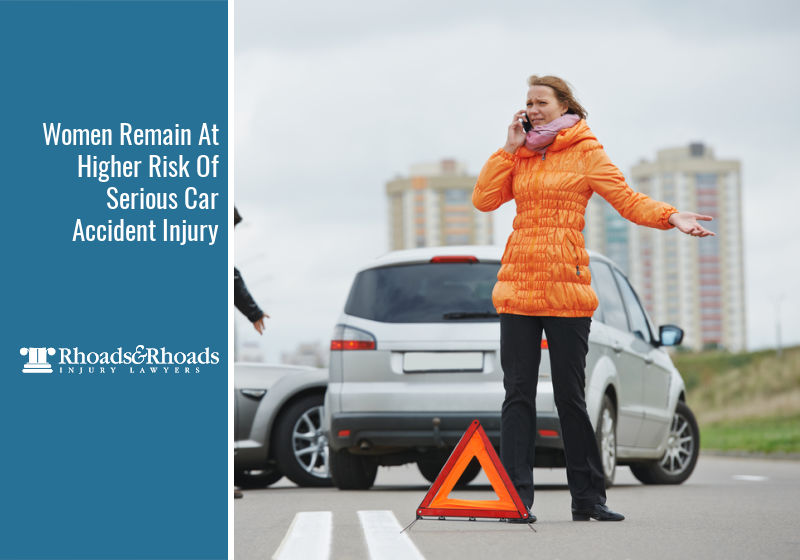 Key Points of This Article:
The Insurance Institute for Highway Safety has released new data showing that women are much more likely, by nearly 75%, to be injured more severely if involved in a car accident.
Kentucky State Police reported in 2019 that women are at greater risk than men for being seriously injured in a car wreck when ages 0-14, 45-54, and those 65 and older.
Some of the typical car and truck crash injuries women face will also result in a long recovery. They include broken bones, neck and back injuries, and ongoing pain and suffering.
While holding another driver accountable can feel uneasy and is sometimes a long and complicated process, the legal team at Rhoads & Rhoads wants you to know it is not impossible.
Kentucky Women Are Three Times More Likely to Be Seriously Injured in a Car Crash
Researchers from the Insurance Institute for Highway Safety (IHHS) have released new findings (Feb. 2021) related to men and women's car accident injuries in police-reported tow-away front and side crashes from 1998 to 2015. The research group supported by auto insurers looked into whether there was some sort of gender bias in motor vehicle crash risks or whether body or vehicle type had anything to do with the lasting injuries.
Here are the findings:
Women are as much as 28% more likely to be killed in a motor vehicle accident and up to 73% percent more likely to be seriously injured.
In front crashes involving small vehicles, women were three times as likely to experience a broken bone, concussion, or other moderate injuries.
Women were twice as likely to suffer a severe injury like a collapsed lung or traumatic brain injury in front-end accidents.
Men and women crashed in minivans and SUVs in about equal proportions – around 70% of women hit in cars, compared with about 60% of men.
More than 20% of men crashed in pickups, compared with less than 5% of women.
In particular, women are 2.5 times more likely to suffer moderate leg injuries.
According to Kentucky State Police, bluegrass women are at greater risk than men for being fatally killed or seriously injured in a car accident fall between ages 0-14, 45-54, and those 65 and older.
Those accident victims are more likely to be involved in:
Two-vehicle crashes
Collisions with a fixed object
Crashes caused by deer and other animals
Train wrecks
The symptoms of motor vehicle accident injuries, serious or seemingly minor, may not always show up immediately.
Watch Cheri's Story: Cheri was involved in a car crash, resulting in a traumatic brain injury, and unfortunately, the  insurance company and their lawyer were not willing to support her – making it extremely difficult for her to recover. Rhoads & Rhoads worked hard to represent and win a large settlement for Cheri and her family.
Women Are More Likely to Experience the Symptoms of a Serious Car Accident Injury
Often, both men and women will experience general confusion masked by adrenaline after a crash, making it difficult to recognize an injury, pain, or discomfort. And sometimes, injury issues can present within a few hours or up to a few weeks later. A medical evaluation after an accident will help victims identify some of the more common symptoms of car accident injuries in women to watch out for.
Headaches
Neck or shoulder pain, and whiplash-type injuries
Hip and knee stiffness
Abdominal pain
Back pain (upper and lower)
Numbness in arms and legs
Swelling in the abdomen area
Excessive bruising that does not go away
Unable to perform family activities or routine job duties
Reduced physical function
Changes in personality
Sleep disruptions
Some women may also experience increased feelings of sadness, worry and anxiety, and fear when driving or traveling in a motor vehicle. At the time, this suffering can prevent them from going about their normal daily activities and routines.
Pain and Suffering Can Be Claimed for Your Car Accident Injury
Immediate care and an assessment by a medical professional will reduce the chance of complications in these injuries, provide a rehabilitation plan and the proper medical documentation to make a claim, and create a greater awareness of underlying symptoms such as pain and suffering. If pain and suffering is present, an attorney can discuss the compensatory damages a personal injury victim may claim, including, but not limited to:
Increase in generalized worry attributable to the personal injury
Exhaustive feelings of grief, terror, and fright making it difficult to focus
Physical pain-induced impairments related to one's ability to work or keep employment
Mental distress, failure to enjoy family and life
Ongoing physical pain, disfigurement, and deformity
Shock, embarrassment, and humiliation
Anxiousness and nervousness when driving
Be sure always to alert your physician of any new developments in your health, medical treatment, new injury symptoms, medical conditions, or mental struggles you are experiencing.
Personal injury cases have a statute of limitations deadline of one to two years after the injury is incurred, but exceptions can be made. An experienced car, motorcycle, or truck accident attorney at the law firm of Rhoads & Rhoads can listen to you and provide counsel if there are special rules applicable to your case.
Owensboro and Western Kentucky Accident Attorneys – Helping Women Heal After Being Injured in a Car Crash
Rhoads & Rhoads is available to represent accident victims throughout Kentucky who have suffered injuries from motor vehicle collisions and those killed in a crash with a reckless or negligent driver. Our team of experienced trial attorneys and support staff is available to help you through this challenging time and get you the financial recovery you deserve.
Rhoads & Rhoads offers free initial consultations, and all cases are taken on a contingency fee basis. This means there is no payment required upfront, and there is NO RISK involved. Call us at 888-709-9329 to schedule your free consultation today.
Also read: What You Should Know About School Zone Driving and Crashes
Source: Vehicle choice, crash differences help explain greater injury risks for women. (2021, February 11). IIHS-HLDI Crash Testing and Highway Safety. https://www.iihs.org/news/detail/vehicle-choice-crash-differences-help-explain-greater-injury-risks-for-women