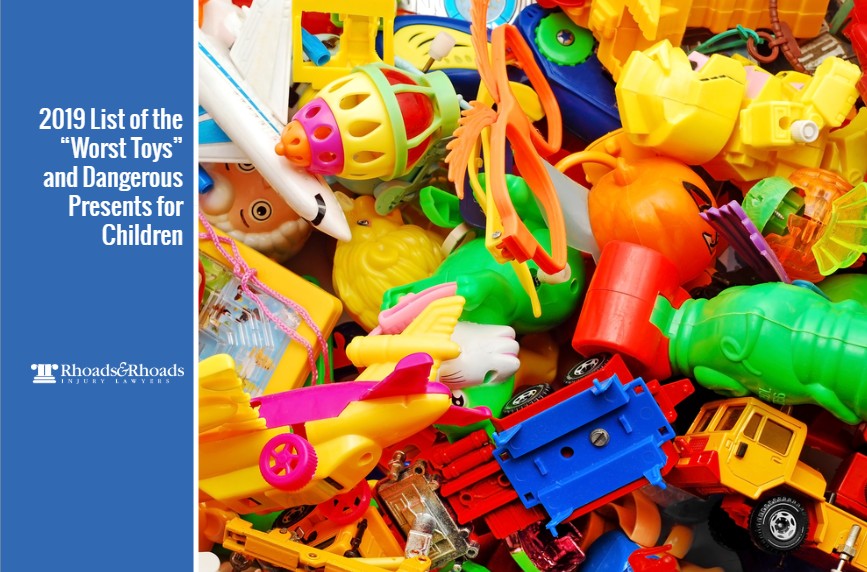 Key Points of This Article:
Due to poor designs, faulty warnings, or deceptive marketing, one child is treated in a U.S. emergency room every three minutes for a toy-related injury.
Dangerous toys can pose choking hazards, suffocation risks, head and eye injuries, and be made from toxic materials that if inhaled or ingested can cause neurological and permanent injuries to children.
Toy safety advocacy group, World Against Toys Causing Harm, has released a list of the top 10 "Worst Toys" to avoid and watch out for in 2019.
The annual list includes toys made by major manufacturers, including Hasbro and Nickelodeon, that present hazards to both infants and older children.
In 2017, there were an estimated 251,700 toy-related injuries in the U.S., and a 37 children died from toy-related incidents from 2015 to 2017, according to the Consumer Product Safety Commission. Most toy injuries are preventable and caused by misguided labels, warnings, or harmful play made by unknowing children and parents who trust that the products they purchase will be safe for use. Toy safety advocacy group, World Against Toys Causing Harm (WATCH), can help parents make better decisions in their purchasing by releasing the annual list of the 10 "Worst Toys". This list highlights the potential hazards that come with different popular products on the market today. If a child was injured due to an unsafe consumer product, including a dangerous toy, a family may claim for damages through a product liability lawsuit in Kentucky.
#1 – Nerf Ultra One Dart "Blaster"
$49.99 spent at Target.com, Walmart.com, or Hasbro.com on a popular Nerf dart gun could cause injuries to the eyes, face and bring on the potential for ingestion and battery-related injuries. WATCH's list noted that the manufacturer of this dart "blaster" boasts that the ammunition "FIRES UP TO 120 FT" with "POWERFUL SPEED" making this the "FARTHEST FLYING NERF DART. EVER."
#2 – Spike: The Fine Motor Hedgehog
The "Worst Toys" list maker has made it known that this "hedgehog", sold for oral-age children as young as 18 months old, comes with twelve removable, rigid-plastic "quills" measuring approximately 3 ½ inches long, is not a good buy. The quills can potentially be mouthed and block a child's airway. It's sold for $17.99 at Magic Beans, Kohls.com, Amazon.com, eBay.com, Target.com, and Walmart.com
#3 – Bunchems! Bunch n' Build
Hair entanglement and choking for just $16.58, WATCH ranked "Bunchems!" multi-colored activity balls, meant to stick together when children engage in building activities, as a worst toy for 2019. There have been reports of the small plastic, connective toys becoming ensnared in children's hair. The manufacturer itself provides warnings related to this toy hazard sold at Amazon.com, Michael's, Michaels.com, Walmart.com, Nordstromrack.com, and Lightinthebox.com.
#4 – Douglas Cuddle Toy "Yeti"
Retailing at Wellesley Toy Shop, Target.com, eBay.com, Walmart.com, Douglascuddletoy.com, and Amazon.com for $21.24, the Douglas Company's new cuddle "Yeti" creature toy recommended for children 24 Months & Up" is sold for oral-age children. WATCH says the "cuddle" toy has long, fiber-like hair that may not be well-rooted, such that pulling with minimum effort could lead to removal. Once separated from the toy, the hair presents the potential for ingestion or aspiration injuries. This hazard is not referenced anywhere on the product.
#5 – Nickelodeon Frozen Treats Slime
Safe slime can be fun, but the 2019 "Worst Toy" list rankers have included this colorful "slime" offered to children due to the similar appearance of favorite frozen treats, including "mint chocolate chip", "berry smoothie", and "soft serve" and harmful with the potential for chemical ingestion and irritation injuries. It's sold at Target, Target.com, and Walmart.com for $9.99.
#6 – Anstoy Submachine Gun
WATCH has researched numerous reported tragedies resulting from outfitting children with realistic toy weapons, there is simply no excuse for marketing "toys" such as this "submachine gun." Existing regulations addressing the hazards are inadequate. Detailed replicas mistaken for lethal weaponry have resulted in numerous deaths over the years and should never be sold as toys. It retails for $59.99 on Amazon.com and PETXT and made for children 14 years or older.
#7 – Miniature Yellow School Bus by Magic Beans
WATCH organizers say these small yellow school buses are sold with a "choking hazard" warning on a removable, stick-on label. The firm rubber tires, mounted on plastic wheels, can be removed, presenting the potential for a serious choking injury for oral age children. The product's manufacturer is Schylling, and is sold at retailer Magic Beans for $14.99.
#8 – Flybar Pogo Trick Board
WATCH says children using this "Pogo Trick Board" are provided "dual handles for tricking out." Despite the manufacturer's warning to wear a helmet and other "protective gear", only two of the three children shown on the packaging are wearing helmets, and none are using other protective items. This toy comes at the cost of $29.99 and can be bought at Learning Express, Target.com, Walmart.com, Amazon.com, Flybar.com, and Kohls.com.
#9 – Saban's Power Rangers "Beast Morphers"
Distributed by leading toymaker Hasbro for just $19.99 for children five years of age and up, this toy has the potential for serious eye and facial injuries.
The Power Rangers "BEAST Morphers" claws are made of rigid plastic. Five-year-olds are encouraged to use the "strength of the CHEETAH CLAW" to "take on…enemies!" WATCH says avoid this toy sold at Target, Target.com, Amazon.com, Hasbrotoyshop.com, Bestbuy.com, Walmart.com, Galactictoys.com, and Toywiz.com.
#10 – Viga Pull Along Caterpillar
As product liability injury lawyers, it was disappointing to see another toy made like this despite the industry's standard requiring strings on playpen and crib toys to be less than 12 inches in length. Yet, this manufacturer was still permitted to market "pull toys" such as the "Pull Along Caterpillar" with a cord measuring approximately 24 inches. No warnings are provided, and it is sold for $20.54 at easy-to-access retailers such as Amazon.com and Toptoyusa.com for children as young as toddler age. This hazard has a high potential for strangulation and entanglement injuries.
The attorneys at Rhoads & Rhoads would like to urge shoppers to take precautions when buying all toys – no matter what time of year – and if your child receives a toy as a gift, always watch out for hazards and injury risks.
Helping Families Recover from Dangerous Product Injuries
 When a child is injured using a product, like an unsafe toy, the family may make a claim for damages through a product liability lawsuit. Product liability is the means by which a seller, distributor, supplier, or manufacturer is held liable for introducing a defective product into people's lives.
Call us at 888-709-9329 to schedule an appointment with one of our Madisonville or Owensboro personal injury attorneys. We offer free initial consultations, and all cases are taken on a contingency fee basis. There is no payment required to speak with us.
Also read: 7 Safety Tips to Keep Your Child Safe in a Car Seat