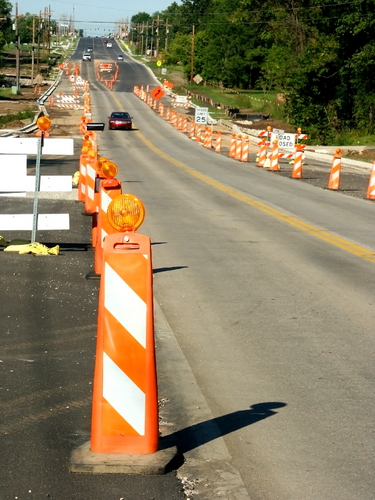 Work Zone Safety Is Everyone's Responsibility
As the warmer air has made its way across the Bluegrass, motorists can expect to see an increase in the number of orange barrels and neon vested workers along with slower moving traffic patterns on roadways. With those changes also comes an increase in the number of work zone related accidents. In fact, the Kentucky Transportation Cabinet (KYTC) says throughout highway construction season, April thru November is the time when the deadliest work zone crashes are likely to occur. In a typical five-day workweek, an average of seven motorists and one worker are killed around the nation in work zones. Kentucky falls right in line with those statistics. 2017 presented huge occurrences of incidents on the state's roadways with 12 lives lost in work zones, only one of who were a road crew worker, making 11 motorists the primary victims of work zone injuries and fatalities. Across the nation, work zone crashes rose 33 percent from 675 in 2016 to 1,007 in 2017.
KYTC says many motorists will encounter at least one work zone in their daily commute. Making work zones safe remains the shared responsibility for both crews and motorists alike so KYTC recently called driving attention to National Work Zone Awareness Week (NWZAW) from April 9 thru 13, to encourage motorists to take a vested interest in work zone safety by navigating through work zones without distractions.
Distraction Remains No. 1 Contributing Cause of Work Zone Crashes
Among the contributing causes of work zone crashes, distracted driving is significant. In fact, 44 percent of last year's work zone crashes listed distracted driving as a factor; speed accounted for only 24 of the overall crashes.
Kentucky Office of Highway Safety Executive Director Dr. Noelle Hunter remarks, "Due to distracted driving last year, there were more than 57,000 crashes on Kentucky roadways, resulting in 14,600 injuries and 147 fatalities. Driving alert – whether in a work zone or along a straight stretch of roadway – has the potential to save lives and reduce the number of crashes dramatically."
To help prevent future work zone crashes, the Transportation Cabinet asks drivers to practice three work zone safety tips:
Pay Attention and Avoid Distractions – Don't text, eat, or perform any other activity while driving.
Respect Flaggers, Detours and Work Zone Signage – Obey their guidance and watch their direction carefully.
Slow Down and Don't Follow Too Closely – Maintain a safe following distance; rear-end collisions are the most common work zone crash.
Drivers are also encouraged to visit the KYTC's new work zone safety webpage.
Hold Bad Drivers Accountable and Contact a Kentucky Car Accident Attorney
Rhoads & Rhoads is Kentucky's leading and experienced personal injury firm with offices in Owensboro and Madisonville, representing car accident victims throughout Western Kentucky. If you have been involved in a work zone related wreck, we can help. We offer free initial consultations, and all cases are taken on a contingency fee basis. We get paid only if we win or settle your case, so there is NO RISK involved.
Call us at 888-709-9329 or contact us by e-mail to schedule an appointment with one of our Madisonville or Owensboro personal injury attorneys.