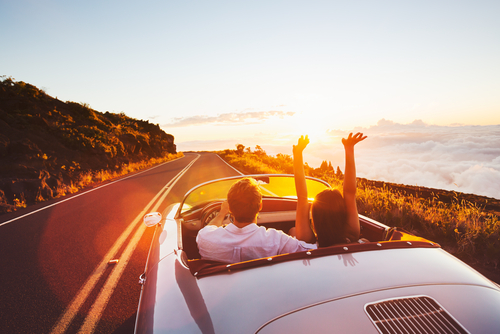 Your Accident Free Guide to Safe Spring Travel
The spring season is here, and we are all so pleased to welcome the bloodroot, spring beauty, and Virginia bluebell wildflowers to bloom. Something else pops up this time of year too though: increased traffic and more car and truck wrecks due to wet roads, construction zones, pedestrians, animal crossings, and impaired drivers. Before you hit the road, the car accident injury lawyers at Rhoads & Rhoads want to first make sure you have had the chance to review (and share) these spring travel tips.
Prepare for weather related crashes. Bluegrass drivers may feel like the rainy season is over, but the truth is, slippery road conditions and flooding is likely to happen again. Wet pavement accounts for nearly 73 percent of spring weather-related accidents. Drive with caution and at the speed limit. Wet roads often lead to hydroplaning.
Update your vehicle and review it for spring maintenance and recalls. This means an official inspection and evaluation of the brake, exhaust, heating and cooling systems. Check all tires for the correct warm weather pressure, get new windshield wipers, and test your battery as well. Check for any recalls your vehicle may have and get it in to be serviced. Use the NHTSA site and enter your Vehicle Identification Number (VIN).
Never drive distracted. More and more crashes are occurring because the driver is distracted. The No. 1 distraction related to fatal crashes is related to texting while driving. The message isn't worth it. Put your phone in a spot you cannot access it or use a 'DO NOT DISTURB' while driving app to stop you from the temptation.
Enjoy Memorial Day celebrations responsibly. This means avoid drinking or drugged driving or use a ride share service vs. operating your own vehicle. It doesn't take a lot for the effects of alcohol or drugs to impact decision making skills.
Stay buckled up. Wear your seatbelt and take the time to make sure children are fastened correctly in the right child-sized seat. Kentucky seatbelt use continues to be among the lowest of the 50 states.
Beware or pedestrians, bikes, strollers, and motorcycles. Nicer weather means more people outside. Use backup cameras and always check twice before making a left turn.
Avoid a collision with an animal. Animals are incredibly active during the spring as they awake from hibernation or enter mating season. This could mean that more animals are crossing streets and roaming around highways. Many animals, especially deer, are most active at dawn or dusk.
In addition, watch road construction reports prior to a long-distance drive or before visiting a new area. If you must travel through road work, watch for workers along your route and plan for added travel time.
What are your spring travel plans?
Owensboro and Madisonville Car Accident Lawyers — No Recovery, No Fee
With offices in Owensboro and Madisonville, Rhoads & Rhoads represents car accident victims throughout Western Kentucky. We offer free initial consultations, and all cases are taken on a contingency fee basis. There is no payment required up front and we get paid only if we win or settle your case. There is NO RISK involved.
Call us at 888-709-9329 or contact us by e-mail to schedule an appointment with one of our Madisonville or Owensboro personal injury attorneys.