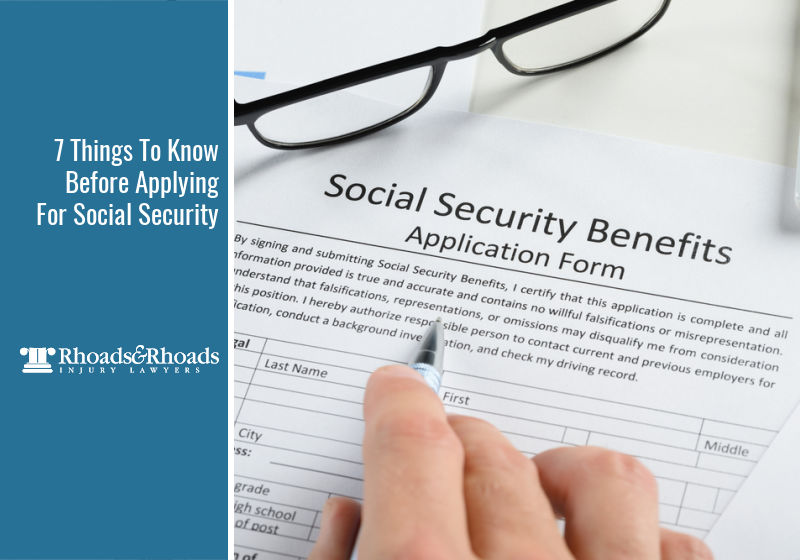 Key Points of This Article:
Kentuckians often have several questions about determining their Social Security disability eligibility, how to apply, and how to appeal a decision.
There are specific requirements to meet before being considered eligible for disability benefits, and an application with medical evidence must be collected to prove the injury has hindered the ability to work.
Even with evidence and the appropriate medical support, many individuals will be denied benefits upon their initial application.
Applicants of all ages, regardless of disability, are more likely to be approved and receive benefits sooner when supported by a team experienced in Social Security disability law.
Seven Things You Need to Know Before You Apply for Social Security Disability
Kentuckians may apply to receive Social Security benefits after being diagnosed with a disabling condition that affects their ability to work. An injury must be severe enough to have caused a shift in their ability to do specific work tasks and has lasted or is expected to last at least 12 months. But completing a Disability Benefit Application and collecting the medical information necessary can feel overwhelming, confusing, and more than often time-sensitive, especially for those already challenged with health and related financial setbacks. The Social Security lawyers and staff at Rhoads & Rhoads understand these situations well, and we can help answer any questions you might have and are committed to supporting you no matter what stage your claim is in. To start right, take a look at our list below to understand better how the program works.
Taking time to gather personal information and health records will make the application process much more manageable.
Depending on the criteria related to your condition, you will need to collect a substantial amount of documentation to apply.
As you get ready to apply, have your Social Security number and personal notes such as place of birth, family names, and banking information on hand. Detailed reviews from medical professionals about your condition, injuries, medicines, testing, and diagnostic procedures will be requested, as well as information about your work, money earned, and Social Security statements.
The application process itself is not too difficult.
Previously, individuals could apply for Social Security disability in person at a local Social Security office, by appointment. But due to the coronavirus pandemic and the need to protect those who may have underlying conditions that put them at risk for the infectious disease, applying by phone or online is encouraged. You can call 1-800-772-1213, or TTY 1-800-325-0778 for the deaf and hard of hearing. Although one of the most convenient ways for most these days is to apply for disability is online.
Applicants may wait several months, or sometimes years, to receive approval.
We certainly hope no one will have to wait an unreasonable amount of time for their disability to be approved and benefits received. Still, the Social Security Administration (SSA) says initial claims typically take up to 90 days to process. However, if your claim is not approved, an appeal will create a much longer timeline.
Survivors may be eligible for benefits.
Accidents happen every day and are often followed by catastrophic injuries or deaths that leave a loss of income and extra hardships for a spouse and children of the deceased. In most cases, families can become eligible to receive a lump-sum death payment and monthly cash Social Security benefits to provide support. Benefits can be received by a surviving spouse and children who meet specific criteria. To be eligible for the benefits, the deceased must have 1.5 thru 10 years of work covered by Social Security at the time of his or her age at death.
Some people can continue working while receiving disability benefits.
Some beneficiaries can return to work while collecting benefits but only under special rules, including a trial work period which makes part-time work permitted. Although retaining employment, if not handled properly, can affect benefits. An experienced disability attorney can provide counsel to provide better clarity.
An attorney is the best person to support your application.
Before you attempt to get back to work while receiving benefits or want to file for benefits or appeal a denial, we advise you to please contact our office so that you don't damage your current status. Your lawyer can make sure all deadlines are met, prepare and file the appropriate paperwork, identify medical specialists, and ultimately – support your case for the best chance of success. The call and consultation are free, leaving behind any risk of investment to you.
Many Social Security applications are denied.
For someone to qualify for Social Security disability benefits, a doctor will first need to determine that the disability is severe enough to prevent an applicant from working. Documentation and testing will be required to prove you are unable to return to your previous work or do any other job. But even with evidence and the proper medical support, many individuals will be denied benefits upon their initial application, possibly due to an error in forgetting one small detail related to the injury or job descriptions. For those applicants unsure of what to do after being denied benefits, there are options available to be reconsidered with the help of an experienced Social Security disability attorney at Rhoads & Rhoads.
Rhoads & Rhoads attorneys are happy to safely meet with you over the phone or while practicing social distancing in a safe location to see how we can help. Our goal is to continue serving with the safety and the support you deserve and staying respectful of the underlying medical conditions, physical, emotional, and financial hardships you have faced related to your disability. When you come to us, you will receive services as a client, but you'll be treated like family.
Western Kentucky Attorneys Working to Support Your Social Security Claim for Benefits
If you need to file a Social Security disability claim, or if you're a current client with questions about your request for benefits or information about an upcoming hearing, please give us a call. Call us at 888-709-9329 to schedule your FREE consultation today. There is never a fee unless we win your case.
Watch: What Clients Say About Rhoads & Rhoads | They are Terrific People