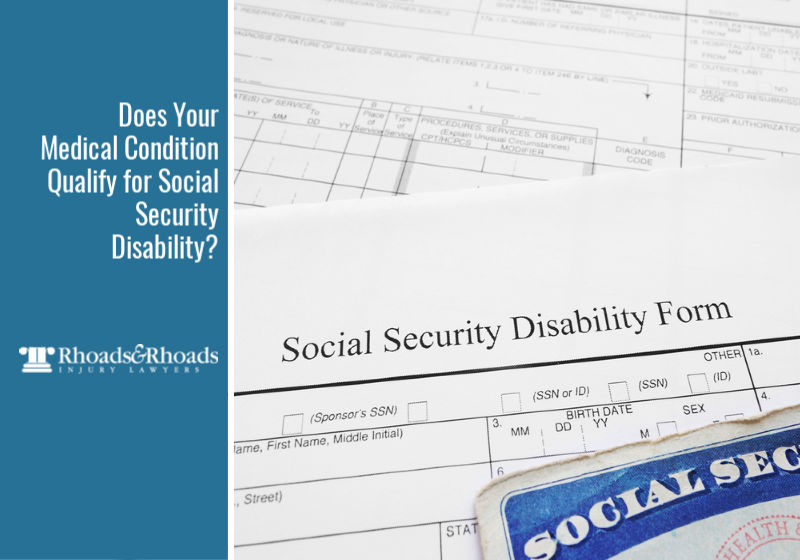 Key Points of This Article:
When diagnosed with a physical or mental impairment, and unable to work, Social Security will review several factors before approving disability benefits.
Your credibility may be jeopardized if you're filing for benefits and don't seek treatment for your impairment or have the proper documentation to support the criteria needed to make a claim.
The Social Security Administration's list of common qualifying impairments for 2020 includes bone diseases, cancers, breathing disorders, heart problems, and dozens of nervous system and autoimmune conditions.
To receive benefits, a person's health status must meet the specified criteria for a listing.
A List of Medical Conditions That Qualify for Social Security Disability in Kentucky
The Social Security Administration's impairment manual, more commonly known as the Blue Book, includes a listing of the most often claimed impairments, both physical and mental, that typically qualify an individual for Social Security disability benefits (SSDI) or Supplemental Security Income (SSI). Having been diagnosed with one of these conditions doesn't always mean that you will automatically qualify or be eligible for SSDI. Some conditions may have to be severe, have caused a chronic-related condition, begun to affect your organs, and significantly limit your daily activities, social functioning, or the ability to work or care for yourself.
The Blue Book listings for 2020 highlights only some of the common impairments that typically qualify a person to receive SSDI or SSI benefits.
Musculoskeletal Problems and Bone Disorders
Osteoarthritis
Shoulder Pain
Degenerative Joint Disease
Neck Pain
Bilateral Hip Replacement
Ehlers-Danlos Syndrome
Torn Anterior Cruciate Ligament (ACL)
Sciatica
Soft Tissue Injuries or Burns
Avascular Necrosis
Bone Spurs and Bone Growths
Coronary Heart Disease
Arrhythmia or Fibrillation
Heart Transplant
Valvular Heart Disease
Pacemaker
Implanted Cardiac Defibrillator (ICD)
Stable Angina
Coronary Bypass
Marfan Syndrome (if caused an aneurysm or serious heart murmur)
Cardiomyopathy
Some Blood Disorders
Chronic Venous Insufficiency (CVI)
High Blood Pressure
Vertigo (vestibular balance disorder, Meniere's Disease, or an unspecified inner ear problem)
Acoustic Neuroma (disturbances of labyrinthine-vestibular function)
Speech Disorders (if speech can't be understood)
Partial or Total Blindness
Loss of Peripheral Vision
Macular Degeneration
Glaucoma
Palinopsia
Retinitis Pigmentosa Damage
COPD
Sleep Apnea (that has caused heart, pulmonary, or cognitive health issues)
Asthma
Pulmonary Fibrosis
Cystic Fibrosis
Lung Cancer
Chronic Lung Infections (Bronchiectasis or Pneumoconiosis, including Black Lung Disease)
Tuberculosis
Chronic Asthmas Bronchitis
Forced Expiratory Volume (FEV)
Neurological Problems and Neurological Disorders Related to the Spine and Peripheral Nervous System
Parkinson's Disease
Huntington's Disease
Early-Onset Alzheimer's Disease
Vascular Dementia
Dementia with Lewy Bodies (DLB)
Amyotrophic Lateral Sclerosis (ALS)
Muscular Atrophy
Multiple System Atrophy (MSA) or Shy Drager Syndrome
Stiff Person Syndrome
Syringomyelia
Myelitis
Multiple Sclerosis (MS)
Chronic Migraines
Peripheral Neuropathy
Charcot-Marie-Tooth
Mental Illness, Mood Disorders and Developmental and Learning Diagnoses
Post-Traumatic Stress Disorder (PTSD)
Anxiety Disorder
Depression
Bipolar Depression
Autism
Attention Deficit Disorder (ADD)
Borderline Personality Disorder
Oppositional Defiant Disorder (ODD)
Immune System and Autoimmune Disorders
Sarcoidosis
Lupus
Sjogren's Syndrome
Scleroderma
Grave's Disease
Addison's Disease
Hashimoto's Disease (the most common form of hypothyroidism)
Diabetes (if caused organ damage or further medical complications)
Ulcerative Colitis
Primary Biliary Cirrhosis (PBC) or Cholangitis
Psoriasis
Severe Allergies
Scleroderma
Advanced Multiple Sclerosis (MS)
Rheumatoid Arthritis
Ankylosing Spondylitis
HIV/AIDS
Asperger's Syndrome
Carpal Tunnel Syndrome
Chronic Fatigue Syndrome (CFS, CFIDS)
Complex Regional Pain Syndrome (CRPS)
Cubital Tunnel Syndrome and Ulnar Nerve Entrapment
Down Syndrome
Ehlers-Danlos Syndrome
Epstein-Barr Virus
Fetal Alcohol Syndrome (FAS)
Guillain Barre Syndrome (GBS)
Severe and Recurring Infections
Psoriatic Arthritis and Joint Pain
Hidradenitis Suppurativa
Eczema (Dermatitis and Skin Lesions)
Hyperhidrosis
Scar Tissue from Soft Tissue Injuries or Burns
Dupuytren's Contracture
Digestive Tract Problems and Intestinal Disorders
Crohn's Disease
Irritable Bowel Syndrome (IBS)
Ulcerative Colitis
Diverticulitis
Celiac Disease
Inflammatory Bowel Disease
Gout
GERD (if leading to more serious health problems)
Severe Gastroparesis
Hiatal Hernia
Kidney Failure
End State Renal Disease
More than 20 forms of cancer are listed in the updated Blue Book for 2020, and some qualify for expedited processing with automatic approval. Whether you are eligible for Social Security benefits will still depend on the type, location, and prognosis of your cancer, and how well it responds to treatment.
Hemophilia
Thrombocytopenia
Von Willebrand
To review a full list of impairments included in the 2020 Blue Book, visit the SSA here.
Preparing, Filing and Appealing a Disability Claim
In Kentucky, Social Security has specific measurements to meet before disability benefits are automatically granted or denied, in which you can appeal a decision. For this reason, it is suggested to use an experienced SSD lawyer when you start your initial application. Even if you don't meet the disability listing criteria, your lawyer can help determine if you might qualify based on other conditions related to your health condition that limits your ability to work. The Social Security attorneys at Rhoads & Rhoads law firm will make sure no steps are missed and there are no legal or technical reasons that prevent your claim from being approved.
We also recognize that we are living in challenging times. While we all have concerns about our families, health, employment, and more – please be assured that our team is still accommodating our clients through phone calls and virtual meetings. Our job is to protect the clients we serve, including the many who have underlying medical conditions and financial hardships related to their disability.
Western Kentucky Social Security Disability Lawyers — No Recovery, No Fee
Attorneys at Rhoads & Rhoads represent Social Security applicants who are seeking to file or appeal for benefits throughout Western Kentucky. We offer free initial consultations, and all cases are taken on a contingency fee basis. That means there is no payment required up front, and we get paid when we win or settle your case. Call us at 888-709-9329 to schedule an appointment with one of our Madisonville or Owensboro lawyers.
Watch: How to File for Social Security Disability