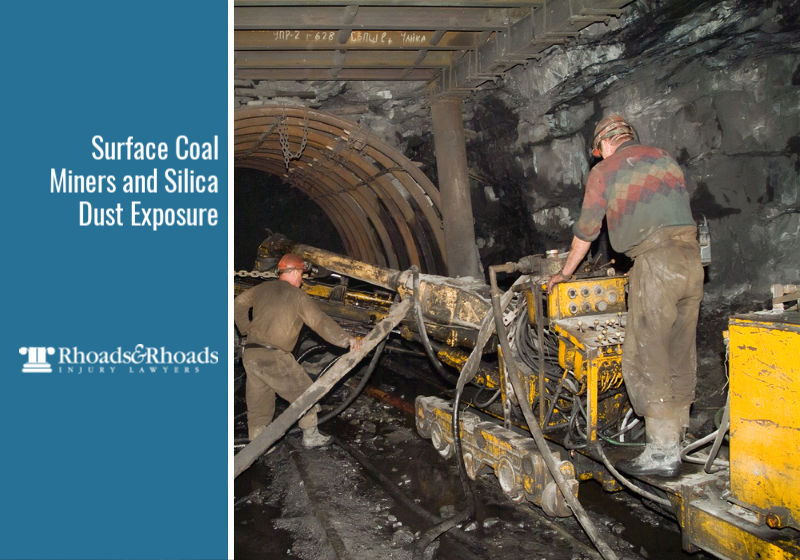 Key Points of This Article:
Exposure to respirable coal mine dust can cause coal workers' black lung disease, an irreversible illness to the lungs.
A new study led by NIOSH researchers shows the occupations in the mining industry with the most significant exposure to respirable silica or quartz dust involve surface mine workers such as bulldozer operators and highwall drillers.
In 2017, surface mines outnumbered underground mines twofold and had 17,800 more workers.
Workers' compensation covers illnesses such as black lung because the sickness develops over time after continuously being exposed to hazards while working.
Kentucky Coal Miners Are Exposed to More Surface Silica Dust Than in Underground Mines
Although the health surveillance of underground miners began in 1969, when Congress passed the Coal Mine Health and Safety Act, the Mine Safety and Health Administration (MSHA) didn't adjust its regulatory language and surveillance of silica dust in relation to surface mine workers until 2014. Silica dust comes from quartz found in the rock layers near coal seams, and it is significantly more harmful to lung tissue than coal dust alone. Silica exposure has been putting surface miners at elevated risks of coal workers' pneumoconiosis – a preventable sickness more commonly recognized as the deadly black lung disease making its resurgence across the Appalachia.
New research, the first to specifically analyze long-term data on exposure to toxic silica dust for workers at surface mines, was published on December 9 by The National Institute for Occupational Safety and Health (NIOSH) in the American Journal of Industrial Medicine. The report confirmed what Kentucky coal miners and their families already know. Surface coal miners, especially those who work in drilling, may be exposed to higher concentrations of respirable dust that increases their chance for lung-related illnesses, including progressive massive fibrosis or black lung.
The researchers analyzed 54,040 coal dust samples taken on surface mines between 1982 and 2017 to determine the percent of silica that was coal dust.
To analyze coal dust exposure among surface mine workers, researchers used nearly 289,000 respirable dust samples collected by MSHA during the same timeframe.
The research findings concluded:
Quartz was the most common form of respirable crystalline silica.
The level of silica was above the permissible limit in 15 percent of all samples.
Of the samples, 1.6 percent exceeded the agency's permissible exposure limit of 2 milligrams of dust per cubic meter of air.
Among the more than 54,000 respirable quartz samples collected, 15.3 percent surpassed the permissible exposure limit, or maximum amount that a worker may be exposed to under regulations.
The research study also found that surface operations produced 500 million short tons of coal in 2017, while underground mines produced just more than half at 271 million short tons. In May 2018, the U.S. Department of Labor said that 4,679 cases of black lung had been diagnosed among coal miners since 1970, with half of those cases occurring after 2000. Surface mines outnumbered underground mines in 2017 with 17,800 more workers.
Coal Mining Drillers Accounted for Greatest Exposure to Silica Dust
Occupations in the coal mining industry with the highest contact to respirable quartz dust involves drilling. The 2019 data presented by NIOSH shows the "mean percent quartz in drilling occupations samples analyzed was nearly double the average (13.2% quartz vs. 7.2%), with bulldozer operator (13.9), highwall drill helper (13.7), highwall drill operator (13.5) and blaster/shooter/shotfirer (11.1) samples showing the highest percentages of quartz."
Companies can and should implement protections for surface miners by:
practicing wet drilling;
installing local exhaust ventilation systems;
using pressurized cabs on vehicles and equipment to protect operators;
and wetting down haulage roads every four hours.
Also, workers should be aware that many mining companies prevent inspectors from understanding the full scope of worksite hazards by falsely preparing for quarterly inspections or failing to report silica risks and related illnesses.
Years of Evidence Reveals Larger Silica Dust Dangers
Silica dust dangers have been known for decades, and the most recent numbers provided by NIOSH shows one in every five experienced miners in Appalachia is now affected with black lung. Further, more than 2,000 have been diagnosed with the most aggressive form of the disease. As the numbers continue to grow, epidemiologists have also identified the largest cluster of advanced black lung disease ever reported in central Appalachia from 2013 to 2017 likely from new mining practices, including new strategies for surface mining.
At Rhoads & Rhoads, we believe that Kentucky's hard-working coal miners diagnosed with a work-related illness such as black lung are paying the ultimate price for the preventable – and ultimately fatal disease. They deserve much more in benefits and coverage to help them. Also, state and federal lawmakers, regulators, including MSHA, need to do more than request more data and instead set forth better protections from silica exposures. And it should be done swiftly to lessen the increasing amount of coal workers exposed to the toxic dust and suffering from its irreversible damage.
Coal workers diagnosed with black lung are eligible for both federal and state compensation but receiving both could take years, and designated funds are far from an easy reach. Seeking legal support from a legal team experienced in working with coal miners may help recover financial losses related to this awful disease.
Work Injury Lawyers for Kentucky Coal Miners
Jerry Rhoads started Rhoads & Rhoads in 1974 with the majority of his practice representing the United Mine Workers' of America (UMWA) and injured coal miners, as well as black lung claims throughout western Kentucky. While the firm now handles personal injury and workers' compensation cases of all types, our experienced attorneys continue to support injured or sickened Kentucky coal workers and their families.
If you have become ill or lost a loved one due to a coal mining-related injury or disease, we are here to help. Call us today at 888-709-9329 to schedule a risk-free consultation. 
Source: Doney, BC, Blackley, D, Hale, JM, et al. Respirable coal mine dust at surface mines, United States, 1982–2017. Am J Ind Med. 2019; 1– 8. https://doi.org/10.1002/ajim.23074
Also read: What Kentucky Coal Miners Should Know About Black Lung Disease