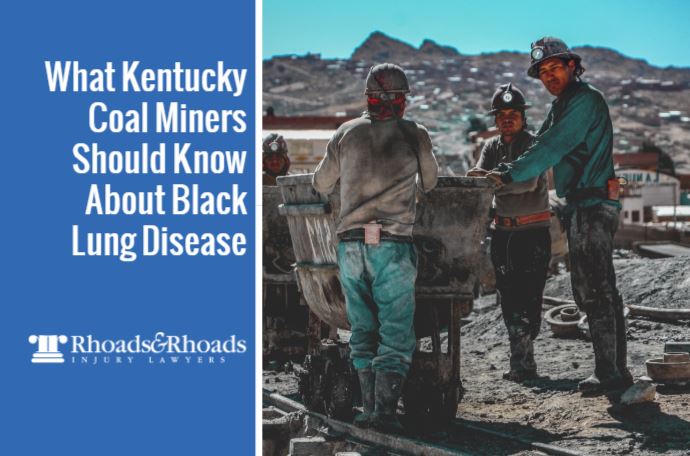 Synopsis
Coal Workers' Pneumoconiosis (CWP), commonly referred to as black lung disease, is an illness caused by inhaling respirable coal mine dust such as silica.
Monthly benefits are available to coal miners disabled by black lung disease and financial support is also awarded to survivors and family members.
The Black Lung Disability Trust Fund is now at risk of being able to provide healthcare dollars for disabled miners and their families and coal workers are speaking out.
The lawyers at Rhoads & Rhoads have handled thousands of claims for injured coal miners in Union County related to black lung, diseases caused by hazardous exposures, and other injuries.
Kentucky Coal Miners Have the Right to Black Lung Benefits 
Coal miners from across the Appalachia, including Kentucky, were in Washington D.C. on the July 22nd demanding federal lawmakers reallocate funding that pays for the healthcare needed by miners with black lung disease, their monthly benefits, and supplements for survivors and dependents. Black lung disease, or coal workers' pneumoconiosis (CWP), is a deadly onset massive fibrosis caused by working in coal mines and inhaling coal and crippling silica dust.
The workers asked regulators to fully restore a coal excise tax rate that was slashed by nearly 50 percent and expired in 2018. NPR reports that the federal Black Lung Disability Trust Fund is more than $4 billion in debt and provides benefits for more than 25,000 disabled miners and their families.
On July 13, 2019, the National Institute for Occupational Safety and Health (NIOSH) published a report, "Current Review of Pneumoconiosis Among US Coal Miners" and examined a continuous increase in progressive massive fibrosis cases in coal miners, particularly in Appalachia (Pennsylvania, West Virginia, Kentucky, Virginia and Tennessee).
"The latest research shows that the prevalence of pneumoconiosis, including progressive massive fibrosis, continues to increase, especially in central Appalachia," wrote the researchers. "Contributing factors may include mining of thin coal seams or cutting rock to access coal, which may expose miners to coal mine dust with a higher content of silica and silicates than in the past." 
Lawmakers have since introduced a House bill to restore the tax on coal in support of the federal Black Lung Disability Trust Fund. The coal industry lobbied against the higher tax rate, arguing that it could put coal companies out of business.
Regulators and Mining Companies Aren't Keeping Workplaces Safe
The Mine Safety and Health Administration (MSHA) continues to fail in responding to the ongoing hazardous exposure of silica dust or recognize the toxic dust as an epidemic to workers. Also, many mining companies prevent MSHA from understanding the full scope of the hazard by falsely preparing for quarterly inspections or reporting silica risks and related illnesses.
Before an inspection, mining companies have been known to:
falsify shift reports to show less time of dust exposure per worker
cut back on mine production creating workspace air that would be less dusty at time of inspection
cover sampling devices or hang them in clean air
blocking of unregulated surface mining areas
Inspections are meant to be proactive accident prevention measures used to identify hazards. MSHA safety inspectors fail during these check-ins as well as the Commonwealth's Division of Mine Safety (DMS) in enforcing Kentucky's coal mining laws and worker safety regulations. Inspectors are the supposed to protect workers and report on the condition of equipment used and ensure working environments are safe and enforced. And when inspectors refuse to act on unsafe conditions, employers are ultimately responsible for following specific procedures and standards, including ongoing harmful exposures such as silica dust. 
Workers Who Suffer from Black Lung Disease are Eligible for Benefits 
NIOSH research shows one in every five experienced miners in Appalachia is affected with black lung, also called progressive massive fibrosis (PMF), and more than 2,000 have been diagnosed with the most aggressive form of the disease. The numbers continue to grow as epidemiologists have identified the largest cluster of advanced black lung disease ever reported in central Appalachia from 2013 to 2017 likely from new mining practices. In May 2018, the U.S. Department of Labor said that 4,679 cases of PMF have been diagnosed among coal miners since 1970, with half of those cases occurring after 2000. Workers' compensation covers illnesses such as black lung because the sickness develops over time after continuously being exposed to hazards while working.
Continuous Miner Operators have a high risk of overexposure to silica, with approximately 25 percent of compliance dust samples exceeding the permissible exposure limit in their work areas.
Other coal workers can also become exposed to hazardous levels of silica dust including:
Roof Bolter
Continuous Miner Operator
Laborer
Shuttle Car Operator
Beltman
Reagent Operator
Grinder
Site Foreman
Welder
Blaster
Sampler
Driller
Electrician
Crusher Operator
Dewatering Operator
Coal Project Specialist
Jack (Timber) Setter
Millwright
Machinist
Equipment Maintenance Worker
Driller
Superintendent
Coal workers who suffer from black lung are eligible for both federal and state compensation but receiving both could take years, and now designated funds may not be available. Seeking legal support from a legal team experienced in working with coal miners may help recover financial losses related to this awful disease.
At Rhoads & Rhoads, our attorneys have put in the time representing Kentucky coal workers and remain committed to helping them. We believe these hard-working miners and their families have already paid the ultimate price. It's time to get them back what they are owed.
Legal Support for Kentucky Coal Miners 
Jerry Rhoads started Rhoads & Rhoads in 1974 with the majority of the practice representing the United Mine Workers' of America (UMWA) and injured coal miners, as well as black lung claims throughout western Kentucky. While the firm now handles personal injury and workers' compensation cases of all types, our experienced attorneys continue to help Kentucky coal workers and their families.
If you have become ill or lost a loved one due to a coal mining-related injury or disease, we want to help you. Call us today at 888-709-9329 or contact us to schedule a risk-free consultation. 
Read: Risk of Black Lung Disease Was Known and Ignored By Employers
Video Transcript
Over the last 45 years, Rhoads & Rhoads has represented people all over Union County. We've tried several cases in the Union Circuit Court. We've handled workplace injuries for workers' comp. We've handled hundreds and hundreds and hundreds of claims for injured coal miners in Union County, whether it be a black lung, injury, a low back, a neck, any other type of injury.
We've represented so many people in automobile accidents, agricultural injuries, industrial injuries, workers' comp claims, Social Security disability claims. We've represented a lot of folks in Morganfield, Sturgis, Waverly, folks all over the county. We've spent a decent amount of time in the court systems in Union County, and it's somewhere that's very special to us.