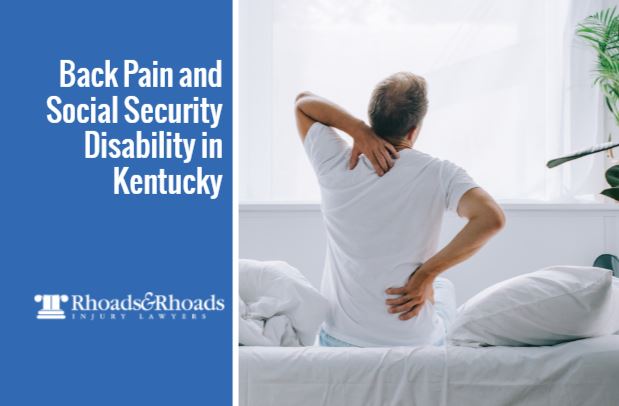 Synopsis
Serious back injuries can trigger spine-related pain and suffering that persists for a life-time.
Back surgery and other treatments can cost anywhere from $20,000 to $150,000 depending on procedural complications or the surprise onset of other related conditions.
If an injured person has reached a certain working status through the Social Security Administration, there are benefits available to apply for if the back injury has made it difficult for them to return to work.
If a person is denied benefits, they do have the opportunity to appeal for a reconsideration, be provided a hearing by an administrative law judge, and a review by the Appeals Council.
Costly Spinal Cord Injuries Can Trigger Other Painful Conditions
Most spinal cord injuries are the result of some sort of accident at work or other unfortunate occurrence, rather than a disease. These injuries often lead into life-long challenges related to employment capabilities or the inability to participate in basic daily living tasks. Back injuries can also trigger secondary conditions such as:
arachnoiditis
degenerative disc disorder
herniated discs
nerve root compression
osteoarthritis
rheumatoid arthritis
scoliosis
spinal stenosis
spondylolisthesis
spondylitis
The Journal of the American Osteopathic Association says the cost of treating back pain for those suffering from musculoskeletal conditions, including injury to the bones, tissue, or nerves around the spine, can be extremely costly and totals around $240 billion per year in the U.S. Related treatment costs will include physicians and specialist copays, along with insurance, prescriptions and treatments, expensive tests such as MRI scans, and physical therapies not always covered by insurance such as chiropractic care. And if surgeries and hospital stays are required, additional costs could incur ranging from $20,000 to $150,000.
Applying for Social Security Disability for Back Pain
Workers' compensation covers physical injuries and occupational diseases brought about by work activities, and through the Social Security Administration (SSA), Social Security Disability Benefits, such as Social Security Disability Insurance (SSDI or SSD) and Supplemental Security Income (SSI), are available for those who are unable to work because of pain related to certain injuries or conditions. These benefits can be challenging for some to obtain, so those injured must first determine their eligibility two different ways prior to applying.
You have to be diagnosed with a medical condition that lasts for at least a year.
You have to provide evidence of how it impacts your ability to work and causes you daily limitations.

Types of Medical Evidence Needed To Prove a Disabling Back Injury
Your examinations, including x-rays, MRIs, or your physician's notes regarding an examination, need to indicate you suffer from an abnormality of the spine or spinal canal and that is what causes your pain and discomfort. Be sure to document any personal limitations such as:
unable to walk for more than one block without needing to take a break
can't bend over or stoop down
can't lift objects over ten pounds
can't sit up or stand for at least two hours per day
need to keep one leg elevated throughout the day
must be able to move around or change positions frequently
need to lay down for most of the day
can't sit down for at least six hours during a workday
Even if your spinal injury or related back condition does not qualify you for benefits, you may still be approved using the medical-vocational allowance. In this case, your condition, symptoms, and limitations will be taken into consideration as well as your age, education, transferable skills, and work experience. If Disability Determination Services decides that you are unable to work at any job for at least a year or that you truly do not have access to additional resources, you may be considered disabled.
What if Social Security Benefits are Denied?
If you have followed the steps for applying for SSD in Kentucky and are still waiting for approval or denied, a letter from the Social Security Administration will be sent explaining the decision and suggestions on moving forward with an appeal. A person denied benefits will have 60 days after this first notice to ask for a review and appeal for a reconsideration, a hearing by an administrative law judge, and a review by the Appeals Council. Those steps are as follows.
Request a Reconsideration
If your disability claim was recently denied for medical (or non-medical) reasons, you can request an appeal. A review of your claim will be led by someone who did not take part in the first determination. New or missing evidence may be provided at this time.
Hearing by an Administrative Law Judge
A hearing is conducted by an administrative law judge who had no part in the original determination or the reconsideration of your case.
Review by the Appeals Council
If a decision or dismissal made by an administrative law judge is impacting your claim approval, a special Appeals Council may review. The Council may still deny a request if the hearing decision was in accordance with social security law.
Federal Court Review
Denied claimants can file a civil suit in a federal district court if the Appeals Council's decision is not in favor of an approval.
Working with an attorney at Rhoads & Rhoads to serve as a representative during this appeal process can help ease any stress and increase your chances for a SSD denial decision to be received or reversed.
Owensboro and Madisonville Social Security Disability Lawyers
Rhoads & Rhoads has been protecting the rights of the injured throughout Western Kentucky for over 43 years. If you or a loved one have become disabled and are pursuing or have been denied SSD or SSI benefits, our team of experienced attorneys and knowledgeable support staff are available to help you through this difficult time and get you the financial recovery you deserve. Your monthly benefits will not be affected by working with an attorney.
We offer free initial consultations, and all cases are taken on a contingency fee basis. This means there is no payment required up front and there is NO RISK involved. Call us at 888-709-9329 or contact us to schedule an appointment at our Madisonville or Owensboro offices.
Read: Rhoads & Rhoads Guide to Understanding Long Term Disability Denials and Appeals