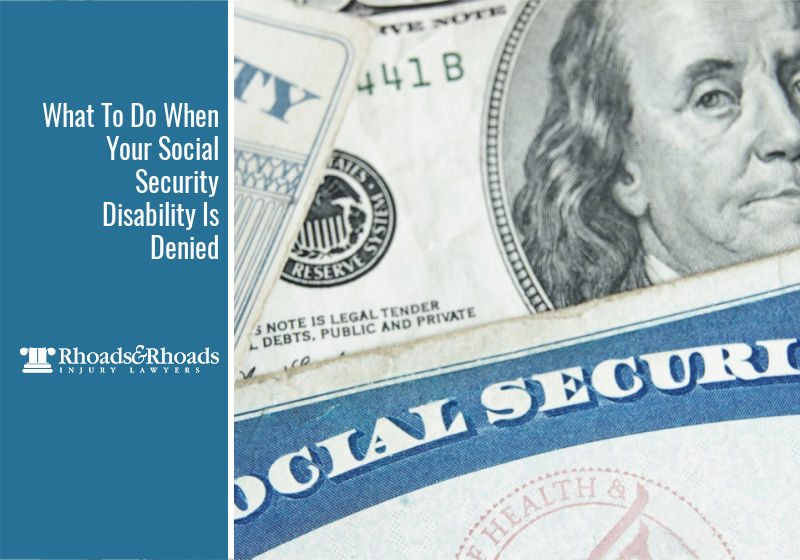 Key Points of This Article:
When diagnosed with a physical or mental impairment, and unable to work, Social Security will review several factors before approving disability benefits.
Your application may be jeopardized if you haven't sought treatment for your impairment, missed critical deadlines, or have the proper documentation to support the criteria needed to make a claim.
Even with evidence and the appropriate medical support, many individuals will be denied benefits upon their initial application, possibly due to a small application error like forgetting one detail related to their job history.
If your disability claim was recently denied for medical (or non-medical) reasons, you could request an appeal and review for reconsideration.
How to Appeal the Denial of Your Social Security Disability Application
A disability or serious illness can certainly rob an individual's ability to work and prevent them from achieving financial independence. Thankfully, some Kentuckians may apply to receive Social Security Disability (SSD) benefits after being diagnosed with a qualifying disabling condition that has left them unable to carry on with work.
To qualify for SSD benefits, a doctor will first need to determine that the disability is severe enough to prevent an applicant from working.
One of the easiest ways to apply for disability is online. This option allows for greater flexibility in terms of completing the application when convenient. The online process is also available 24 hours a day.
Even with documentation, Kentuckians who receive some type of SSD payment, may have been first denied benefits upon their initial application.
An average of 28% of applications are approved after an initial claim, and the Social Security Administration reports that over ten years, only 45% of applicants are approved in total.
In 2019, a record number of hearing requests grew as more aging baby boomers require disability benefits and legal support.
As COVID-19 disruptions continue, appealing Social Security decisions can feel complicated, drawn-out, and extra stressful.
For those applicants unsure of what to do after being denied SSD benefits and find themselves in a work loss situation and suffering financially, there are options available.
4 Steps You May Have to Take to Appeal Social Security's Denial
If you followed the steps for applying for SSD in Kentucky and were still denied, a letter from the Social Security Administration will be sent explaining the decision and suggestions on moving forward. A person denied benefits would have 60 days after this first notice to ask for a review and appeal for reconsideration, a hearing by an administrative law judge, and a review by the Appeals Council.
Request an Appeal
If your disability claim was denied for medical (or non-medical) reasons, you can request an appeal. Remember, one of the most critical steps in applying to receive benefits in the first place is to gather the information needed to show you have been diagnosed with a disabling condition that affects your ability to work. New or missing evidence may be provided at this time.
Demand a Hearing in Front of an Administrative Law Judge
If that first appeal is denied, an attorney will file a request for a hearing (which demands a hearing) in front of an Administrative Law Judge who had no part in the original determination or the reconsideration of your case.
Request a Review by the Appeals Council
If a decision or dismissal made by an Administrative Law Judge continues to impact your application approval, you can file a review by the Appeals Council. However, in some case, the Council may still deny your request.
The Last Step Is a Federal Court Lawsuit
If the claim is still denied, your attorney may advise filing a lawsuit against the Social Security Commissioner in the U.S. District Court.
During an appeal process, income may be sparse. But working with experienced attorneys will ensure all deadlines are met, that the appropriate paperwork is prepared and filed with support by medical specialists – and, ultimately lessen the likelihood of another denial.
An Attorney's Role in Preparing, Filing, and Appealing a Disability Claim
In Kentucky, Social Security has specific measurements to meet before disability benefits are automatically granted or denied. To avoid a denial and the appeal process, it is suggested to meet with an experienced SSD lawyer from the start of your initial application. Even if you don't meet the disability listing criteria, a lawyer can help determine if you might qualify based on other conditions related to your health and your ability to work.
Kentucky applicants of all ages, regardless of disability, are more likely to be approved and receive benefits sooner when supported by a legal team experienced in Social Security Disability law. But it's not too late to ask for help if you are in the denial stage and need to appeal. Working with an attorney at Rhoads & Rhoads to serve as a representative can help ease any stress and increase your chances for a positive outcome.
Kentucky Social Security Disability Lawyers — We Are Here For You
Before you attempt to work while receiving benefits or decide to file for social security disability benefits, we advise you to please contact our office to not risk jeopardizing your case. We also recognize that we are living in challenging times related to the Coronavirus pandemic here in Kentucky. Many of us have concerns about our families, health, employment, and more – but you should feel reassured that Rhoads and Rhoads is still accommodating our clients through phone calls and can arrange a meeting with you in a setting that you are most comfortable and safe for all involved.
If you need to file a claim for Social Security disability or need help understanding why your application was denied and would like to appeal, or if you're a current client, please feel free to call. We will be happy to have one of our attorneys connect with you to see how we can help.
We offer free initial consultations, and all cases are taken on a contingency fee basis. That means there is no initial payment required, and we get paid when we win or settle your case. Call us at 888-709-9329 and speak with us today.
Also read: Social Security Disability Updates Due to COVID-19 Disruptions