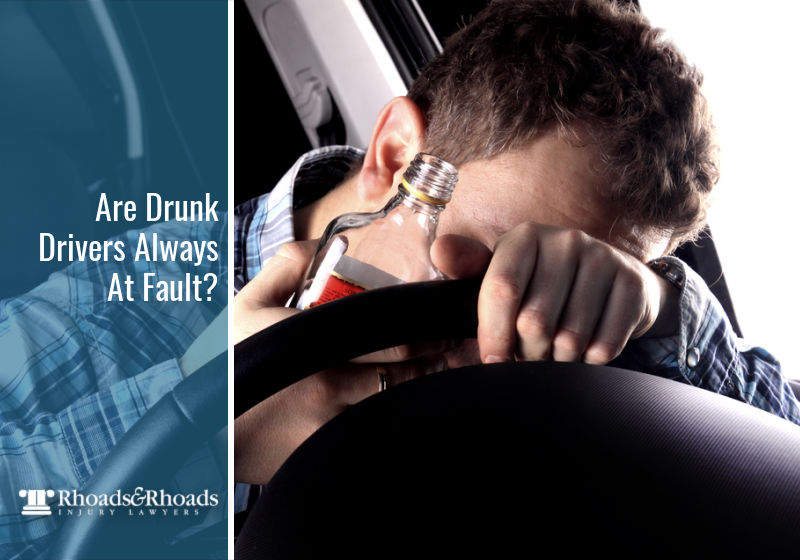 Drunk drivers cause numerous preventable accidents every year in Kentucky. 
When alcohol is involved in a car accident, are drunk drivers always at fault? That's the question that many car accident survivors find themselves asking after their accident. 
How Many People Are Killed by Drunk Drivers?
Drunk driving is a serious problem throughout the US. More than 11,000 people died in 2020 from drunk driving collisions.
Sadly, between 2019 and 2020, Kentucky saw a 31.8% increase in fatalities from drunk driving accidents. In 2020 alone, 199 people in Kentucky were killed by drunk drivers. 
Drunk driving, whether it causes an accident or not, is illegal. Kentucky drivers face harsh penalties for driving under the influence, including a 6 to 60-month license suspension and a 90-day to 1-year alcohol or substance abuse program. It is always recommended to report drunk drivers to authorities to protect yourself and others on the road.
Who Is At Fault in a Drunk Driving Accident?
In Kentucky, the fault for an accident is not automatically assigned to a drunk driver. 
It may seem like a drunk driver is always at fault, but there are circumstances where a driver could be intoxicated and not cause an accident.
For example, if a driver under the influence has stopped in traffic and gets rear-ended by a distracted driver who is looking at their phone, the intoxicated driver may not be at fault at all. They will still likely be arrested for driving under the influence (DUI), but that doesn't mean that insurance or a court will find the accident to be their fault. 
In another situation, if a distracted driver blows through a red light and is hit by an intoxicated driver who does not have time to stop, the drivers will probably be found to have shared responsibility. 
What Is Shared Responsibility?
Shared responsibility is the division of responsibility between two or more parties. 
In a drunk driving accident, shared responsibility can be split between multiple drivers. In a two-car accident, both drivers can be assigned responsibility. They do not have to be equally responsible; it may be that one driver is mostly responsible while another shares a smaller portion of the liability. 
Additionally, a third party could share some of the responsibility. A restaurant or bar that overserves a patron who then goes out and drives under the influence can be sued as a responsible party in an accident. An adult who serves liquor to minors at a party could also be liable if one of those minors then causes an accident. 
Are Drunk Drivers Ever Solely At Fault?
Of course, it's also possible for an intoxicated driver to be the only person at fault in an accident. 
Examples include: 
Driving at an excessive rate of speed 

Ignoring traffic signals

Passing in an intersection 

Swerving 

Driving too slowly
Seeking Legal Assistance to Determine Fault
Figuring out who is responsible for an accident is often unclear, but it's even more of a challenge when one of the drivers was intoxicated. 
Seeking legal assistance can give you peace of mind that fault will be assigned correctly and you will get the compensation you deserve for your injuries and expenses. 
Rhoads & Rhoads–Owensboro's Leading Car Accident Attorneys
Rhoads & Rhoads has been serving clients in Western Kentucky and beyond for more than 45 years. Using evidence from the accident, expert testimonies, accident reconstruction, police reports, and more, we help our car accident clients recover the compensation they deserve.
Compensation can be used to cover things like:
Past and future medical bills

Past and future lost wages
Our clients in Owensboro and Madisonville, Kentucky turn to us to help in complicated situations like drunk driving accidents. We offer free consultations to learn about your specific case and help you determine what legal support you need. 
To answer the question, "Are drunk drivers always at fault?" and any others regarding your case, call our car accident attorneys at 888-709-9329 to discuss your injury case or contact us by email to schedule an appointment with one of our Madisonville or Owensboro Kentucky personal injury attorneys.