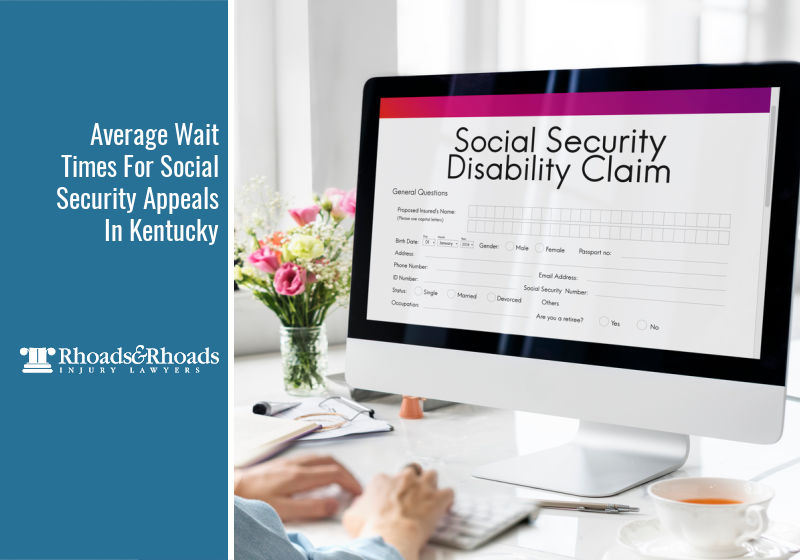 Key Points of This Article:
Social Security Disability Insurance is a government program that impacts about 8.5 million Americans each year who can no longer support themselves due to serious and long-lasting medical conditions.
A person denied benefits has 60 days to ask for a review and appeal for reconsideration, a hearing by an administrative law judge, and a review by the Appeals Council.
As of late 2020, the Administration said 410,000 Americans were still waiting for a hearing on a denial.
According to the Government Accountability Office, since 2010, 110,000 Americans have passed while waiting for Social Security Disability Insurance benefits or an appeal.
How Long Will You Have to Wait for a Social Security Denial Review and Appeal for Reconsideration?
Social Security Disability Insurance (SSDI) benefits are only eligible to those who qualify medically and have worked for a business or self-employed — and paid Social Security taxes. Family members are also sometimes eligible, including children under 18, but only when they meet the SSA's strict rules. But no matter who you are, collecting SSDI can be complex and, at times – just downright frustrating due to the precise benefit requirements needing to be met before being considered eligible. Also, the likelihood of being denied due to the evidence and information provided on the initial application is more common than not. According to the Social Security Administration, only 28% of applications are approved after an initial claim, and about 45% of applicants are approved in total over ten years.
Unfortunately, too many individuals find out their disability benefits have been denied and need to ask for a review and appeal for reconsideration, a hearing by an administrative law judge, and a review by the Appeals Council when also battling terrible diseases, are dependent on hospice care, or living with permanent injuries and unable to work, simply because they have missed questions on their paperwork or they did not submit everything on time. To make matters even more complicated, the appeal process can be long, which is why it is so important to be as transparent, thorough, and accurate in your initial request for benefits.
The Issue with Social Security's Backlog of Appeals
According to a 2020 report from the Government Accountability Office, nationwide, Americans who filed an SSDI appeal waited more than one year for a final decision on their claim.
As of last fall, the Administration said 410,000 Americans were waiting for a hearing on a denial.
Some 48,000 Americans filed for bankruptcy while awaiting a benefits decision between 2014 and 2019.
And nearly 110,000 who filed an appeal between 2008 and 2019 died before ever getting an answer.
This known backlog in the SSD system means appeal cases can take months, or tragically in some cases, even years to get before a judge. And while we certainly hope no one will have to wait an unreasonable amount of time for their disability to be approved and benefits received, having to request an appeal will create a much longer timeline.
Estimated Social Security Denial Hearings and Appeal Wait Times in Kentucky
Nationwide, average wait times from the hearing request date until a hearing was held can range from 150 to 550 days depending on where you live and your Social Security offices. In Kentucky, these average times shown are accurate only for cases closed in October 2020. The times are not cumulative for the year, according to the Administration's review of the state offices (where report-specific data was collected).
Paducah: 349 days/10 months
Louisville: 303 days/9 months
Lexington: 284 days/9 months
Middlesboro: 251 days/7 months
All SSDI claims are subject to a waiting period for some benefits, mainly determined by the information and medical evidence you provide. Although wait times have gone down slightly in recent years, COVID-19 challenges have affected mostly everything related to Social Security benefits but work is still being done.
Kentucky Social Security Disability Lawyers — We Are Here For You
The SSD lawyers at Rhoads & Rhoads can help navigate the process and offer free evaluations to see if you qualify for help and discuss the importance of beginning the process as soon as possible. We never charge for services unless or until you are approved for benefits.
If your appeal is denied, an attorney will file a request for a hearing (which demands a hearing) in front of an Administrative Law Judge who had no part in the original determination or the reconsideration of your case. The good news is that many people who appeal a disability denial and work with an experienced attorney ultimately – win.
A Special Note About COVID-19 For Our Social Security Clients: As the COVID-19 pandemic continues to challenge Kentuckians, especially those with underlying health conditions, many have valid questions about their disabilities, future health, employment, and more. Please be reassured that everyone at Rhoads and Rhoads is working hard to accommodate our most at-risk clients through phone calls or virtual meetings. This way, we can help keep everyone safe and your disability case moving forward.
Request Legal Help Immediately After a Disability Denial
Rhoads & Rhoads attorneys take pride in protecting the clients we serve, including the many suffering from underlying medical conditions and financial hardships related to their disability. Because of this, we want you to be assured that our team can accommodate you, and in-person consultations are not always necessary. Our goal is to continue serving with the safety and the support you deserve while staying respectful of the underlying medical conditions, physical, emotional, and financial hardships you have faced related to your disability.
Call us at 888-709-9329 to schedule your FREE consultation today. There is never a fee unless we win your case.
Also read: What to Expect in Supplemental Security Income (SSI) Payments For 2021
Source: Average Wait Time Until Hearing Held Report | Public Data Files. (2020, October). Social Security Administration. https://www.ssa.gov/appeals/DataSets/01_NetStat_Report.html