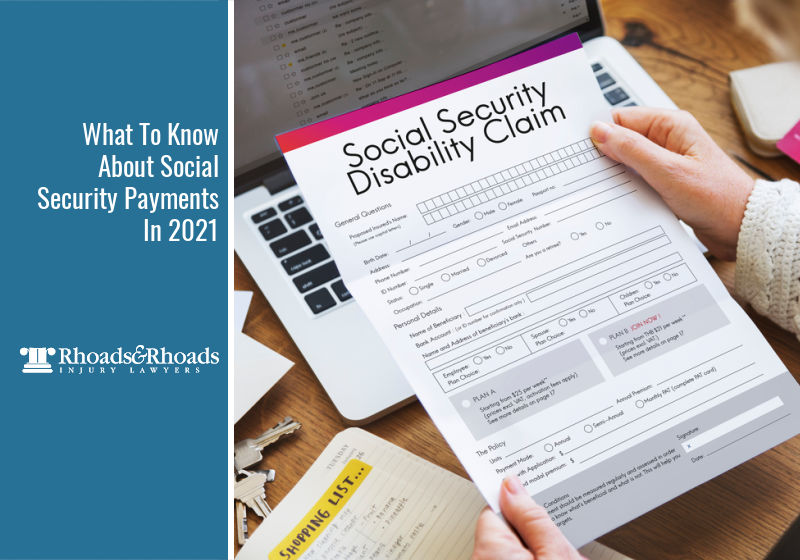 Key Points of This Article
You do not have to meet any previous employment requirements to qualify for Supplemental Security Income (SSI), but people need first to meet specific medical and financial criteria.
Kentucky applicants of all ages, regardless of disability, are more likely to be approved and receive benefits sooner when supported by a team experienced in Social Security Disability law.
Each year, Federal Supplemental Security Income (SSI) payment amounts increase with the cost-of-living increases that apply to benefits.
The monthly maximum Federal SSI payment will bump up 1.3% and become effective in January 2021.
What to Expect in Supplemental Security Income (SSI) Payments For 2021
There are two distinct types of Social Security Disability (SSD) benefits with different qualifying requirements, although some Kentuckians can qualify for both programs simultaneously. In either case, a decision about whether or not you meet Social Security's definition of disability will require a careful review of the severity of the applicant's medical condition and disability.
Social Security Disability Insurance (SSDI or SSD):SSDI is available to disabled workers who have paid into the Social Security system through employment over the years.
Supplemental Security Income (SSI):SSI is available to people who meet specific medical and financial criteria. A person's assets will be reviewed to ensure they do not have access to additional resources. The person does not need to have worked to get SSI.
If you have a disability and you also have low income and limited resources (ex. limited cash or property that you own, limited assets that can be converted to cash, or limited assets to support yourself), you may qualify for SSI monthly payments to help you pay for your basic needs. Each year, SSI payment amounts increase for individuals, couples, and essential persons to reflect cost-of-living changes. In 2021, the increase is just above 1% and will settle in January 2021 at these monthly amounts.
Individual: $794 (monthly)
Couple: $1,191 (monthly)
Essential Person: $397 (monthly)
SSI pays benefits based on financial need and can help applicants with basic needs for food, clothing, and resources like housing. There are different rules for children under 18, seniors without disabilities, and those who are blind. But for the most common recipients to qualify, adults ages 18 – 64 must:
Be a U.S. citizen (or qualified alien)
Have a disability that meets Social Security's standards or be 65 years old or older, and
Have low resources and low income.
Before COVID-19's shadow, individuals could apply in person at any of 27 local offices throughout the state, by appointment. Currently, the preferred way to apply for disability is online. This option allows for greater flexibility in terms of completing the application when convenient. The online process is also available 24 hours a day and jumpstarts the application process rather than waiting for a virtual appointment or phone call. Information about applying by phone is also available by calling 1-800-772-1213 or TTY 1-800-325-0778 for the deaf and hard of hearing.
Determining Approval or Denial of SSI Benefits in Kentucky
To qualify, you will need to provide personal information, including but not limited to your legal name, date of birth, and address. You will also need documentation from the doctors treating you, prescriptions, and any medical testing results. Your income and job history, as well as any tax records, will be requested. Be prepared to answer questions and provide copies related to bank accounts, savings, retirement accounts, stocks, bonds, real estate, or other resources that you own. After completing your application, the Administration and the Commonwealth of Kentucky's Disability Determination Services will then use a five-step process to determine whether you meet their criteria for disability.
Are You Working at a Level of Substantial Gainful Activity?
Is Your Medical Condition Severe
Is Your Medical Condition on Social Security's List of Impairments?
Can You Do the Same Work You Did Before?
Can You Do Any Other Type of Work?
Unfortunately, many applicants who truly need SS benefits will be denied for medical reasons or non-medical reasons. This can be quite difficult to hear since the process of waiting for an approval or denial decision can be long and stressful for someone with a disability and limited resources. Sometimes it is a simple fix to appeal and sometimes you will have to work harder to plead your case. You may have to provide additional medical support, revisit details or documents, and then submit a "Request for Consideration" using Form SSA-561.
If you need help applying for SS benefits or would like to appeal an SSI denial, we advise you to please contact our office so that you don't damage your current status. An experienced lawyer can make sure all deadlines are met, prepare and file the appropriate paperwork, identify medical specialists, and ultimately – support your case for the best chance of success to help move you forward.
Western Kentucky Social Security Disability Attorneys
Rhoads & Rhoads attorneys are happy to meet with you over the phone or while practicing social distancing in a safe location to see how we can help. Our job is to protect the clients we serve, including the many who have underlying medical conditions and financial hardships related to their disability. Because of this, we want you to be assured that our team can accommodate you, and in-person consultations are not always necessary. Our goal is to continue serving with the safety and the support you deserve while staying respectful of the underlying medical conditions, physical, emotional, and financial hardships you have faced related to your disability. When you come to us, you will receive professional legal services as a client but treated like family.
Call us at 888-709-9329 to schedule your FREE consultation today. There is never a fee unless we win your case.
Watch: Hear from Michael, a Social Security client who was denied benefits.