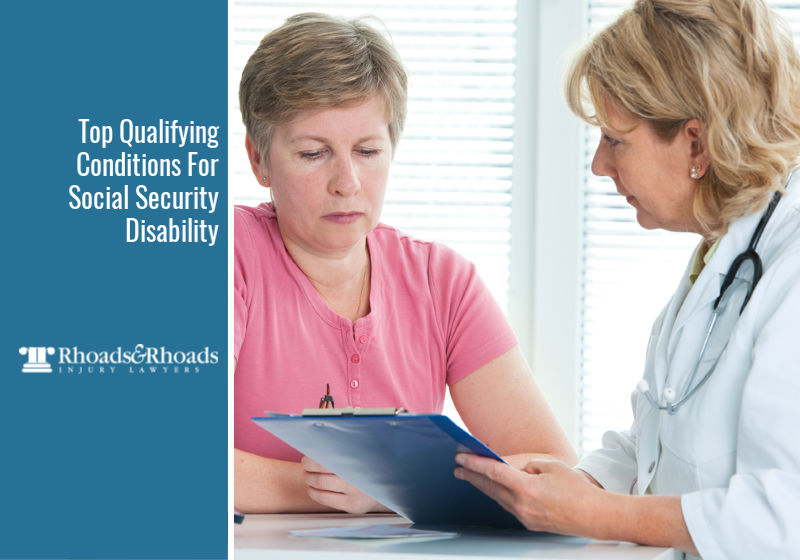 Key Points of This Article:
For individuals who are no longer able to work due to severe and long-lasting psychological and physical injuries, Social Security Disability benefits may be available.
Roughly 10.5 million people receive Social Security disability benefits, and an additional 8 million receive disability benefits from Supplemental Security Income.
There are specific requirements to qualify for social security disability benefits, and an application process with medical evidence must be collected to prove a condition or injury has hindered your ability to work.
For those denied claim compensation or disability benefits, other options may be available with the help of an experienced Social Security Disability attorney.
3 Common Categories of Social Security Disability Qualifying Conditions
When a person can no longer work as a result of a severe illness or injury that has left them with temporary or permanent disabilities, they may be eligible for Social Security Disability benefits, including Social Security Disability Insurance (SSDI) and Supplemental Security Income (SSI). An injury must be severe enough to have caused a shift in the ability to do specific work tasks and has lasted or is expected to last at least 12 months. The Social Security Administration's list of impairments for 2020 includes bone diseases, cancers, breathing disorders, heart problems, and dozens of nervous system and autoimmune conditions.
The social security disability lawyers at Rhoads & Rhoads have gathered a list of the most common categories and examples of conditions the Social Security Administration (SSA) may provide disability support for. A lawyer can also help you obtain the benefits needed and protect your rights to appeal if your disability claim is denied. Your benefits will not be affected by working with an attorney.
Musculoskeletal System
The largest category, representing 32.3% of disabled workers' benefits, involves musculoskeletal system and connective tissue diseases. These disabilities involve damage to nerves, muscles, tendons, or ligaments. The SSA reports theses common musculoskeletal system conditions that most often automatically qualify for SSD.
Arthritis (Connective Tissue Disorder): Rheumatoid arthritis is a disorder of the immune system. For a person to qualify for benefits, they must experience significant limits on their ability to work.
Back Pain: Diagnoses such as scoliosis, degenerative disc disease, ruptured disc or spinal disorders, or the abnormal curvature of the spine may affect an individual's ability to walk, live with chronic pain, and interfere with the function of other body systems.
Fibromyalgia: This syndrome is complex and occurs with widespread pain in the joints, tendons, muscles, and soft tissues.
A disability attorney can help collect the medical evidence necessary to show the musculoskeletal condition has limited a person's ability to perform gainful work.
Mental Health Disorders
According to SSA, nearly 20% of disability benefits are awarded to those with qualifying mental disorders. Individuals must have a medically diagnosed psychological condition, and it must cause an extreme limitation in an individual's ability to function independently. Other common disorders that qualify include:
Mood Disorders: Disabilities such as anxiety, depression, panic attacks, anxiety disorder, post-traumatic stress, or depression can cause limitations in understanding and applying information, having social interactions with others, concentrating, and managing work.
Schizophrenia and Schizoaffective Disorder (or other psychotic disorders): The qualifying individual will have delusions or hallucinations, and disorganized thinking. Schizoaffective disorder is a mental health disorder that is marked by a combination of schizophrenia symptoms.
Autism or Asperger's: Medically documented deficits in verbal communication, non-verbal communication and social interaction and limitations in the ability to understand, recall and apply information, to interact with others, to concentrate and to manage oneself may place someone on SSA's approved conditions for SSD related to the Autism spectrum.
Learning Disabilities or Intellectual Disorders: The SSA identifies these disabilities in people with significantly subaverage general intellectual functioning, significant deficits in current adaptive functioning, and the manifestation of the disorder before age 22. Signs may include, but are not limited to, poor conceptual, social, or practical skills evident in adaptive functioning. Historically, the SSA used terms such as "mental retardation" to describe this disorder.
Some mental conditions will require a doctor's proper documentation that an individual has shown one or more disorder symptoms.
Cardiac and Circulatory Disorders
According to the SSA, only 10%, are awarded benefits due to a circulatory disorder that involves the flow of blood to the heart and rest of the body. Three common examples of these conditions may be:
Angina: a common cardiac disorder, although chest pain by itself is insufficient to determine the level of disability.
Hypertension: High blood pressure, if not properly managed, may damage other body systems and lead to heart disease, stroke, and other system complications.
Coronary Artery Disease: The narrowing of the coronary arteries due to a build-up of plaque is the most common cause of reduced blood and oxygen supply to the heart, a condition known as myocardial ischemia.
Individuals with cardiac disorders who are applying for disability are likely to be evaluated under specific criteria.
Disabling conditions such as congenital disabilities, cancer, neurological disorders in children including some learning challenges and borderline intellectual functioning, and many other disabilities may entitle you or a loved one to receive SSD benefits. But first, for someone to qualify, a doctor will need to determine that the disability is severe enough to prevent an applicant from working. Sometimes, even with evidence and medical support, many individuals will be denied benefits upon their initial application.
For those applicants unsure of what to do after being denied benefits, there are options available to appeal and be reconsidered with the help of an experienced Social Security Disability attorney at Rhoads & Rhoads.
Western Kentucky Social Security Disability Lawyers
Our job is to protect the clients we serve, including many who are battling underlying medical conditions and financial hardships related to their disability. If you or a loved one have become disabled and are pursuing or have been denied SSD or SSI benefits, our team of experienced attorneys and knowledgeable support staff can help you through this challenging time and get you the financial recovery you are seeking.
Call us at 888-709-9329 for a free initial consultation. We want you to be assured that our team can accommodate you through phone calls and virtual meetings, and in-person consultations are not always necessary. There is no payment required upfront, and there is NO RISK involved.
Watch: Attorney Sara Martin Discusses How You Can Receive Disability Benefits and Still Work