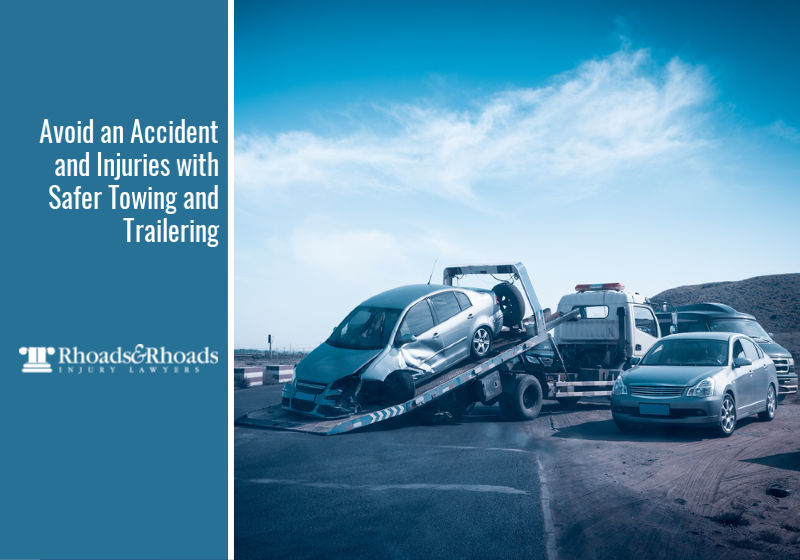 Key Points of This Article:
The National Highway Traffic Safety Administration reports over 50,000 accidents every year related to towing, with the majority being preventable.
Safe towing involves the mix of many components: the driver, tow vehicle, and trailer, or an extra load. Each of these contributes to how safe the towing experience and safety of the combination will be.
Using the correct hitch, knowing the proper load weight, and having the right tow vehicle and trailer can mean the difference between arriving at your destination safely or getting involved in a preventable crash.
Safe and proper driving habits, and preparing a "Safe Tow" check before each trip are all crucial contributions to overall trailer safety. Drivers should always maintain focus and avoid distractions while operating a motor vehicle and eliminate distractions.
How to Avoid a Summer Accident with Safe Towing and Trailering
Are you planning on towing a camper, fifth-wheel, boat, or trailer this summer? If so, you will need to adjust your regular driving habits and prepare your tow vehicle and load for accident-free travel. The amount of experience you have towing and responsibility for selecting a vehicle with the appropriate tow rating, lights, hitch, and properly driving with the right speed, steering, attention, and braking are all involved in road safety.
Several common towing mistakes trigger serious accidents and deadly injuries each year, especially during the summer months. Unfortunately, the National Highway Traffic Safety Administration says most tow-related accidents are preventable.
Tow Rating
An overloaded tow is a major trigger for roadway accidents. Too heavy of a load can cause failing brakes, loose or broken suspensions, blown-out tires, uncontrolled sway and overcorrection mistakes, or a vehicle's technology and safety features to malfunction. You can find the tow rating in a vehicle's manual, on the manufacturer's website, or sometimes located on the drivers-side door.
Connecting Lights
Brake lights, taillights, turn signals, and reflectors on tows are required by federal law. The extra lights allow for those sharing the road to see you and your tow vehicle from every angle. You must double-check all connections and ensure every light is working before hitting the road.
Limited Visibility
With limited visibility out the rear, tow vehicles are at higher risk of an accident. Mirror extenders can provide the added precaution for safely changing lanes and backing up, but it's a trailer's size that reduces visibility the most. Get comfortable with identifying blind spots by taking your tow for a drive in an empty parking lot before your next trip. Practice changing lanes and backing your tow into a parking spot.
Tire Pressure
Driving a fully loaded trailer with underinflated tires is extremely dangerous. Tires with low pressure produce more heat and friction against the road, leading to blow-outs and loss of control. Underinflated tires are a common preventable cause for trailer rollover accidents.
Speed and Stopping Time
Tow vehicles require a greater stopping distance, and drivers should be comfortable with the difference between the way their truck handles by itself, versus the way the vehicle handles while towing a camper, boat, or trailer loaded with cargo. Always slow down and create longer following distances between you and the motor vehicle in front of you. Even with top-performing trailer brakes, the tow vehicle will need a greater stopping distance with an attached trailer or boat.
Tailgating and Rear-End Collisions
The National Association of Trailer Manufacturers (NATM) says, "The use of brakes can cause overheating and loss of brake effectiveness. Giving yourself ample space to respond should help prevent frequent and/or hard braking." A good following distance is at least a 325-foot gap (about 5 seconds) between your vehicle and the vehicle in front of you.
Passing
When towing a load, passing will naturally take more time and distance, and plenty of clear roadway ahead. Some controllable sway can be usual when passing. If you do begin a dangerous sway, let off the brake, steer straight, and wait for the tow to realign. If you attempt to control the sway by sharply turning the steering wheel, there is a good chance your overcorrection will make the issue worse and cause a serious accident.
Distractions
Nearly 80% of crashes and 65% of near-crashes involve some form of distraction, including texting or phone use, within three seconds before the event. While all distractions can endanger road users, mobile phones are increasingly becoming the most worrisome driver distraction.
Use This Free "Safe Tow" Checklist
Your overall towing experience will significantly improve by choosing a tow vehicle with working brakes, tires, mirrors, hitches, and lights for the intended trailer. All components should be reviewed and checked before each use.
Before your next tow, review this checklist provided by Rhoads & Rhoads, using tips from NATM.
Check and correct tire pressure on the tow vehicle and trailer, including the spare tire. Make sure the wheel lug nuts/bolts on the tow vehicle and trailer are tightened to the correct torque.
Be sure the hitch, coupler, draw bar and other equipment that connect the trailer and the tow vehicle are properly secured and adjusted.
Make sure the safety chains are properly crisscrossed and connected, not touching the road but with enough slack to make turns.
Check that the wiring is properly connected; not touching the road, but loose enough to make turns without disconnecting or damaging the wires.
Make sure all running lights, brake lights, turn signals and hazard lights are working. Verify that the brakes on the tow vehicle and trailer are operating correctly.
Ensure the breakaway system lanyard is connected to the tow vehicle but not to the safety chains or ball mount.
Check that all items are securely fastened on and in the trailer.
Be sure the trailer jack, tongue support and any attached stabilizers are raised and locked in place.
Check load distribution to make sure the tow vehicle and trailer are properly balanced front to back and side to side.
Check side- and rear-view mirrors to make sure you have good visibility.
Check routes and restrictions on bridges and tunnels.
Make sure you have wheel chocks and jack stands.
Tow vehicle regulations in Kentucky may not be the same as other states, so make sure you take some time to educate yourself about tow laws before you set off on a trip. Many will differ on maximum towing speeds, the maximum trailer width, and the number of vehicles a driver is allowed to tow. For example, some states have a speed limit of 55 when pulling.
Everyone at Rhoads & Rhoads enjoys spending our summers with family and friends and traveling throughout our beautiful Bluegrass state. We are hoping you could do the same by driving safely on Kentucky roads and the unexpected insurance hassles, added stress, medical bills, and injuries that often come with an auto crash.
Check out more of our safe-driver tips and personal injury advice on Facebook and YouTube.
Western Kentucky's Auto Accident Attorneys
While most preventable, traffic accidents caused by an improper tow or a reckless driver can create serious injuries, some of which could be fatal. If you or someone in your family has been seriously injured or killed in a motor vehicle accident, the Kentucky car and truck accident lawyers at Rhoads & Rhoads want to help. Please take advantage of our free initial consultation and discuss your case with us today.
Call us at 888-709-9329 to schedule an appointment with one of our Madisonville or Owensboro personal injury attorneys.
Also read: How To Help Your Teen Become A Better Driver