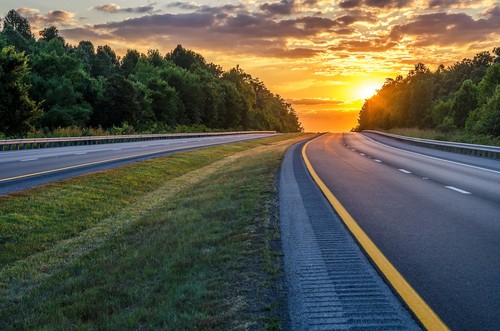 Highway Fatalities Decline in Kentucky For Second Straight Year
While highway fatalities are up nationwide, Kentucky once again saw a decline for the second year, according to a preliminary report from the Kentucky Office of Highway Safety (KOHS) released on Feb. 1, 2019. The first glance type of report shows 722 highway fatalities in 2018 across the bluegrass state, a reduction from 782 in 2017 and 834 in 2016. So far in 2019, preliminary numbers indicate there have been 44 roadway fatalities. In 2017, Kentucky saw its first decrease in highway fatalities since 2013. 2005 was the deadliest year this century for Kentucky highway fatalities totaling 985 lives lost.
KOHS officials say an increase in seat belt usage and less impaired motorists traveling the main roads may be responsible for the decline. According to data from the University of Kentucky Transportation Center, the state's seat belt usage rate rose from 86.8 percent in 2017 to 89.9 percent in 2018. Speeding and distracted driving remain concerning bad driver trends and are also major contributors to the still too many highway deaths.
KOHS's final highway fatality report for 2018 is set to be released in April and can serve as another reminder for Kentucky motorists to practice these safe driving behaviors to continue the downward highway fatality trend in 2019.
Slow down through work zones and watch for workers.
Never drive distracted by a cell phone, text messaging, social media posting, pets, passengers, food, grooming, or playing with fancy in-vehicle technologies.
Respect pedestrians and those pulled onto the shoulder of the highway.
Treat motorcycles as you do other vehicles.
Give big trucks and semi-truck haulers room to maneuver.
Avoid drunk or drugged driving or traveling with a driver who is impaired.
Ensure all passengers are buckled up, including children in the correct size car seats and rear facing as recommended.
Be knowledgeable about weather related driving risks.
Don't tailgate and be patient when road conditions are unfavorable.
Teach your teen driver to operate safely by modeling good driving behaviors yourself.
Drivers have a responsible to operate safely using these mentioned behaviors and according to the rules of the road, but unfortunately, as KOHS data also shows, hundreds of highway specific accidents each year are caused by speeding, driving while under the influence, distracted driving, and driving unsafely in congested or bottleneck highway traffic.
How To Avoid A Fatal Accident on a Kentucky Highway
Kentucky highways and major traffic arteries, including the dreaded I-65 at I-64 and I-71 in Louisville, have been ranked alongside some of the nation's most congested traffic corridors responsible for imposing serious driver fatality risks. And, KOHS safety analysts have made a sure connection between congestion and vehicle backups that result in accidents, predominantly rear-end collisions. In addition, with the rise of distracted drivers who also practice impatient driving habits such as speeding, major chain reaction accidents and deadly injuries to motorists are also becoming more common.
Even as roads expand and improve, congestion and highway risks may not lessen. It is really up to everyone who owns a motor vehicle to make good choices when behind the wheel. The motor vehicle accident team at Rhoads & Rhoads has put together six simple ways Kentucky drivers can start practicing safe highway driving today.
Don't Be Distracted: Nearly 80 percent of crashes and 65 percent of near-crashes in Kentucky involve some form of distraction, including texting or phone use. We can't say this enough. Put your phone away and avoid other distractions while driving.
Follow the Speed Limit: Speeding and aggressive driving are major causes of highway and interstate crashes. Respect the posted speed limits and travel in the correct lanes. This will allow other traffic to flow smoothly.
Pay Attention: Highway traffic can be unexpected and change without notice. Follow traffic rules and take extra time to pay attention. Watch for speed limit reductions, accidents, brake lights, alert signage, narrowing lanes, changing traffic patterns, and highway workers.
Buckle Up: According to the National Highway Traffic Safety Administration, wearing seat belts and properly buckling children into appropriate car seats and booster seats can reduce the risk of serious injury and death in a car crash by half. The same goes for pickup trucks, SUVs and van occupants. When used in these vehicles, seat belts can reduce the risk of fatal injury by 60 percent and moderate-to-critical injury by 65 percent.
Find Your Space: Rear-end collisions are the most common type of crash related to highway traffic. Use your mirrors to keep respected space on all sides of your vehicles and maintain a safe following distance.
Never Drive Impaired by Alcohol or Drugs: Remember that NO amount of alcohol or drug is safe for the person who is behind the wheel. Instead, use a ride-share service or connect with Safe Ride KY. Ask the bartender to call a taxi, a sober friend or family member, or use public transportation to get home safely. If you see a suspicious or presumed impaired highway driver, contact law enforcement by dialing 911 with your location.
Whether big or small, highway car wrecks often end in serious injury or sometimes death. As wrongful death occurs in a variety of contexts, a motor vehicle accident can be one of the most common incidents of negligence causing death.
After a Car Accident, Seek Help and Contact a Kentucky Attorney 
If someone close to you has been involved or died in a car accident it is important to work closely with experienced experts. Injuries and deaths that result from car accidents can cost you or a family in the form of higher insurance premiums, medical costs, property damage, and loss of productivity. You can speak with one of the car accident attorneys at Rhoads & Rhoads about receiving compensation to get through this difficult time.
With offices in Owensboro and Madisonville, Rhoads & Rhoads attorneys have served the people of our communities for decades, and we have the experience necessary to win compensation for the injuries and suffering of car accident victims and their families. Please call us today at 888-710-9377 to find out how we can help you schedule your free consultation.