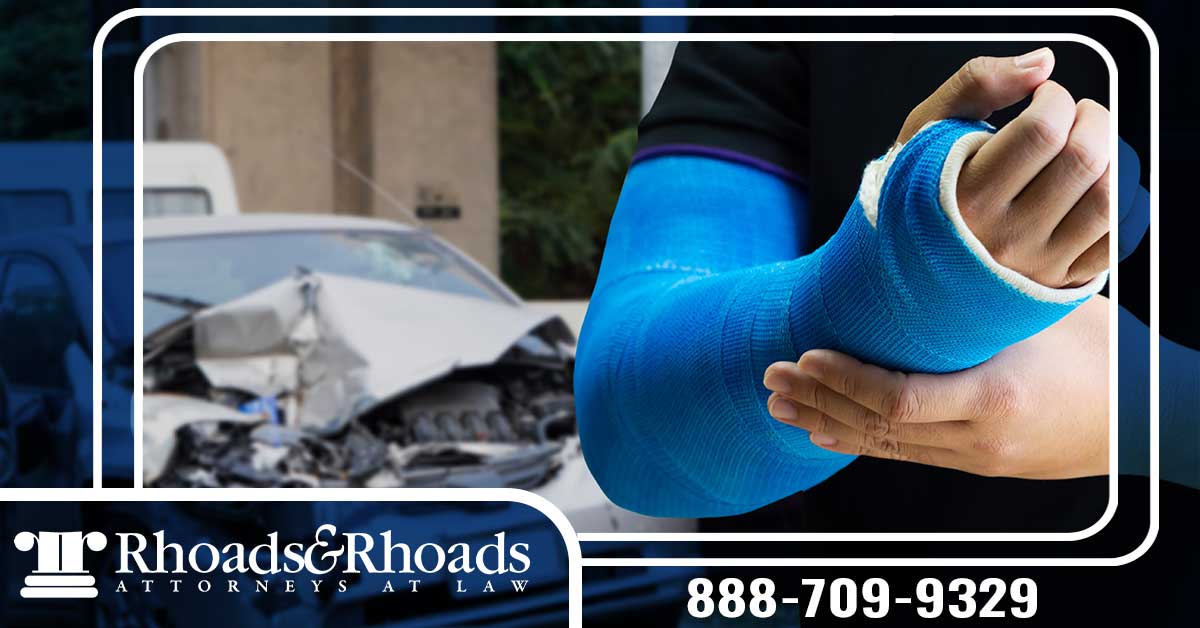 Key Points of This Article:
Car accidents can cause hand injuries that may initially seem minor but can lead to chronic pain, limited movement, and decreased quality of life

Certain hand injuries are commonly seen after a car accident 

Prompt medical attention and proper treatment are crucial to ensure optimal healing and recovery
Car accident-related hand injuries may initially seem minor, but they are often complex and cause chronic pain, limited movement, and decreased quality of life. Injured or broken hands can also lead to substantial medical expenses, especially if surgery or ongoing physical therapy is required. The combination of extensive medical costs and lost wages due to recovery time can create tremendous stress.  
Common Hand Injuries Caused by Car Accidents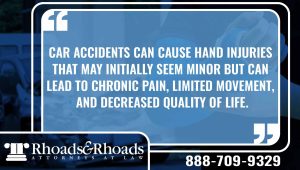 Bone Fractures

: Broken hand car accident injuries often include partial or complete breaks in the hand, fingers, or wrist bones. The severity of fractures can vary widely, and treatment ranges from simple casting to complex surgery. Physical therapy may be required to regain as much strength, flexibility, and functionality as possible. 

Contusions and Bruises

: Contusions and bruises result from common hand injuries from blunt force trauma during car accidents. They appear as discolored and swollen patches on the skin. Bruises and contusions are caused by damaged blood vessels beneath the skin's surface. Mild injuries may resolve themselves, but more severe bruising may indicate an underlying condition that requires immediate intervention. Even minor bruises and contusions cause pain and discomfort and can limit the use of the injured hand. 

Lacerations and Abrasions

: Lacerations and abrasions are hand injuries characterized by deep cuts or scrapes on the skin. In car accidents, these injuries are caused by contact with jagged metal or broken glass. Lacerations involve clean, deep cuts, and abrasions are superficial wounds resulting from friction against rough surfaces. Prompt medical attention is crucial for cleaning, suturing, or dressing wounds to prevent infection.

Sprains and Strains

: These injuries occur when ligaments and tendons are stretched or torn due to the forceful impact of a car accident. Sprains involve damage to ligaments, while strains involve injuries to tendons, and both can result in pain, swelling, and limited hand or wrist mobility. Timely evaluation and treatment, including rest, immobilization, and physical therapy, are crucial to recovering fully.

Joint Dislocations

: Dislocations occur when the bones in a joint are knocked out of their regular positions. In car accidents, dislocations can commonly affect various joints in the hand and arm, including the shoulder, elbow, wrist, fingers, or thumb. These injuries often cause intense pain, swelling, and loss of function, and prompt medical attention is necessary to realign the joint and prevent further complications.

Nerve Injuries

: Nerve injuries in the hand can occur due to car accidents, leading to damage or compression of the nerves. Symptoms of nerve injury include numbness, tingling, weakness, or loss of sensation in the hand or fingers. Auto accidents commonly cause an extensor tendon injury in the hand that makes extending your wrist, opening your hand, or straightening your fingers challenging. Prompt medical evaluation is essential to diagnose and treat nerve injuries, as they can significantly impact hand function and may require interventions such as splinting, medication, or even surgery for severe cases.

Soft Tissue Injuries

: Soft tissue injuries in the hand involve damage to the muscles, tendons, or other tissues, most often caused by sudden impact. Soft tissue injuries may result in pain, swelling, and limited range of motion. Hematomas, which are collections of blood beneath the skin, are also a type of soft tissue injury that can occur in the hand. Proper medical evaluation, including imaging tests like X-rays or MRIs, may be necessary to diagnose and determine the extent of soft tissue injuries. Treatment options include rest, immobilization, physical therapy, or in severe cases, surgical intervention.

Crush Injuries

: Crush injuries occur when the hand or fingers are trapped or compressed between objects, resulting in pain, swelling, bruising, and potential loss of function. Immediate medical attention is crucial for evaluating and treating crush injuries to minimize complications and promote optimal healing and recovery. In some cases, surgical intervention may be necessary to repair damaged structures in the hand.

Mild to Severe Burns

: Car accident-related burns result from the deployment of airbags, exposure to caustic chemicals, or direct contact with hot surfaces, such as exposed metal or engine components. Burns can cause significant pain, blisters, and permanent damage to the skin and underlying tissues. Immediate medical attention is crucial for assessing the extent of the burn, preventing dehydration and infection, and providing appropriate treatment, which may include wound care, pain management, and, in severe cases, specialized burn care.
Am I Entitled to an Injured or Broken Hand Car Accident Settlement?
If your hand(s) was injured in an accident that was another driver's fault, you may be entitled to financial compensation. Your medical expenses can accumulate very quickly, and if your injury prevents you from being able to return to work for an extended period, it can be financially devastating. 
Filing a personal injury claim may ensure you receive the damages you are entitled to, including all medical expenses related to the injury, lost wages, and pain and suffering. Many insurance companies will try to settle for an amount that barely covers your medical bills without considering loss of income or functioning. 
Immediately connecting with an experienced car accident lawyer allows them to preserve your rights so you can focus on healing from your car accident hand injury. 
Kentucky Personal Injury Lawyers – Rhoads & Rhoads
Are you entitled to an injured or broken hand car accident settlement? Our personal injury lawyers at Rhoads & Rhoads can help! 
Call us at 888-709-9329 or contact us online to schedule an appointment with one of our Madisonville or Owensboro personal injury attorneys. We offer free initial consultations, and all cases are contingency fee bases. No initial payment is required; we only get paid if we win or settle your case.