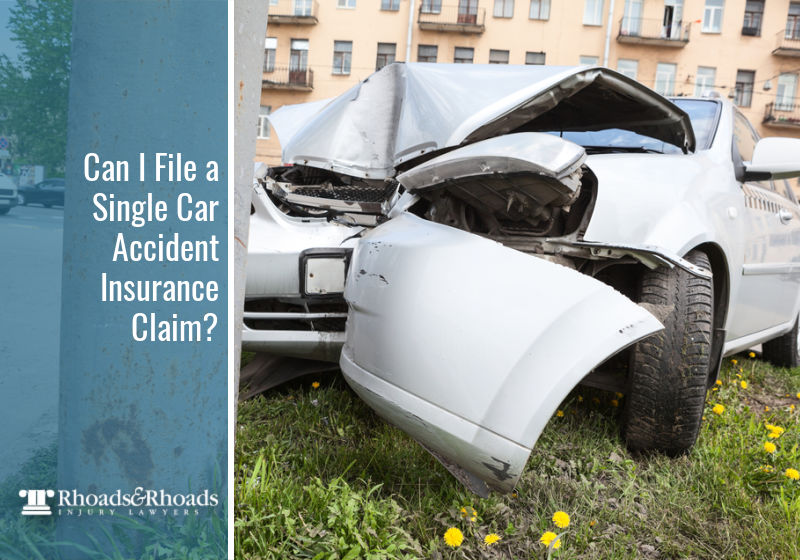 Key Points of This Article:
Filing a single car insurance claim is possible in certain situations.

The driver of a single car accident is not necessarily the one at fault.

Factors beyond driver error can cause single car accidents, such as road defects, mechanical errors, and construction hazards.

A personal injury attorney can help you file a single car accident injury claim.
When people think of car accidents, they tend to think of them involving at least two cars (or more), such as one car running into another. However, statistics show that 55% of fatal car accidents nationwide occur due to single-vehicle collisions. And in Kentucky specifically, 56% of fatal accidents were the result of single-vehicle collisions. 
But what happens when you are the only driver involved in the accident? Is the accident automatically your fault? Can you still file a single car accident insurance claim?
The quick and easy answer is yes, you can still file a claim. However, it depends on the individual situation. Sometimes, an unseen third party could ultimately be responsible for what happened. And other times, it can be driver error, meaning the person (you) who crashed is at fault. 
No matter the situation, however, it might be beneficial for you to consult with a local car accident attorney. A Kentucky car accident lawyer will be able to evaluate your individual case and offer you guidance on the best course of action to recover compensation for your damages. 
What Can Cause a Single Car Accident?
Driver errors, such as speeding, distracted driving, running a red light, or driving while intoxicated, are some of the most common causes of single-vehicle accidents. However, they are certainly not the only causes. 
Numerous other factors can contribute to an accident that doesn't automatically place the blame on the driver. This includes:
Road defects, like potholes 

Defective car parts 

Mechanical failures, like brakes going out

Bad weather conditions

Poor roadway design

Lack of road maintenance

Construction hazards

Missing traffic signs

Broken traffic signals

Faded lane markings

Debris or wildlife on the road
Potentially Liable Parties in Single Car Accidents
Excluding you as the driver, there are a couple of other parties that could potentially be held liable for your single-vehicle collision. 
Government Entity
Local municipalities are responsible for maintaining safe roadways. So if you crashed due to poorly maintained roads, a lack of traffic signage, faded lane markings, etc., you could potentially hold the city or public entity liable for failing to deal with those things.  
Another Person
Even if you were the only one to crash does not mean another driver or someone else, like a pedestrian or bicyclist, wasn't responsible. For example, if you swerved and crashed after trying to avoid another driver that merged into your lane without the right-of-way, you could potentially hold that driver liable – if you can get their information. Unfortunately, it's not uncommon in situations like that for the other driver responsible to just keep on driving as if nothing happened, which means you might not be able to track them down. 
The Vehicle Manufacturer
If your accident occurred as the result of a faulty car part or a mechanical error that shouldn't have happened, you may be able to hold the car manufacturer accountable. If something broke down because you failed to keep up with your car's maintenance, then you will still be viewed as responsible. But if the defect or mechanical error was unexpected and not the result of a lack of maintenance, then the company that manufactured your car could possibly be to blame. 
A Construction Company
Single-vehicle construction-related accidents can also happen when the construction crew is perhaps not being careful and following rules or if they leave behind something on the road that you have to swerve around. In this case, the accident that occurred as a result could be traced back to the construction company. 
Filing a Single Car Accident Insurance Claim
When you file a first-party insurance claim for a single-vehicle accident, it's not uncommon for insurance companies to try to automatically place the blame on you as the driver. However, if you believe a third party may be responsible, a lawyer can help you gather evidence to build a strong case that proves someone else was to blame. 
Kentucky is a no-fault state, however, so no matter who was at fault, you will still be required to file a single car accident insurance claim through your own insurance first. No-fault PIP insurance can cover things like medical expenses for your accident injuries, loss of wages from missed work while you recover, and other out-of-pocket expenses. 
If your PIP converge is not enough, you might then be able to hold another party responsible. However, you will have to provide sufficient evidence that proves another party was at fault for your single car accident. You will also need to show that the damages you suffer are significant enough to warrant you pursuing additional compensation beyond what your PIP insurance provided. 
This is why it is typically necessary to work with an attorney. Proving that another party was guilty and that you suffered significant damages is not easy. 
Kentucky Personal Injury Lawyers – Rhoads & Rhoads
If you need help filing a single car accident insurance claim, our team of legal experts can assist you. 
At Rhoads & Rhoads, our Kentucky car accident attorneys have years of experience handling a wide range of cases, including those involving single-vehicle collisions and single car accident injury claims. We are dedicated to helping our clients get the compensation they deserve. 
Call us at 888-709-9329 to schedule an appointment with one of our Madisonville or Owensboro personal injury attorneys. We offer free initial consultations, and all cases are taken on a contingency fee basis, so no initial payment is required. 
We get paid only if we win or settle your case, and there is NO RISK involved.