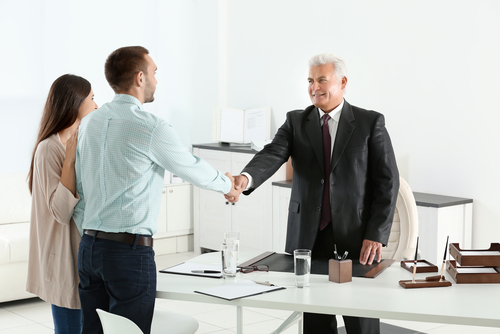 What to Bring to Your First Meeting With a Personal Injury Lawyer
Reliving the sequence of events that happened prior, during, or after a car, truck, or motorcycle accident, or even a collision with a tractor-trailer, can be traumatic and often overwhelming. But once you have realized you may have a case and have decided to pursue financial compensation for your injuries, you will likely want to request a meeting with an experienced attorney to hash out the complex details and ease your mind a bit. It is very important at this time to gather all information and evidence to answer the questions the legal team will have prior to your first consultation.
WATCH Attorney Jerry Rhoads lists items you should bring to your attorney during your first meeting. Having particular documents such as the police report and your insurance information can help the attorney get a head start on your case.
Review This Accident Meeting Checklist
Most injured accident victims arrive to Rhoads & Rhoads because of an automobile accident. Use this helpful checklist to prepare for your first meeting with us. Your honest and thorough gathering of the accident information will be used to present your case.
POLICE REPORT: You should have received a copy of the police or accident report, or at the very least were provided with some type of documentation at the accident scene. Bring this with.
PHOTOGRAPHS: Present any photographs of the accident scene, vehicles involved, or photos that show road conditions or weather at the time of the accident, or injuries your suffered.
TIMELINE: Write out a summary of important dates, including the date of injury, doctor's appointments, physical therapy, medical procedures, date of surgeries, time off work, and more documentation in dates of how the injury has impacted your daily life.
MEDICAL AND INSURANCE DOCUMENTS: These include medical bills and statements, and a copy of your health insurance policy. If you are not able to provide these for the first meeting, the contact information of the healthcare providers involved with your care and your insurance card may help.
AUTO INSURANCE INFORMATION: Your automobile insurance information, policy, and declaration page will be needed to show specifically what your insurance covers so we can help determine what coverage may apply to your claim.
EMPLOYMENT STATUS: Document any occurrences of lost wages or how much work you have missed due to the injury.
LIST OF WITNESSES: Compile a list of all witnesses' names and their contact information. These are people who were present during the accident, or can testify to wage losses, limitations on your daily activities, and pain and suffering.
You can also create a list showing the ways your life has been negatively impacted by your injury due to someone else's negligence. Taking the extra time to gather this information and coming prepared to your first attorney/client meeting will only help your case.
We Are Ready To Speak With You
If you've been injured in a car accident or another incident and you want to know your rights, don't try to take on the burden alone. We are here to help review your case at no cost and tell you how you can maximize your injury claim. Rhoads & Rhoads offers free initial consultations, and we get paid only if we win or settle your case. Call us at 888-709-9329 or contact us by e-mail to schedule an appointment.
Video Transcript
If unfortunately you are involved in a car wreck or any other accident which results from the negligence of another person – and you understand pretty quickly that you're going to need an attorney to successfully prosecute your claim – what do you need to do to prepare your attorney to handle your case for you? What do you need to take to the law office when you know you are going to need an attorney?
And it's very important that you give the attorney all the information that he needs when you come to the office. If you have an accident report, bring it with you. If you have medical bills, bring them with you. If you have your insurance papers covering the vehicle in which you were injured, you should bring in the declarations page showing what your coverages are.
This gives the attorney a head start on being able to properly represent you and will save a lot of time and will make things run a lot more smoothly if you bring these documents and all the information you have to the attorney when you first see him.