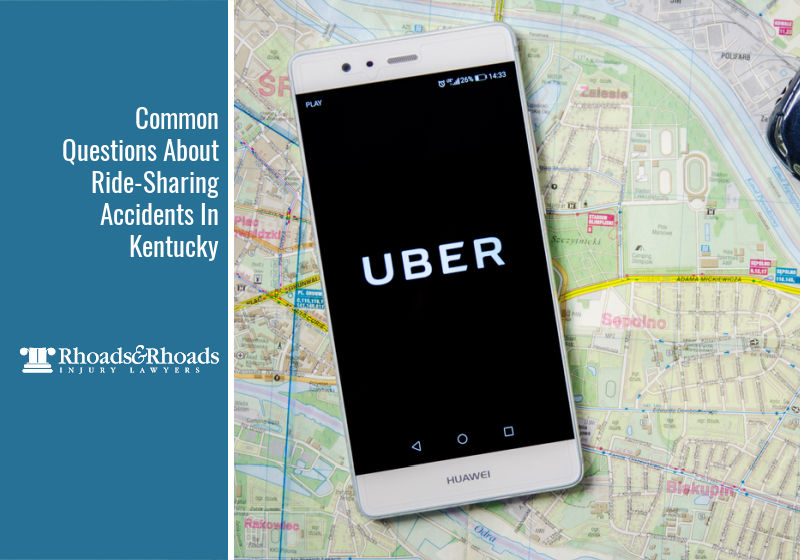 Key Points of This Article:
Popular ride-hailing services provided by companies such as Uber and Lyft are expected to getting busier and more competitive across Kentucky.
Providers in Paducah, Owensboro, and Madisonville have said there is a shortage of rideshare vehicles caused by coronavirus challenges, which could cause even seasoned drivers to be a bit more aggressive on the road this season.
Rideshare driver choices can put passengers at risk, and accidents do happen, but the process of where the liability sits can be confusing compared to a typical car accident.
Accident injuries involving ride-sharing passengers occur just like in any other motor vehicle accident, but knowing what to do if involved in a rideshare crash can make all the difference in a successful recovery.
Who is Liable for Car Accident Injuries While Riding in an Uber or Lyft?
With the help of smartphone technology, a person needing transportation can now connect with a rideshare driver through an easy-to-use app. And despite what most believe, young adults aren't the only likely age group to use ride-sharing services such as Uber and Lyft. Adult commuters, tourists and their families, college-aged students, and those living in urban communities also serve as a large group of customers in over 400 ride-sharing cities across the country, including several in Western Kentucky communities like Owensboro and Madisonville.
How Does Ridesharing Work in Kentucky?
The process runs much like a taxi service or Kentucky Wildcab, although vehicles and drivers aren't always regulated the same way. The rideshare driver, who uses their private vehicle, receives the request for transportation and payment through an app and is expected to safely take customers to their chosen destination. Most of the apps will allow passengers to pick their driver based on preferences, and rideshare driver profiles will include the driver's name, photo, make and model of vehicle, license plate, and reviews and ratings.
Is Ridesharing a Safer Way to Travel?
Unfortunately, some car wrecks will be inevitable. And a University of Chicago study found that nearly 1,000 daily car accident deaths are due to the increasing number of rideshare vehicles on the road. But know that if you are a rideshare passenger or plan on being one, several things can be done to reduce your risk of being involved in a car wreck or seriously injured.
Review driver ratings and choose the one you are most comfortable with.
Share your status and travel plans with others.
Follow the driver's map alongside your own to ensure you are headed to your destination.
Buckle up and sit in the backseat.
Travel with others, especially when not sober.
Avoid small talk and distracting the driver.
If you no longer feel safe while being a rideshare passenger or think your driver may be engaging in aggressive and erratic driving, is under the influence of drugs or alcohol, demand they stop so you can get out. Always dial 911 if you feel threatened.
How Common Are Rideshare Accidents?
Rideshare drivers do carry the responsibility to operate safely and prevent injury to their passengers, pedestrians, bicyclists, and other motorists based on their driving decisions. Common causes for Uber or Lyft accidents are similar to those of other motor vehicle accidents and can include:
Distracted Driving
Speeding, Red-Light Running, or Reckless Driving
Impaired Driving
Driver Fatigue
Unsafe Lane Change
Failed Vehicle Maintenance
Work Zone Crashes
Driving Too Close
Aggressive Driving
Large Truck Crashes
Pedestrian Crosswalk Accidents
Although sometimes challenging to prove, if a rideshare driver has failed their duty to keep passengers safe, money may be recovered for the damages passengers or other road users have suffered, including medical bills, pain and suffering, and lost wages. These cases can be complicated as ride-sharing companies have positioned themselves to avoid the responsibility to pay by operating as a technology company vs. a transportation service.
If You Become Injured by a Rideshare Driver, Act Quickly to Collect Evidence
We should be able to trust that the rideshare services we are paying for are convenient but also safe. And most ride-sharing companies do enforce strict safety guidelines to keep both drivers and passengers injury-free and comfortable. They also require drivers to carry an insurance policy and offer options for supplemental liability coverage up to $1 million, active only once a driver has accepted a fare and currently transporting a passenger, and the driver's primary insurance policy surpasses its limits.
If you find yourself in a ride-sharing accident due to an unfit or negligent driver, treat the crash as you would with any other.
Seek immediate medical help and a follow-up evaluation at Urgent Care or with your primary doctor, even if injuries aren't immediately present.
Be sure an accident report has been filed with the police.
As you are being questioned by police or emergency responders, be sure to mention any unsafe behavior that may have contributed to the crash, such as a driver being distracted by in-vehicle technology, using a cell phone, or driving erratically.
Gather the evidence such as witness statements, driver contact information, and take notes about what you remember happening the moments before and after the crash.
Contact the rideshare company to inform them about the accident.
An experienced attorney may be able to access real-time video footage and photography of the accident scene to support the evidence needed to document driver negligence.
As ride-hailing demands grow throughout Kentucky, more passengers may become injured or involved in a situation that would harm them. If this happens to you or someone you care about, seek the help of an Uber or Lyft accident attorney at Rhoads & Rhoads. Taking the time to consult with an experienced motor vehicle accident attorney will only help your situation.
Western Kentucky Car Accident Lawyers — Ride-Sharing Accident Injuries
With offices in Owensboro and Madisonville, take advantage of our free initial consultations that can be done virtually or in person so you can discuss your case with us in a setting comfortable for you. There is no payment required upfront, and there is NO RISK involved in your consultation. Call us at 888-709-9329 to schedule a visit with our experienced personal injury legal team.
Also read: Kentucky's DUI Fatality Risk Increases Over Summer Months