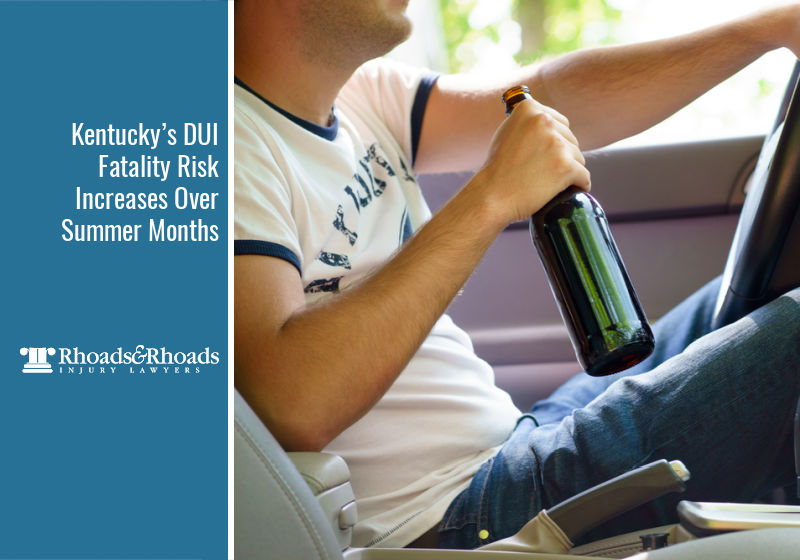 Key Points of This Article:
According to the National Highway Traffic and Safety Administration, alcohol-impaired drivers represent about 12% of those killed in Kentucky fatal crashes and contribute to nearly 20% of all alcohol-impaired-driving fatalities each year.
On average, men are more likely than women to be involved in fatal DUI crashes, and for every four male drivers, only one female driver is driving impaired.
Drunk drivers are more likely to have drugs in their system resulting in 1,400 drug-related collisions and around 950 injuries and 50 additional fatalities each year in Kentucky.
Kentucky state law does not differentiate between alcohol and other drugs (illicit drugs or prescription pills) when driving under the influence.
Know Your Legal Options If Hit and Injured by a Drunk Driver in Kentucky
Throughout the United States, of the 51,490 drivers involved in fatal crashes in 2018, an estimated 10,011 (19%) were driving under the influence (DUI) of alcohol. In Kentucky, the percentage of alcohol-impaired drivers who will die in a motor vehicle crash is around 12%, using the National Highway Traffic Safety Administration (NHTSA) data. But it's not just the impaired drivers who are impacted. A drunk driver causes around 20% of all road fatalities across the Bluegrass.
NHTSA data also shows:
The highest percentage (over 60%) of fatal DUI crashes occurs between 12 AM – 3 AM, with the majority between 2 AM and 3 AM.
Motorcycle riders tend to have the highest levels of alcohol involvement, followed by drivers of light trucks.
Also noteworthy is that Kentucky laws do not differentiate between alcohol and other drugs (illicit drugs or prescription pills) when driving under the influence.Read more on this topic: Is Drug-Impaired Driving the New Drunk Driving?
If tragedy strikes, and you or loved ones are involved in an alcohol or drug-related driving accident, please reach out to the car accident attorneys at Rhoads & Rhoads as soon as you are ready. We are here to help.
Kentucky's Worst Months for DUI Fatalities Begin in June Thru September
Nationally, alcohol-impaired drivers involved (killed or survived) in fatal crashes in 2018 occurred most often in June (9.3%), July (9.2%), and May (9.1%), sparking Kentucky State Police also to report a notable rise in DUI activity beginning Memorial Day through Labor Day. This timeline also reflects a period referred to as the "100 Deadliest Days" by road safety officials, emergency response crews, and police. This is when the average number of deadly teen driver crashes climbs 15% compared to the rest of the year. According to the Abuse and Mental Health Services Administration, teenage drunk drivers are responsible for 17% of fatal alcohol-related crashes, and more than a third of teens mistakenly believe they drive better under the influence of marijuana.
Stop Drunk Driving and Help Prevent Fatal Crashes
Encouraged by alcohol or drugs, Kentucky's impaired drivers often feel unstoppable and make rash, dangerous decisions to speed, ignore the rules of the road, become easily distracted or tired, or remain overly confident in their ability to drive despite their impaired state. The car accident team at Rhoads & Rhoads would like to review the easy precautions everyone can take to keep Kentucky roads free from impaired drivers.
The current-day reality is that more than 40% of designated drivers have consumed alcohol before driving others home. If you agree to be the designated driver, stay committed.
If you're hosting a party, don't overserve and make sure everyone leaves with a sober driver or offer your guests a place to stay the night.
Remember that NOamount of alcohol or drug is safe for the person who is behind the wheel. Instead, use a ride-share service or connect with Safe Ride KY. Ask the bartender to call a taxi, a sober friend or family member, or use public transportation to get home safely. In its first year, the Safe Ride KY coalition took over 700 potentially impaired drivers off Kentucky roadways.
Always wear your seat belt and put your phone away so you can stay alert and not distracted—these are some of your best defenses against identifying an impaired driver headed in your direction. If you see a suspicious or presumed impaired driver, contact law enforcement by dialing 911 with your location.
And remember, if your friends or family members are about to drive while impaired by alcohol or drugs, even at the risk of them being upset with you, take their keys and help make other arrangements to get them home. 
April 2021 Update: Kentucky Supreme Court Blood Test Ruling
The Kentucky Supreme Court recently ruled that a prosecutor can't reveal to juries that a defendant involved in a traffic violation or crash had refused to take a blood test. Many prosecutors have said the ruling is a significant setback in preventing impaired driving across the Bluegrass, especially with an uptick in drivers who abuse alcohol and drugs, including opioids, heroin, and methamphetamines. With the new ruling, prosecutors may find it challenging to present blood tests as evidence, which could be especially troublesome in crashes involving severe injuries or death.
Having an experienced car accident attorney by your side is more important than ever to gather the evidence needed to seek justice against a drunk driver who injured you, win your case, or help settle your claim.
Too often, the result of impaired driving by alcohol or drugs creates limitless sorrow for wrongful death victims' families. And for those injured by an impaired driver, traumatic brain injury, spinal injuries, paralysis, or other permanent medical conditions prevent any chance for a productive recovery and the opportunity to work, care for their family, or live life at a standard they once had.
We Hold Impaired Drivers Accountable
If you or your family were involved in a drunk driving accident or crash caused by a driver under the influence of drugs, please call the car accident attorneys at Rhoads & Rhoads. From our offices in Western Kentucky, we continue to serve clients from Owensboro to Madisonville and throughout, in their most urgent times of need.
We can start the conversation today with a FREE consultation by calling 888-709-9329. We can use our winning experience to hold impaired drivers accountable and settle your drunk driving accident claim.
Also read: What Will It Take to End Distracted Driving Crashes in Kentucky?
Source: National Center for Statistics and Analysis. (2020, June). State alcohol-impaired-driving estimates: 2018 data (Traffic Safety Facts. Report No. DOT HS 812 917). National Highway Traffic Safety Administration.