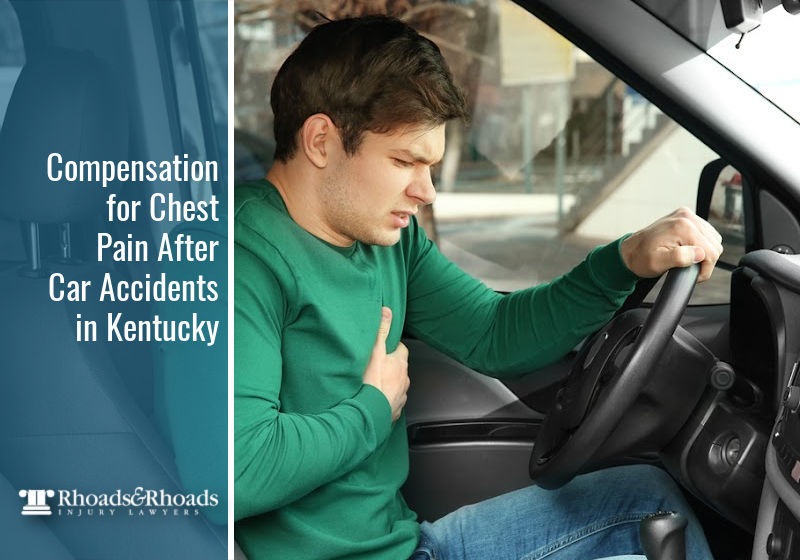 When most people think of injuries from a car accident, they often think first about broken bones, head injuries, and whiplash. They may not realize that chest pain is another common symptom of car accident injuries.
Injuries that lead to chest pain after car accidents may be eligible for compensation.
The best way to know if your pain can be compensated is to speak with an experienced car accident attorney. They will be able to answer your questions and provide valuable insight into how you can recover from your injuries without having to worry about financial strain.
How Can a Car Accident Cause Chest Pain?
Several types of injuries can cause chest pain. Often, this pain will be evident immediately after the accident, but it is also possible for these injuries to start causing pain later.
Even though airbags are lifesaving devices, they can cause a number of injuries. Chest pain after airbag deployment may indicate a serious injury. You may also experience chest pain after striking the steering wheel or dash. The seat belt itself can even injure the driver or passengers.
Fractured Ribs
A fractured rib will give you a sharp, shooting pain in your side and chest. This may be caused by the seat belt, steering wheel, or airbag.
Bruised Ribs
Caused by the same things as fractured ribs, bruised ribs feel more like a dull ache. These are often worse when you move around.
Pulled Muscles
There are four kinds of muscles in the chest: Pectoralis major, Pectoralis minor, Serratus anterior, and Subclavius. Each of these muscles has the potential to be pulled or strained by the physical trauma of a car accident. These injuries are unlikely to be life-threatening, but they can be painful and long-lasting. You don't want to assume that chest pain is something as simple as a pulled muscle, in case it is something more serious.
Damage to Internal Organs
Chest pain could be a symptom of a serious injury to the internal organs, including the heart and lungs. Chest pain often accompanies a heart attack. If your organs have been damaged in the accident, it is of utmost importance to get to the hospital right away. If you experience chest pain, fatigue, shortness of breath, dizziness, or a severe headache, seek medical attention immediately.
How Long Does Chest Pain Last After a Car Accident?
Chest pain after an accident can be an indicator of a major and significant injury. Depending on the type of injury you suffered, the pain could last days, week, or even longer.
You should always seek medical attention after an accident, especially because some injuries may not be immediately evident. Delayed chest pain after a car accident is a reality for many car accident victims.
This is often because adrenaline following a car accident can mask injuries until your hormone levels return to normal.
If you experience chest pain after an accident, call 911 and seek medical attention immediately.
Chest pain is often described in the following ways:
A sharp shooting or stabbing pain when you move or stretch
Severe pain when you cough, sneeze, laugh, or even talk
A constant sense of discomfort, even when you are still
Pain at the slightest touch or pressure to the chest
Can I Get Compensation for Chest Pain After a Car Accident?
Kentucky's insurance and personal injury laws are "choice no-fault." That means that all Kentucky drivers are required to carry a Personal Injury Protection (PIP) plan on their car insurance policy. Typically, drivers file accident claims through their insurance.
However, insurance companies are primarily interested in limiting the amount of money they have to pay out to their enrollees.
It is important to seek guidance from a car accident attorney to determine if you may be eligible for additional compensation. PIP coverage is unlikely to cover all of your medical expenses.
Benefits of Working with a Kentucky Car Accident Attorney
An experienced motor vehicle accident attorney will protect your rights, provide you with solid legal advice, and help you get the compensation you deserve.
At Rhoads & Rhoads, we can get the following compensation for our clients:
Medical bills
Future medical expenses
Lost wages (both current and future earnings)
Housekeeping services
Wrongful death
Rhoads & Rhoads Provides Compassionate, Knowledgeable Legal Advice for Owensboro & Beyond
Kentucky's drivers can count on Rhoads & Rhoads to greatly reduce the financial stress that comes with recovering from a car accident.
Rhoads & Rhoads has offices in Owensboro and Madisonville. We offer free consultations and all of our cases are taken based on contingency. That means there is absolutely no payment required upfront and there is no risk involved.
Call our car accident attorneys at 888-709-9329 to discuss your injury case or contact us to schedule an appointment with one of our Madisonville or Owensboro Kentucky personal injury attorneys.