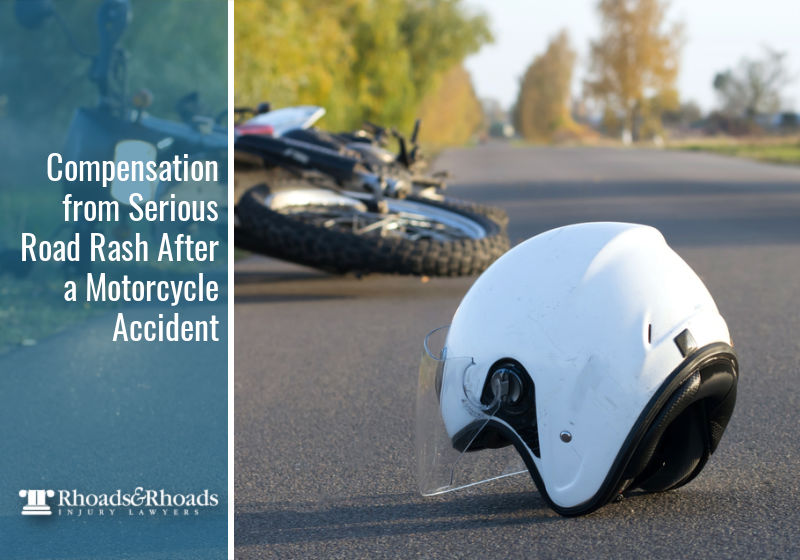 Key Points of this Article
Motorcycle accidents often result in severe injuries and fatalities.

Road rash is a common injury that occurs after a motorcycle accident.

Road rash can range from mild to severe and can lead to complications if not treated properly.
For some, riding a motorcycle isn't just a means of transportation; it's also an enjoyable activity, more convenient than driving around in a large vehicle, and can help you save costs on fuel and other upkeep expenses. However, motorcycles are also dangerous and a leading cause of death and serious injury. 
Motorcycle accidents can be devastating. Even if they don't end in fatality, they can still result in serious injuries that can leave you impaired or disfigured. And one of the most common motorcycle injuries is road rash. 
If you are injured in a Kentucky motorcycle accident and need help with your personal injury claim, our team of accident attorneys can assist you. We will offer you guidance and help you navigate the claims process to ensure you get the full and fair compensation you deserve for your injuries.
What Is Road Rash?
Road rash is an injury that occurs when the body drags or scrapes against hard, abrasive surfaces, like asphalt. The skin and even layers of fat, muscle, and bone can be affected when road rash occurs. This is because when the body drags or skids along the road, it can scrape or tear away layers of skin that leave other parts of the body exposed. 
This is one of the most common types of injuries for motorcyclists because they do not have the frame of a vehicle to protect them from impact. Instead, their body comes into direct contact with the ground when they get into an accident. A helmet and special gear can protect motorcycle riders from some injuries, but if they hit the ground hard enough, they can still suffer from road rash, even with layers of protective clothing. 
Types of Motorcycle Road Rash and Severity
While road rash can be mild or a minor injury in some cases, it can also be severe and leave the rider permanently scarred and impaired. There are three different types of road rash wounds as well as three levels of severity:
Compression wounds:

This kind of road rash occurs when the body is crushed or trapped beneath the motorcycle and the road, but the skin is not necessarily scraped away.
Avulsion wounds:

Avulsion road rash wounds occur when the skin is scraped away from the body.
Open wounds:

This kind of road rash occurs when the skin is not only scraped but also lacerated, resulting in deep open wounds. 
Degrees of road rash severity:
First-degree:

Redness and inflammation with minor scratches and bruising
Second-degree:

The first layer of skin is broken open

Third-degree:

Parts of the body beyond the first layer of skin are exposed, including fat, muscle, tendons, and bones.
Signs of a Serious Road Rash Injury After a Motorcycle Accident 
Road rash will be noticeable right away, with symptoms including pain at the site of the wound, redness, inflammation, and bleeding. Your body may also be sore and achy. However, if a road rash is not treated properly, it can become infected, which can lead to complications. And even when road rash is treated, there are still chances that it could turn into a serious injury that leads to infection, so it's important to keep a close eye on it. 
Signs of a more serious road rash injury that has become infected after a motorcycle accident include:
Worsening pain

Fever

Swelling and redness that continues to get worse

Discoloration around the wound

Pus or fluid drainage 

A foul smell coming from the wound

Chills, nausea, and body aches

Heat radiating from the wound
You should always seek medical attention for road rash, but if you start to notice any of the symptoms above, you should seek emergency medical care as soon as possible. Road rash that is left untreated and that becomes infected can lead to blood poisoning, sepsis, and shock, all of which are life-threatening.  
Compensation for Serious Motorcycle Road Rash Injuries
If you are suffering from a serious road rash injury after a motorcycle accident, you deserve to be fully compensated for your pain and suffering and other damages. The amount you are awarded can vary as the damages a person suffers can vary case by case. 
These damages that are considered compensable losses in a motorcycle accident case can include:
Medical expenses

Lost wages

Loss of future earning capacity

Physical pain and suffering

Emotional distress

Scarring and disfigurement

Property damage
In most cases, the more evidence you can provide to show how badly you were injured and how much your life has been affected by the injury, the more money you will be awarded. But there is no guarantee of any certain amount. 
It is wise in these circumstances to work with a personal injury attorney who has experience handling cases like yours involving motorcycle accidents and road rash. An attorney can help you navigate the claims process, hold the right party accountable, and ensure the insurance company fully compensates you for your losses. 
Kentucky Personal Injury Lawyers – Rhoads & Rhoads
At Rhoads & Rhoads, our Kentucky motorcycle accident attorneys have years of experience handling a wide range of cases, including those involving serious road rash injuries. We understand how devastating a road rash injury can be after a motorcycle accident and are dedicated to helping our clients get the compensation they deserve. 
Call us at 888-709-9329 to schedule an appointment with one of our Madisonville or Owensboro personal injury attorneys. We offer free initial consultations, and all cases are taken on a contingency fee basis, so no initial payment is required. 
We get paid only if we win or settle your case, and there is NO RISK involved.