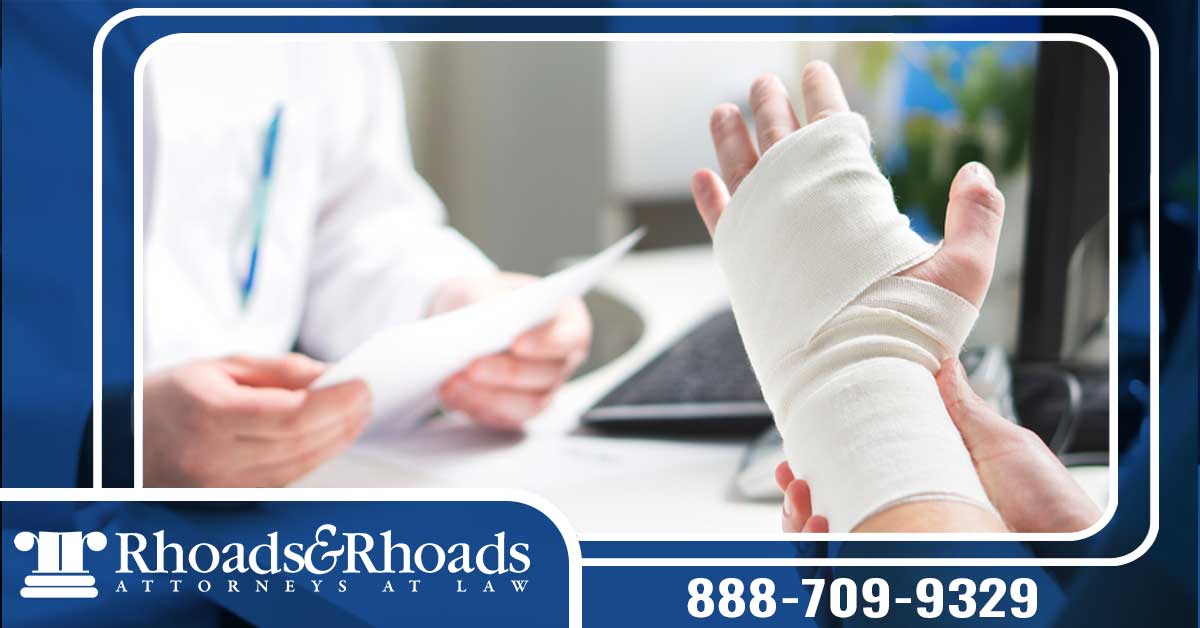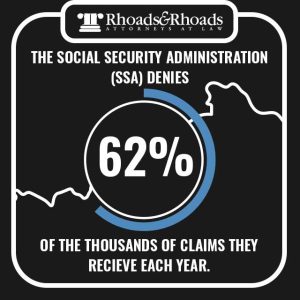 If you were recently denied disability benefits by the Social Security Administration (SSA), you are not alone. Reports show that of the thousands of applications the SSA receives each year, only around 38% of them get approved. This means that 62% of the applicatoins  get denied. 
However, it's important to understand that if your application was denied this does not mean that you aren't eligible to receive benefits. There are many reasons why the SSA might initially deny an application only to then approve it later. 
When your SSDI or SSI application is denied, you have 60 days to appeal the decision. Approximately half of the applicants who are denied disability benefits at the initial level the first time around appeal the decision and request reconsideration at the first appeal. 
At Rhoads & Rhoads, our Kentucky Social Security disability lawyers understand how frustrating being denied disability can be and are here to help. We have been protecting the rights of injured workers for over 45 years. If you need assistance with your SSDI claim or if you need to file an appeal, contact us for a FREE case evaluation.  
What to Do If You Are Denied Disability and Can't Work
If you are injured and can't work, Social Security Disability Insurance (SSDI) benefits can help you cover costs while you recover. If you end up permanently disabled, SSDI benefits can help you continue to support yourself and your family when you are unable to return to work. 
But what happens if you can't work and you are denied disability benefits? 
It's not uncommon for initial SSDI applications to get denied. In fact, one common reason for a denial is a technical error, which is something that can easily be remedied. Other reasons can include the SSA not having enough evidence to show that you meet the medical and non-medical requirements. But when you appeal your claim, you can provide more medical evidence and information to show that you do meet the requirements and get approval. 
According to USAFacts.org, 15% of applications that were submitted for reconsideration (the first time) ended up getting approved. 51% of those who were still denied at the reconsideration stage were able to file the second appeal (a request for hearing) and were approved after a hearing with an administrative law judge (ALJ). 
The appeals process, however, is not easy and requires a lot of paperwork, gathering of information and submission of evidence  to ensure your claim doesn't get denied a second or third time. For this reason, the most important thing you can do when you are denied disability is contact a lawyer. 
An SSDI lawyer will have extensive experience handling cases like yours and will be able to guide you through the process, which can increase your chances of getting approved during appeals. 
Common Reasons Why Someone Might Get Denied Social Security Disability
There are many reasons why you might be denied disability after your initial application. Some of the most common reasons applicants get denied include:
A technical error was made, such as an incorrect spelling  or incorrect information on the application

A lack of medical records 

The application was not filed by the deadline

Failure to follow the doctor's recommended treatment plan

The SSA is unable to contact you 

Making too much money to qualify for benefits

Failure to comply with the SSA's strict protocols

Alleged fraud

The medical condition is not considered severe enough 
How the Appeals Process Works When SSI Disability is Denied
If you are denied disability benefits, there are four stages that you may need to go through to appeal your claim. An SSDI lawyer can help you understand how this process works and can ensure you have all the information and evidence you need when submitting your claim to increase your chances of getting an approval. 
Stage 1: Request a Reconsideration
The first appeal is a request for reconsideration. You will have 60 days from the date of the initial denial to send in your request along with any supporting evidence you feel is helpful to your case. The reconsideration phase can typically take  three to five months. 
Stage 2: Hearing with an Administrative Law Judge (ALJ)
If your first appeal is denied, you will then have another 60 days to file a request for  a hearing before an Administrative Law Judge. After the hearing, an Administrative Law Judge (ALJ) will make an independent decision based on the evidence you or your attorney provide and your testimony. These hearings typically take place in an SSA office where you can present additional documents to support your claim. It can take twelve (12) to eighteen (18) months  in some cases to get the case to the  ALJ hearing. 
Stage 3: Review With the Appeals Council 
If you disagree with the decision of the ALJ, you will have 60 days (in most circumstances) from the date you received the denial to request that the Appeals Council review the ALJ's decision. If the Appeals Council finds fault or error in the ALJ's decision, they will send you back to the ALJ for further review or a new hearing. 
Stage 4: Federal Court Review
The Appeals Council issues the final administrative action for SSDI claims. If your claim is still denied after the Appeals Council review, you may consider filing a civil action in the United States District Court in the federal judicial district in which you live. To do this, you will need to be represented by a lawyer who is licensed to practice in front of that court. 
The federal judge may decide to approve your claim, remand it for a new hearing, and award you benefits, or they may still deny your claim. If you receive a denial, you could potentially file another appeal with the federal circuit court. 
Were You Denied Disability? Our Kentucky Social Security Disability Lawyers at Rhoads & Rhoads Can Help
If your SSD claim is denied and you need to file an appeal, the team at Rhoads & Rhoads can help. We represent SSD applicants throughout Western Kentucky in our Owensboro and Madisonville office locations.
Call us at 888-709-9329 or contact us online to schedule an appointment with one of our Social Security attorneys today. We offer free initial consultations and all cases are taken on a contingency fee basis. No initial payment is required. We get paid only if we win or settle your case, and there is NO RISK involved.