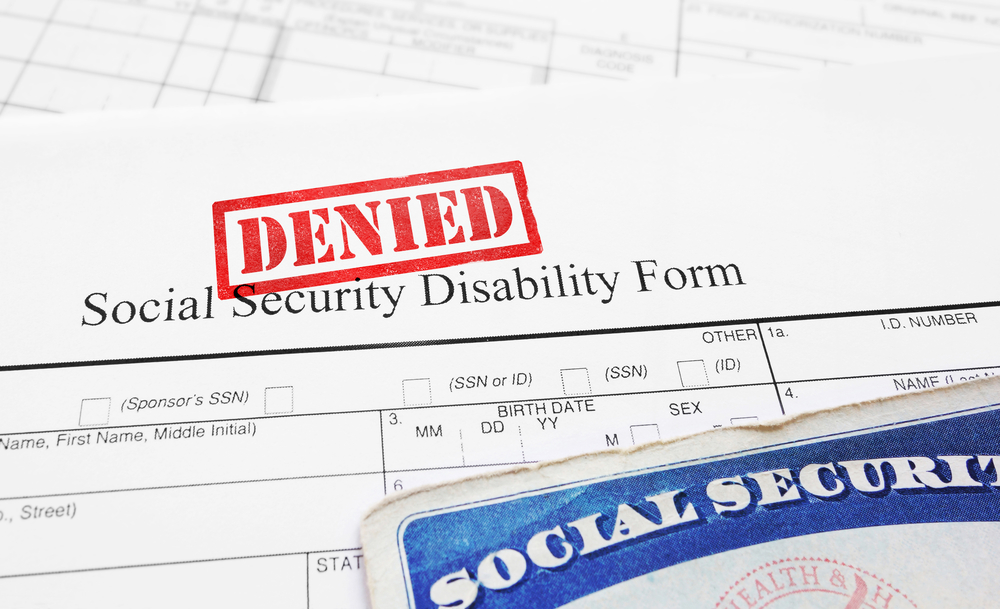 WATCH Attorney Kyle Lamar explains the factors used to determine whether or not you have a Social Security Disability (SSD/SSI) case in the state of Kentucky.
What to Do If Your Social Security Disability Benefits Were Denied
Kentuckians may apply to receive Social Security Disability (SSD) benefits after they have been diagnosed with a disabling condition that affects their ability to work. The benefits are designed to help individuals and families with financial support. For someone to qualify for Social Security disability benefits, a doctor will first need to determine that the disability is severe enough to prevent an applicant from working. But even with documentation, several of the 10 percent of Kentuckians who receive some type of Social Security Disability payment, may have been first denied benefits upon their initial application. For those applicants unsure of what to do after being denied SSD benefits, there are options available to be reconsidered.
Steps To Appeal a SSD Denial
If a claimant has followed the steps for applying for SSD in Kentucky and denied, a letter from the Social Security Administration will be sent explaining the decision and suggestions on moving forward with an appeal. A person denied benefits will have 60 days after this first notice to ask for a review and appeal for a reconsideration, a hearing by an administrative law judge, and a review by the Appeals Council.
Request a Reconsideration
If your disability claim was recently denied for medical (or non-medical) reasons, you can request an appeal. A review of your claim will be led by someone who did not take part in the first determination. New or missing evidence may be provided at this time.
Hearing by an Administrative Law Judge
A hearing is conducted by an administrative law judge who had no part in the original determination or the reconsideration of your case.
Review by the Appeals Council
If a decision or dismissal made by an administrative law judge is impacting your claim approval, a special Appeals Council may review. The Council may still deny a request if the hearing decision was in accordance with social security law.
Federal Court Review
Denied claimants can file a civil suit in a federal district court if the Appeals Council's decision is not in favor of an approval.
Working with an attorney at Rhoads & Rhoads to serve as a representative during this appeal process can help ease any stress and increase your chances for a SSD denial decision to be reversed.
Owensboro and Madisonville Social Security Disability Lawyers
If you or a loved one have become disabled and are pursuing or have been denied SSD or SSI benefits, our team of experienced attorneys and knowledgeable support staff at Rhoads & Rhoads are available to help you through this difficult time and get you the financial recovery you deserve. Your monthly benefits will not be affected by working with an attorney.
We offer free initial consultations, and all cases are taken on a contingency fee basis. This means there is no payment required up front and there is NO RISK involved. Call us at 888-709-9329 or contact us by e-mail to schedule an appointment.
Read: 5 Questions You Should Have About Kentucky Social Security Disability
Video Transcript
One of the most common questions we get is, "Do I have a Social Security Disability case?" First of all, there are a few things to remember if you are interested in seeking Social Security Disability.
First of all, you have to have a very serious injury that is going to last quite a long time. You have to be treating with a doctor on a regular basis. And in most instances, that doctor needs to support you for being on Social Security Disability.
The legal standard for Social Security is an impairment or series of impairments that either has or will last 12 consecutive months and those impairments prevent you from doing substantial gainful employment. What that essentially means is full-time work.
If you're interested in having a Social Security case and you think you may qualify, you can contact Rhoads & Rhoads. There is no fee for us to sit down and talk to you about whether or not you have a Social Security case. And if we do think you have a case and we take it on, there is absolutely no fee unless we win your case for you.