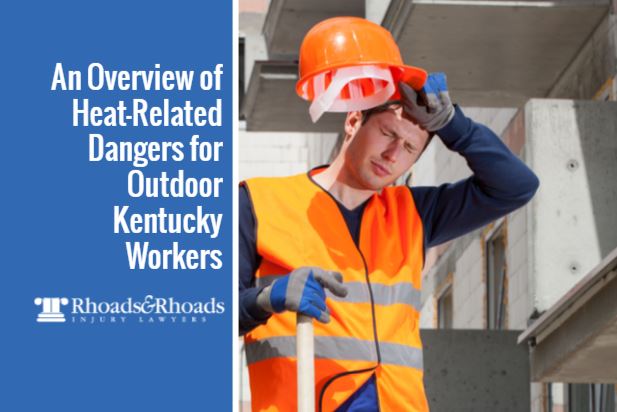 Synopsis
From 1992 through 2017, heat killed 815 workers nationally and injured another 66,000, according to the Bureau of Labor Statistics.
High temperatures and extreme hot weather can trigger dangerous conditions for workers in outdoor operations, making them sick from exposure and puts them at risk of falling, or mishandling machinery and tools.
The U.S. Department of Labor's Occupational Safety and Health Administration (OSHA) reports more than 40 percent of heat-related worker deaths occur in the construction injury, and the majority of victims die within their first three days on the job.
OSHA still lacks a clear standard on heat protection for outdoor workers, putting thousands at risk each year and leaving employers responsible for imposing heat safety standards to protect their workers.
Protecting Kentucky Workers from Deadly Heat Exposures
From 1992 through 2017, heat killed 815 workers nationally and injured some 66,000, according to the Bureau of Labor Statistics. Safety experts and even the U.S. Department of Labor's Occupational Safety and Health Administration (OSHA) agree that the number is actually much higher, since heat symptoms can play into other health conditions, and many workers, especially new ones, are fearful to report or acknowledge a problem.
Some states like California, Washington and Minnesota do have heat standards and regulations set in place to protect workers from dangerous temperatures. But other states, including Kentucky, fail to have regulation regarding water, rest breaks and shade for workers during extreme outdoor heat.
July and August are the warmest months in the state, when average day time temperatures can rise as high 90 degrees, not including the heat index. Every year hundreds of Kentucky workers become sick from this heat exposure and further contribute to these statistics.
More than 40 percent of heat-related worker deaths occur in the construction injury, but workers in every field are susceptible.
New workers are most at risk as research has shown their bodies need one to two weeks to gradually adjust to the heat.
Those employed by farming operations, coal mines, oil and gas well operations, asbestos removal, road repair, landscaping, emergency response operations, and hazardous waste site activities, have an increased risk of heat-related illness, injury and death.
A 2016 study of 23 heat deaths identified by OSHA found that 17 of the victims – or 74 percent  – died within their first three days on the job.
And as Bluegrass workers approach the warmer season with days sure to swelter into triple-digit temperatures, the hot weather is will trigger dangerous conditions that can lead to workers battling job site confusion, trips and falls, and operator malfunction of materials, equipment and tools putting more than just themselves at serious risk of a work-related injury or death.

Comprehensive Heat Stress Standards Should Be in Place
Last year, more than 130 organizations petitioned OSHA to begin the rulemaking process for a federal standard without much success in generating change in how heat standards are enforced nationwide. This year, during Workers Memorial Week, advocates again charged top Labor Department officials by sending a letter, pressing again for federal heat regulation. Signed by more than 100 state and national organizations, the letter said the general duty clause is "more difficult to enforce than a dedicated standard." As of today, federal OSHA inspectors must rely on broad, general requirements to provide a safe workplace to cite an employer for heat violations.
This leaves employers responsible for providing workplaces free of known safety hazards related to heat exposures. Safe temperature standards for workers, however, hide under a general duty clause, leaving federal safety officials to vaguely recommend that employers implement heat stress prevention programs without stressed reinforcements. It shouldn't be a question that when businesses aren't required to do something, especially those which require financial expenditures, they likely aren't going to invest in those programs.
3 Reminders for Employers to Keep Workers Safe from Dangerous Temperatures
OSHA does offer these reminders, not regulations, to help employers position precautions that keep workers safe while in the heat. We hope all Kentucky businesses stay responsible for their outdoor workers and seriously impose these strategies starting immediately.
Provide workers with water every 15 minutes, let them rest, and have access to shade.
Allow new or returning workers to gradually increase workloads and take more frequent breaks as they acclimatize or build a tolerance for working in the heat.
Plan for emergencies and train workers on prevention. Monitor workers for signs of illness and recognize these symptoms.
Heat Stroke: Signs include confusion, loss of consciousness, and seizures. Heat stroke happens when the body becomes unable to regulate its core temperature and is a medical emergency that may result in death.
Heat Exhaustion: Signs include headache, nausea, dizziness, weakness, irritability, thirst, and heavy sweating. Heat exhaustion is the body's response to the loss of fluids and salt caused by heavy sweating.
Heat Cramps: Tired, most worked muscles are usually the ones profoundly affected by heat cramps and created by the loss of body salts and fluid during sweating. Cramps may occur during or after working hours and be so painful they prevent a worker from continuing their task.
Heat Rash: Heat rash is the most common problem in hot work environments and is caused by sweat that does not evaporate from the skin.
The OSHA website cautions, "Every year, thousands of workers become sick from occupational heat exposure, and some are fatally injured. These illnesses and fatalities are preventable."
Preventable worksite accidents happen each day in Kentucky. At the very least, employees exposed to high temperatures should be aware of their employer's heat illness prevention program or if there is not a plan, plea for one to be created.
Owensboro and Madisonville Workplace Injury Lawyers — No Recovery, No Fee
With offices in Owensboro and Madisonville, Rhoads & Rhoads represents work accident victims throughout Western Kentucky, and we have helped many injured workers restore financial stability to their lives by recovering the damages they are owed. We have been protecting the rights of the injured throughout Western Kentucky for over 45 years by offering free initial consultations, and all cases are taken on a contingency fee basis, which means there is no payment required up front.
Call us at 888-709-9329 or contact us by e-mail to schedule an appointment with one of our workplace injury attorneys.
Sources: Severe Weather Awareness – Heat Waves, NATIONAL WEATHER SERVICE (retrieved on May 22, 2019) AND It's Time to Protect Millions of Workers from Extreme Heat, CITIZENVOX (retrieved on May 24, 2019).