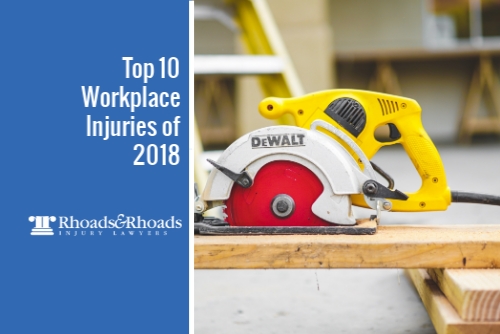 Synopsis
Under the Occupational Safety and Health Act of 1970, employers are responsible for providing a safe and healthful workplace.
More than 2.8 billion workers are injured on the job each year and thousands more die from work-related accidents that could have been prevented by proper trainings and protections.
The top 10 most frequently cited standards by Federal OSHA in fiscal year 2018 ranged from fall protection, respiratory guidelines, to the control of hazardous energy with lockout/tagout systems and carry through both construction and general industries.
Safety and health programs can substantially reduce the number and severity of workplace injuries and fatalities. When an employer fails to provide these programs and a worker is injured or dies, the worker or family members may be eligible for compensation.
Workplace Injuries and Deaths Down, Top 10 Cited Hazards Remain Steady
2.8 million nonfatal workplace injuries and illnesses were reported by private industry employers in 2017 by the U.S. Bureau of Labor Statistics, about 45,800 fewer cases compared to a year earlier. Likewise, worker deaths in America are down-on average, from about 38 worker deaths a day in 1970 to 14 a day in 2017 says the Occupational Safety and Health Administration (OSHA). This is good news, but thousands of injuries a week and more than a dozen worker deaths a day are still too many considering most could have been prevented.

Here is a review of the top 10 most frequently cited standards by Federal OSHA in fiscal year 2018 (October 1, 2017, through September 30, 2018) and a closer look at how employers are putting their workers at risk by not following safety guidelines:
Fall protection (construction): Falls are among the most common causes of serious work-related injuries and deaths. Employers must set up the work place to prevent employees from falling off overhead platforms, elevated work stations or into holes in the floor and walls.
Hazard communication standard (general industry): OSHA's Hazard Communication Standard (HCS) is designed to ensure that information about hazards and associated protective measures is disseminated. For example, HCS requires chemical manufacturers, distributors, or importers to provide Safety Data Sheets to communicate the hazards of hazardous chemical products.
Scaffolding, general requirements (construction): In a Bureau of Labor Statistics' Census of Fatal Occupational Injuries (CFOI) study, 72 percent of workers injured in scaffold accidents attributed the accident either to the planking or support giving way, or to the employee slipping or being struck by a falling object.
Respiratory protection (general industry): An estimated 5 million workers are required to wear respirators in 1.3 million workplaces throughout the United States. Respirators protect workers against insufficient oxygen environments, harmful dusts, fogs, smokes, mists, gases, vapors, and sprays. These hazards may cause cancer, lung impairment, diseases, or death.
Control of hazardous energy with lockout/tagout (general industry): Injuries resulting from the failure to control hazardous energy during maintenance activities can be serious and sometimes fatal. Injuries may include electrocution, burns, crushing injuries, cuts, lacerations, amputations or fractured body parts, and others.
Ladders (construction): Working on and around stairways and ladders can be dangerous because these tools are major sources of injuries and fatalities. Among construction workers for example, many of the stairway and ladder injuries are serious enough to require time off the job. OSHA rules apply to all stairways and ladders used in construction, alteration, repair, painting, decorating and demolition of worksites.
Powered industrial trucks (general industry): Powered industrial trucks, commonly called forklifts or lift trucks, are used in many industries, primarily to move materials. They can also be used to raise, lower, or remove large objects or a number of smaller objects on pallets or in boxes, crates, or other containers.
Fall Protection (training requirements): Falls are the leading cause
of death in construction and every year falls from ladders make up nearly a third of those deaths. These deaths are preventable.
Machinery and Machine Guarding (general requirements): Moving machine parts have the potential to cause severe workplace injuries, such as crushed fingers or hands, amputations, burns, or blindness. Safeguards are essential.
Eye and Face Protection: Eye and face protection is addressed in specific OSHA standards for general industry, shipyard employment, longshoring, and construction yet still makes the top 10 cited hazards list each year.
Filing a Workers' Compensation Case in Kentucky
Eliminating injury and fatal on-the-job incidences should be the goal of all employers yet work-related fatalities and serious injuries still happen. While some are true, tragic accidents many could have been prevented with proper training and safety programs led by an employer's influence. When reviewing the types of injuries occurring at work, these common claims can hold a viable workers' compensation case for bluegrass employees:
Physical injuries often involve industrial accidents, slip-and-falls, equipment failure, or defective machinery and include general injuries like broken bones but also more serious events that cause amputations and traumatic brain injuries.
Occupational diseases contracted due to products, processes, and chemicals, in the workplace are common workers' comp cases. Often these cases involve diseases such as lung cancer, coal workers' black lung disease (CWP) or other kinds of long-term diseases that develop over time from an employee being exposed to toxins at work.
Repeated stressors injuries and illnesses (such as a lower back injury) or exposure to excessive noise (hearing loss) can also be claimed.
It's important for workers in the state of Kentucky to understand what their rights are under Workers' Compensation. All employers in Kentucky, with very few exceptions, are required to have Workers' Compensation Coverage. This provides coverage for an employee who is hurt in a work-related accident.
When a loved one dies or is terminally injured in a workplace accident, family members may be eligible for compensation. After an event like this, it is important to consult an attorney right away, as there is a strict statute of limitations for these special cases.
Owensboro and Madisonville Workplace Injury and Wrongful Death Lawyers
With offices in Owensboro and Madisonville, Rhoads & Rhoads represents work-related accident victims and their families throughout Western Kentucky. We get paid only if we win or settle your case, so there is NO RISK involved. Call us at 888-709-9329 or contact us by e-mail to schedule an appointment with one of our workplace injury attorneys.
Read: Justice Served For Kentucky Coal Miner
Video Transcript
I think it's important for workers in the state of Kentucky to understand what their rights are under workers' compensation. All employers in Kentucky, with very few exceptions, are required to have workers' compensation coverage. This provides coverage for an employee who is hurt in a work-related accident. It has several elements of compensation, one of which is medical benefits.
All of your medical treatment is paid for – it is required to be paid for by the employer or the insurance carrier for the rest of your life. It is important to understand also that you can see a doctor of your choice. If you have a family doctor that you have been seeing in the past, you can continue to see that doctor and any specialist that the doctor might refer you to. You have that option.
You are also entitled to draw income benefits as long as you are off work due to the effects of the accident. These benefits will be paid as long as you are disabled from working and have not reached your maximum medical improvement. Now you will not be drawing the same wage that you were drawing when you were hurt, but you can draw two thirds of your average weekly wage. For instance, if you made $600 per week, you would draw $400 per week in workers' compensation.
Now there is a deadline for filing claims, and it's important that you seek legal advice because the insurance company is not going to look after your interests. So you are probably going to need legal representation so that you can be adequately compensated for your accident.