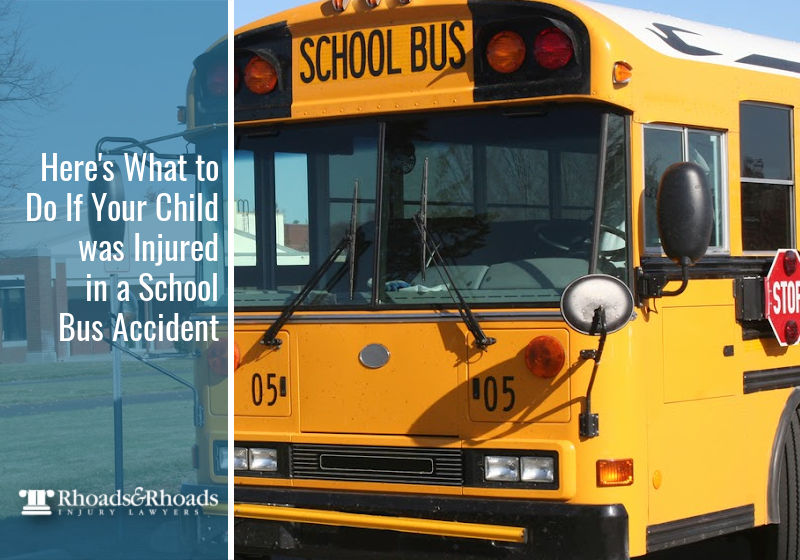 It's terrible to receive word that your child has been injured. 
When your child is injured in a school bus accident, you may feel any number of emotions, including fear, anxiety, grief, anger, and uncertainty. 
One of the last things you're probably thinking about is your legal recourse. One of the best things you can do when your child has been injured is to get support from your community, including a legal representative who can answer your questions. 
How Many School Bus Accidents Are There Per Year?
Fortunately, riding a school bus is generally very safe. However, there are school bus accidents every year throughout the United States. 
Near the end of the 2022 school year, a Jefferson County Public School (JCPS) bus overturned on I-64W near Watterson, Kentucky. Of the students on board, 8 had to be taken to the hospital for their injuries. 
Fortunately, all of their injuries were minor, but the accident serves as a reminder of the potential for injury from a school bus accident.
In 2020, more than 50 people were killed in accidents involving school buses; most of these fatalities were the drivers or passengers of other vehicles. 5% of school bus accident fatalities from 2011 to 2020 were drivers and 33% of injuries were passengers.
Possible Injuries from a Bus Accident
The list of possible injuries that can occur because of a bus accident is substantial. It includes:
Broken bones

Tooth damage

Contusions

Sprains

Lacerations

Spinal cord injuries 
What to Do If Your Child Has Been Injured in a School Bus Accident
There are three important steps that parents should take after this kind of accident: seek medical attention, communicate with other affected families, and hire a qualified and experienced school bus accident lawyer. 
1. Seek Medical Care
Your child will need to be examined by a medical professional. Even if your child does not report that they are in pain, some injuries can have delayed symptoms. Undetected injuries can be just as serious as those that are immediately noticeable. 
Additionally, seeking medical care immediately will provide you with the documentation you need to seek appropriate compensation from the at-risk party. 
2. Talk to Other Families
Your child may not have been aware of everything that happened that caused the accident. Talking to other parents and guardians can help you piece together important facts about the accident. 
For example, was the bus driver distracted, texting, or behaving strangely? Was another car driving erratically on the road? What were the road conditions at the time of the accident?
Communication is key to figuring out what happened, and the more information you have at your fingertips, the better off you will be!
3. Hire an Experienced Bus Accident Attorney
Experienced bus accident attorneys understand all the ins and outs of the laws regarding complicated accident situations, such as a school bus full of children. 
At Rhoads & Rhoads, our responsibility is to support the victims of vehicle accidents as they seek the compensation they deserve. We can help to determine fault and hold the liable party responsible for any injuries your child may have sustained in the accident. 
Who is Responsible for a Bus Accident?
Liability for a school bus accident is determined by identifying what caused the accident. 
Sometimes, the school bus driver caused the crash, which means that the driver and the school district may share responsibility for the damages. School districts should be held responsible if they failed to conduct appropriate background checks, train their drivers, or keep the buses in good repair. Too often, negligence is a contributing factor in bus accidents. 
Other times, the accident may have been caused by another driver's unsafe actions, including distracted driving or driving under the influence of drugs or alcohol. 
It's not uncommon for there to be multiple parties who share responsibility for the accident. 
One thing is certain: your child did not cause the accident, and they should not suffer because of the actions of the at-fault party. 
Rhoads & Rhoads–Supporting Owensboro Families 
If your child was injured in a bus accident, you need a school bus accident attorney who can support you every step of the way, from the first day until you get compensation.
No Recovery, No Fee
Our law firm represents bus accident victims throughout Western Kentucky, including Owensboro and Madisonville.
We offer free case reviews, so please reach out for a no-obligation discussion of your case. We do all of our work on contingency, which means that if you choose to work with us, no payment is required upfront. We only get paid when we win or settle your case–there is NO risk involved in seeking help from Rhoads & Rhoads.

Call our car accident attorneys at 888-709-9329 to discuss your injury case or contact us by email to schedule an appointment with one of our Madisonville or Owensboro Kentucky personal injury attorneys.